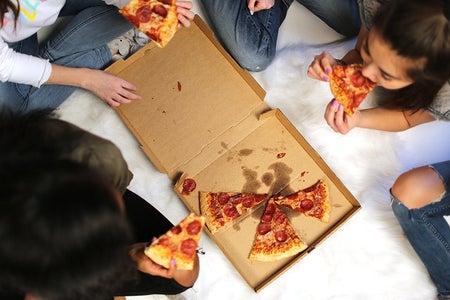 Molly Longest / Her Campus
6 Ideas for a Covid-Safe Girls' Night In
It's another Saturday night in college quarantine – you're procrastinating all your work until tomorrow and you're ready to get dressed up and go out. But wait… there's a pandemic… and it's winter. Well, looks like another night in pajamas in front of the TV screen remembering the good ole' days when every Saturday wasn't the same.
Sometimes we have to break this routine and feel some sort of college life normalcy. Here are 6 easy ideas to spice up your Covid-safe, indoor weekends (with your pod, of course):
A classic and for good reason. Have everyone in your pod bring one game and take turns playing each one. Some Guess Who but with people you know? A few rounds of Cards Against Humanity? Or, a full-fledged game of New Girl's True American? Count me in. 

Order in a bundle of tacos and a pitcher of margaritas or virgin daquiris from a local Mexican restaurant, and nothing can go wrong. Supporting small businesses AND having a fun, safe night? What more could we ask for in 2021?

We've all seen the Tik Toks where each friend dresses as a different character from Friends or a different Kardashian. Get out of those pajamas and put on an outfit combo you've never even thought of wearing. You can make it even more personal by dressing up as other members of your pod! And, of course, film some Tik Toks while you're at it. 

You and your friends have some pretty out-there opinions. Share them with each other in a creative fashion! Give everyone a week to put together their PowerPoint; maybe it'll be a textual analysis of the lyrics behind Olivia Rodrigo's "Driver's License" or a convincing collection of photos where Pete Davidson looks attractive. Go crazy!

5.

Un-Birthday celebration

Missed anyone's birthday over a break? Or just want to pretend it's someone's birthday for an excuse to have a fun night? Order in some pizza and cake, decorate your living room and throw on some sashes. Who says birthdays can only happen once a year?

Throw a batch of slice-and-bake chocolate chip cookies in the oven, put on face masks (not the fabric type), play a few rounds of Never Have I Ever and fall asleep on the couch watching "The Princess Diaries." It may be another night in pajamas, but at least you did something out of the ordinary!