#SayHerName: The Story of Breonna Taylor
"Say Her Name," they screamed in protest. "Say Her Name," they tweeted. "Say Her Name," said every big corporation. "Say Her Name," said society as it tried to cope after a devastating loss. Her name was Breonna Taylor. Her name became a symbol of the hate, violence, and injustice that black women face in our country.
On March 13, a group of plain-clothed officers barged into the home of Breonna Taylor with a "no-knock" warrant. At the time, Breonna Taylor and her boyfriend, Kenneth Walker, were asleep when they were woken up by the intrusion. Six months later, we have no clear story of what exactly happened within those moments. Kenneth Walker claims that they asked multiple times who the intruders were, got no answer, and Walker proceeded to fire in self-defense. On the other hand, the LMPD insists the officers announced themselves before coming in. What happened next though is clear—Breonna Taylor was shot at least eight times and pronounced dead at the scene. 
 Breonna Taylor's life was nothing but that of service and change. At the ripe age of 26, she was embarking on a new journey in her life, one of stability and success. Working as an EMT, Taylor strove to live a life of service in which she felt a sense of reward and responsibility. She was working hard, building her credit score to buy a house, and had plans to attend nursing school. She was loved and cherished by her family, friends, and boyfriend. In the end, she became another name on the long list of men and women that have been killed by prejudice. 
Her name made headlines, celebrities were tweeting about her unlawful death, and people of all backgrounds took to the streets to fight for her. #SAYHERNAME was a trend. It went on for months as investigations came to prove that her name would become yet another statistic. Companies used her name on their social media accounts, creating campaigns that would convince consumers that they believed in promoting social justice. When we look at the outcome, a verdict that provided absolutely no justice or accountability for her death, we tend to realize the common trend: 1) a black man/woman is killed violently, 2) his/her name becomes a trend, 3) no justice is served. 
Death after death, our system has failed to truly serve justice to those who deserve it. Her name was not merely a trend, it is a fragment of a movement that has been going on for years. Breonna Taylor's death symbolizes the trauma that black people, especially black women, go through every day in this country. The generational pain is immeasurable and has been fueled by the constant systemic oppression and a failed justice system. The killing of black men and women has become so normalized that we don't even flinch when we hear their stories. But that's not enough. We need to fight better for them because their life and voice have been deprived. Though justice was not served, it will be fought with the ferocity of leaders, politicians, and the youth.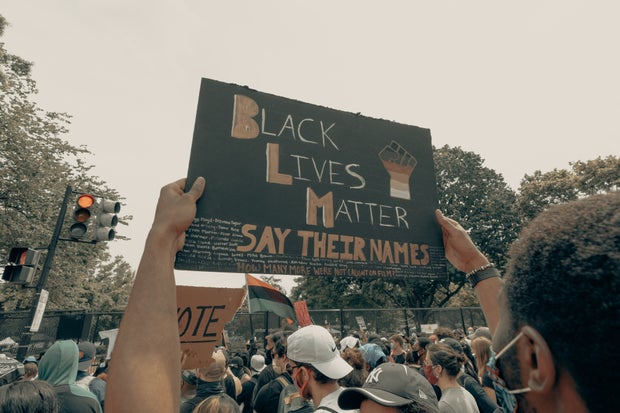 Photo by Clay Banks from Unsplash