Cami Aponte is a former Husky who graduated in May 2018 with a Bachelor of Arts in Music and Communications, with a concentration in Music Industry, and a minor in Psychology. She is originally from San Juan, Puerto Rico, as well as Fort Lauderdale, Florida. Since leaving Northeastern, she has started a new Boston-local feminist artist collective known as Own the Void, which premiered at the Dorchester Art Project on August 30. Recently, I was able to ask her a few questions about her time at Northeastern and what influenced her to create this new collective. 
How would you describe your time at Northeastern?
It's kind of a loaded question. During the five years a lot sort of happened. I went through five different majors, which gave me a little bit of training in all the different subjects I was interested in. If I had to pick one word, I would say it was pretty amazing. I fell in love with Boston and the sense of community at Northeastern, which is something I've never experienced anywhere else I've lived. College can be scary, but I'm glad that I went to Northeastern and felt it was worth everything.
What was your favorite class or professor at Northeastern?
I really liked a lot of my classes. I really enjoyed Communication and Gender with Jessica Wiley, which should have been called feminism class. It was great to see men taking that class and to have such an amazing, well-spoken professor. I also really enjoyed Drugs and Society. The professor taught us a lot about the drug war and the racist origins of a lot of the laws we deal with. This is education that is really important for people who have the power to vote. Finally, there was Sociology of Violence, which was a class about serial killers, white supremacists and the KK, and that looked into what drives violence, hate, bias, prejudice, and other things like that. I would recommend that anyone who goes to college takes at least one course based around gender or racism and ethnicity.
Did you do any co-ops while at Northeastern?
I had one co-op, which was a marketing internship with Improv Asylum, the comedy club in the North End. I was doing press releases, social media, updating the website calendar, and graphic design. When my co-op ended, they promoted me to marketing assistant and gave me a raise, which allowed me to keep working there for the rest of the time I was at Northeastern.
Have you always been interested in feminism and art?
I didn't really know what feminism meant until I took a course in the psychology of women. I had always known about the gender pay gap, for example, but I didn't really understand it. In college, I was really exposed to the history and statistics of gender inequality and as a woman understood that this sucked and I had to do something about it. I was able to connect everything to my own experiences and found I really wanted to spread the word about what the reality of the situation is. In terms of art, I discovered hula hooping at Northeastern and the flow arts and starting making events that brought musicians and live painters to campus. This was when I discovered a passion for event planning and entertainment, leading me to change my major for the last time. All of the things I care about so much now, I discovered at Northeastern. Upon realizing how many people came to my events and were influenced by entertainment, I realized that I had a responsibility as an entertainer to use this influence for the greater good. Art and education go hand in hand – some of the most important art comes from oppression, from feelings of discrimination, ostracism, and denial. I decided I was going to focus on uplifting those people through my events.
Who else are you working with and how did you meet?
I can't remember how we met; it was at a party or something. I was introduced to another girl named Adriana from Puerto Rico and we decided to be friends based on our similar interests. She went to another school, Bay State, and was studying entertainment management there. We would party, go to shows together and we always wanted to collaborate on something. Eventually we decided it was time to stand up and band together and do this whole Own the Void project together.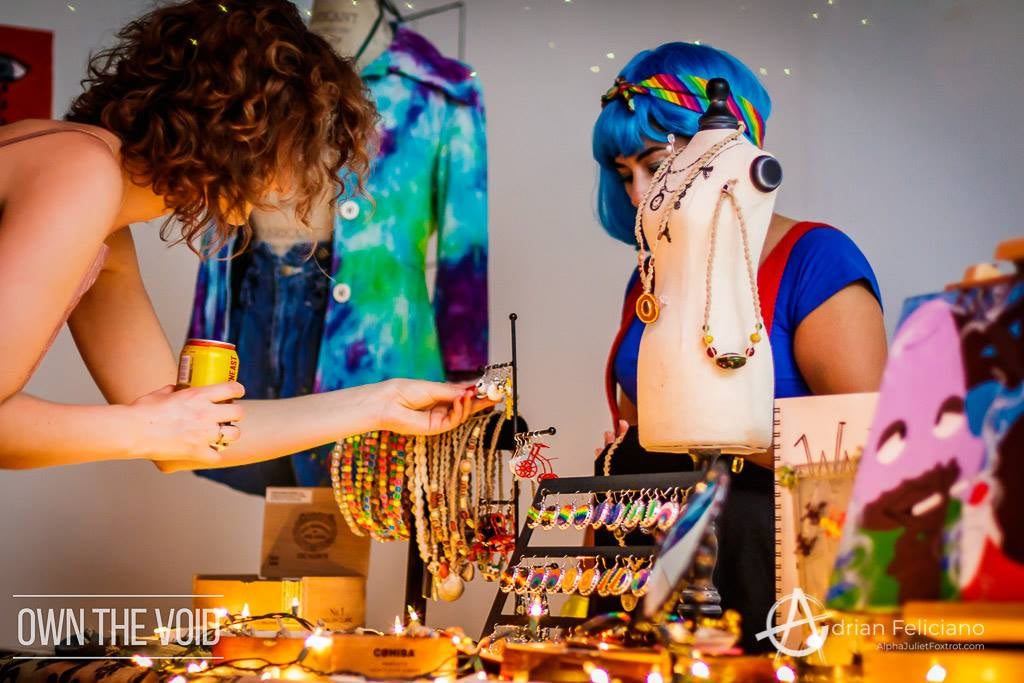 Where did the name 'Own the Void' come from?
I can't take credit for the phrase itself and I'm not sure where it originated. It is common among feminist artists, in particular Audrey Wollen. She has a famous piece that says "Beware male artists making artwork about emptiness. Nothing does not belong to you. Girls own the void. Back off fuckers!!!!" This always resonated me. I found the meaning implicit: you own your body, your own yourself and your sexuality. There is also a void of female voices in the world and of female influence. Nobody can claim that void for women except women ourselves. We can't count on men to fight for us. It is about carving a space and making it primarily for women and prioritizing women and women-identifying people and saying we own our space and you can't take it from us. It ignites something. The name stuck and I love it and the message.
What is the purpose behind Own the Void?
As I said before, it is all about carving a space and evening the odds. It's about giving women a place in the Boston entertainment industry and beyond where they are prioritized at the front of everything. Women can go and perform without feeling predated on or silenced or surrounded by thirsty men. We are giving that power to these smaller, not so corporate or privileged, groups of artists who want to make a difference with art. We are also not just being vocal in our intentions but are literally supporting institutions and organizations by raising money for them and putting their name out their. We are inviting people to put their money towards a good cause. Partying with a purpose or Partying for a cause is our little hashtag. Do something greater than just going out to enjoy yourself.
What are some of the charities you have donated to or are planning to donate to?
We've only had one event so far. All the funds went to the Jane Doe Inc, a coalition of organizations in Massachusetts that aim to end domestic abuse and provide resources for victims and survivors. Right now, we are focusing on a film screening of a Puerto Rican woman's eight minute film about life in Puerto Rico after the hurricane. Just today we reached out to Harvard after hearing that Northeastern's Latinx Student Cultural Center was all booked for the year. We also asked what organizations they know in Puerto Rico that are ethical and doing good work. I have been in the business of raising money for charities via DIY parties for years now, so it's not really too different to be strictly focusing on women and LGBTQ+ organizations. It's not hard to get people to care about these things and it's a good filter: if you don't care to support these causes, we don't want you at our events.
Do you have any advice for current students at Northeastern?
Don't rush it. I feel like a lot of us are sort of forced into a certain field of study after high school. I started as a pre-vet and went from that to undeclared to sociology to psychology to music industry. As long as you make a final decision by your third year, you're fine. I also think that if you find something outside of college that you're passionate about, you should invest your education in that thing. Once you're done with school, your passion will be all that's left. Don't let anyone tell you that you can't do art or entertainment. That's just not true. You don't need to be a STEM student to succeed or to do a good job or to be relevant and make a difference. I think social workers are heroes and that all of us who stand for something are just as important.