Given my impossible combination of persistent acne and sensitive skin, finding the perfect skincare regimen often feels like a futile mission. Any product strong enough to unclog my pores would inflame my skin and any product gentle enough to soothe my skin would fail to minimize my acne. After years of purchasing color-corrector to conceal the red and purple splotches heavy-duty treatments like Proactiv left on my face, I'm always eager to discover new remedies. 
Since the company's founding in 1963, Mary Kay has developed over 200 products and planted roots in 40 countries. Through all these achievements, there was one endeavor Mary Kay had yet to undertake – the development of an all-natural skincare regimen. The four-product line "Naturally" consists of the purifying cleanser, exfoliating power, nourishing oil, and moisturizing stick, all naturally derived and free of parabens and synthetic ingredients. To ensure consumer confidence and adherence to the strict COSMOS-standard, Mary Kay received third-party certification from the global certifying body EcoCert. The one thing I love more than an effective skincare serum is an eco-friendly, effective skincare serum, and "Naturally" seemed to fit the bill. 
I held the highest of expectations as I massaged the cool, smooth, lemon-floral-scented cleanser onto my cheeks, but alas, bright blemishes flared up across my face immediately. The cleanser with claims on the packaging such as "clinically tested for skin irritancy and allergy" caused an unwavering burning sensation only soothed by the cold surface of an ice cube or drops of the nourishing oil. I considered returning the product given my indisposition to write a critique, but I decided to give the product one final chance. Upon the second usage, the irritation was far less evident, and the burning sensation was dramatically reduced. The period of inflammation was likely a result of my skin's initial adjustment to a new product, not the result of any harsh ingredients in the cleanser. 
The exfoliating powder has a similar effect – a slight sting at first touch but decreased irritation at second use. Not only does the exfoliant smell like cinnamon-sugar, but it also provides a deep clean that diminishes pimples overnight and leaves skin feeling smooth and oil-free. Though it may cause dryness of the skin, as acne treatments often do, the Mary Kay "Naturally" moisturizing stick and nourishing oil restore the balance. When cleansers left my skin sensitive, these products calmed and cooled my skin without causing any breakouts in the process, despite their oily consistencies.
After just a week of usage, the products felt rejuvenating rather than irritating. My skin underwent a complete transformation in the absence of the acne-busting chemicals, leaving me feeling confident in both my appearance and my ecological footprint. If you're like me and your skin demands a regimen that is simultaneously powerful and gentle, perhaps Mary Kay's "Naturally" is the resolution to the paradox.
Before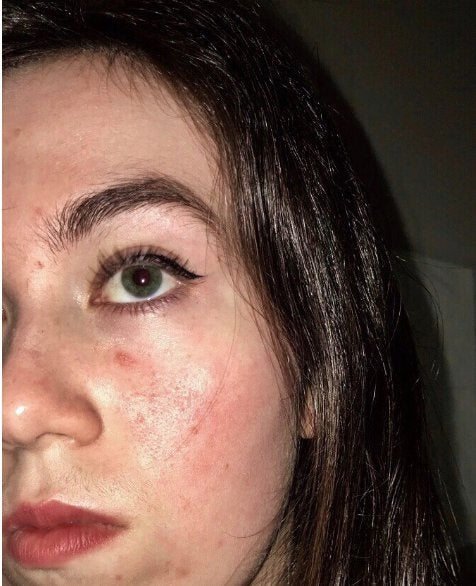 Courtesy of Elena Plumb
After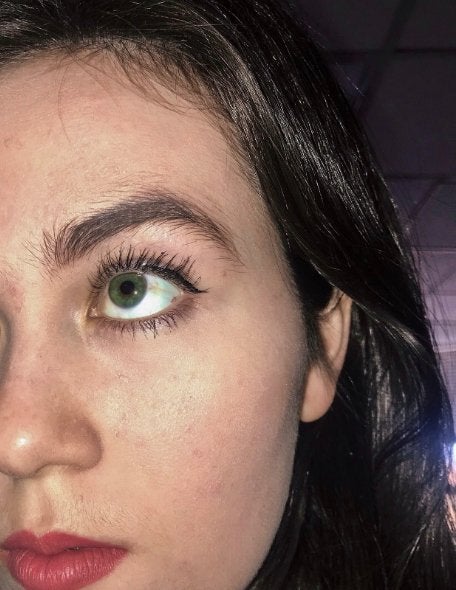 Courtesy of Elena Plumb