Game of Thrones: 10 Things You Didn't Know About the Show
The waiting is over. Season five has started and the Game of Thrones frenzy has sparked up once again. While our Sunday nights will now be filled with screaming and cheering and possibly more screaming, here are 10 fun facts you might not know about the HBO series.  
1. GoT creators David Benioff and D.B. Weiss convinced George R.R. Martin to let them adapt his books by correctly answering the question, "Who is Jon Snow's mother?"
During a three-hour lunch, author George R.R. Martin asked the question to the creators. Benioff recalled the moment in an interview with CNN. "Right around the time of dessert," Benioff said,  "he hit us with this question, which I realized as soon as he asked it, this is the big test question. And the question was: Who do you think Jon Snow's mother is? Which hadn't yet been revealed in the books." Benioff answered correctly and managed to gain Martin's trust.
2. The original pilot has never been aired.
Rumor has it the original pilot was so bad that GoT almost didn't make it on air. In the original version, Tamzin Merchant (Georgiana Darcy, Pride & Prejudice) starred as Daenerys Targaryen and Jennifer Ehle (Jessica, Zero Dark Thirty) played Catelyn Stark. Producers decided to reshoot the pilot and recast five roles, including Emilia Clarke and Michelle Fairley, who stepped in for Daenerys and Catelyn, respectively.  
3. 146 baby girls were named Khaleesi in 2013.
According to blogger/baby wizard Laura Wattenberg, 146 is a 450% increase from 2011. Before that the name didn't even exist.
4. Michelle Fairley, who plays Catelyn Stark, also played Mrs. Granger in Harry Potter and the Deathly Hallows Part 1
5. The title credits won an Emmy.
In 2011, the stunning opening won an Emmy for Outstanding Main Title Design. The title sequence was created by the short-form filmmaking studio Elastic. While it's supposed to resemble the maps at the beginning of The Lord of the Rings books, the creative director decided to go with a "world within a sphere" vision instead. The sequence changes with every episode, depending on the locations visited.
6. Gandalf's sword, Glamdring, is part of the Iron Throne.
The sword was first noticed by Redditor NoMoreHodoring in 2014. It serves as a reference to The Lord of the Rings, the book series that inspired author George R.R. Martin to write Game of Thrones.
7. Former President George W. Bush's severed head appears on a spike
In episode 10 of season 1, a prop of the former president's head is shown during a beheading scene. The creators of the show made it clear it wasn't a political statement. "We use a lot of prosthetic body parts on the show," Benioff and Weiss explained in their apology statement. "We can't afford to have these all made from scratch." The infamous shots have now been removed from all digital platforms, including HBO Go and iTunes.
8. Sophie Turner, the actress who plays Sansa Stark, adopted her direwolf in real-life.
Sophie Turner fell in love with her direwolf, Lady, while shooting season one. After filming wrapped, Turner adopted the Mahlek Northern Inuit dog named Zunni and brought her home to be a part of the family.
9. GoT is the most pirated show on television.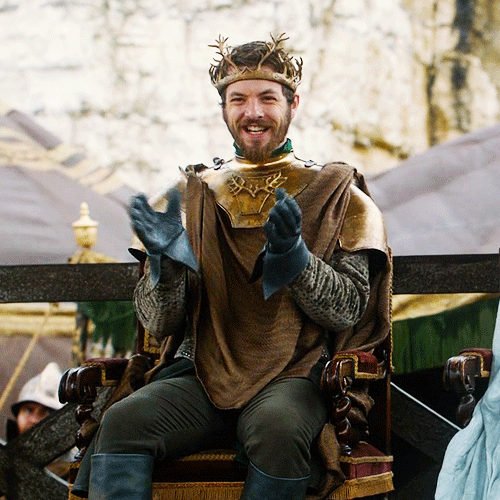 According to BitTorrent, the 2013 season finale was downloaded 5.9 million times through their site. And even better, HBO doesn't seem to care. HBO CEO Richard Plepler told Buzzfeed it was a "terrific marketing vehicle for the next generation of viewers."
10. Creators David Benioff and D.B. Weiss know how the series ends.
The Game of Thrones book series is comprised of seven books, five of which have been published. Season five will be based on books four and five, which means the show will have come very close to catching up with the books. In order to prepare for a worst-case scenario, Benioff and Weiss met with Martin in 2013 to discuss the ending. Although Martin couldn't provide specific details, he gave the showrunners a broad sense of what the end will be like.
Sources