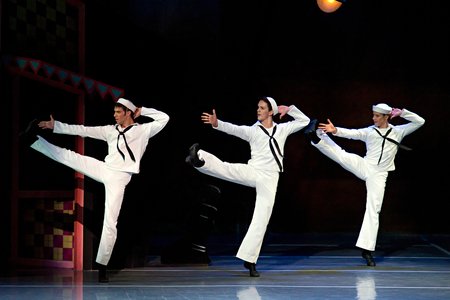 Photo by Gene Schiavone, courtesy of Boston Ballet
Boston Ballet Celebrates Jazz and Minimalism with "Genius at Play"
This is a sponsored feature. All opinions are 100% our own.
A world-wide renowned choreographer, Jerome Robbins left his mark on American culture through his work on over 60 ballets and numerous Broadway musicals, including "West Side Story" and "Fiddler on the Roof." Boston Ballet chose to celebrate his life and career with three of his works in their newest show that premiered Thursday, Sept. 6 at the Boston Opera House.
The night opened with a bright and lively orchestral performance of Leonard Bernstein's "Candide Overture," led by principal guest conductor Beatrice Jona Affron, paying homage the celebrated composer's centennial year. "Interplay," set to Morton Gould's 1943 piano concerto "American Concertette," followed, displaying a minimalist set that allowed the brightly attired dancers to stand out as they spun around the stage. 
Though only the second ballet he choreographed, Robbins proved his skill with his playful attitude towards choreographic patterns that saw the eight dancers engage in various formations including a bluesy pas de deux. Unfortunately, the dancers took a while to get comfortable with the piece, a process that included two major falters by separate performers, one of whom a male dancer who stumbled and pitched forward at the end of his spin and the other a pair who fell behind in the steps after missing a floor spin. 
"Fancy Free," a story of three sailors on shore leave in New York City during World War II, followed. Premiering in 1944, it was the first ballet Robbins choreographed and his first collaboration with Bernstein. The ballet was a huge hit in its day, inspiring Robbins and Bernstein's Tony-award musical "On the Town."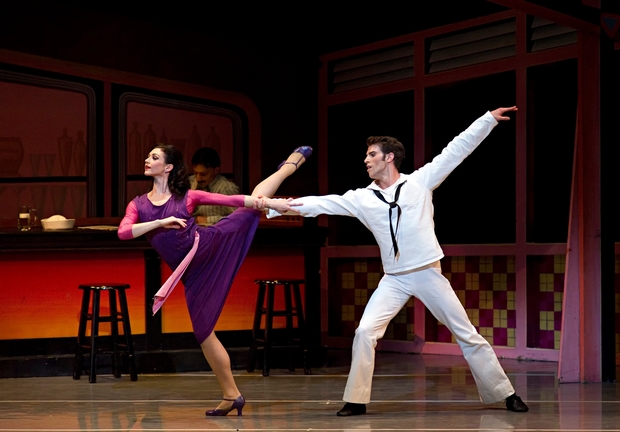 Kathleen Breen Combes and James Whiteside; photo by Gene Schiavone, courtesy of Boston Ballet
The ballet is set in and by a bar where the three sailors drink and then chase after a pretty girl who's walked by. It was uncomfortable to watch as the three men passed her around and played a game of catch with her purse, a scene that was more reminiscent of assault than flirting. She eventually runs off, purse in hand, and is chased by two of the sailors; the third invites a second girl in for a drink and engages in a romantic duet. Not long after, his friends return with the first girl, causing a problem to arise: three guys, but only two girls. The sailors all compete with solos before engaging in a fight, causing the two girls to leave. The three sailors remember their friendship and swear off women – at least until a third girl arrives and they chase after her, ending the ballet. While humorous (the cast were all great actors), it depicted situations between the women and sailors, particularly in the first instance, that have not stood the test of time. 
"Glass Pieces," effectively a four movement symphony set to "Rubric" and "Façades" from "Glassworks" and the "Funeral of Amenhotep III" from the opera "Akhnaten," all by minimalist composer Philip Glass, rounded out the night. The ballet opens against a grid-like backdrop before which dancers in rehearsal clothes stride purposefully back in forth as if pedestrians in New York City. Three couples, in unique outfits, soon appear causing the pedestrians to engage in one or two dance moves as they continue their path across stage.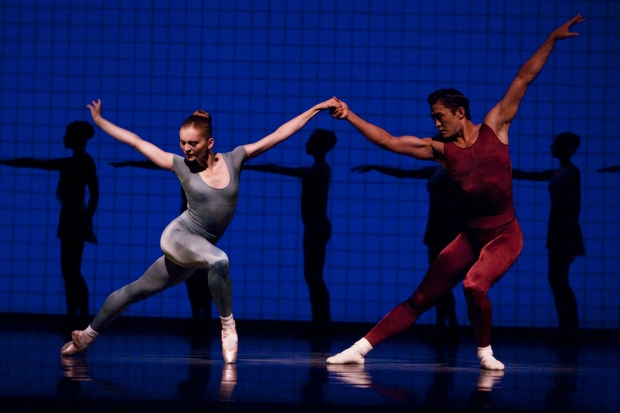 Carla Körbes and Batkhurel Bold in Robbins' Glass Pieces; courtesy of Pacific Northwest Ballet; photo by Angela Sterling
In the next movement, a line of women shuffle across the stage, creating silhouettes of jazz-inspired poses, as soloists Lia Cirio and Paulo Arrais engage in a slow and graceful pas de deux. Cirio was stunning in this role, her movements light and fluid, capturing the audience's attention wholeheartedly. 
Last was the "Akhnaten" excerpt, where the men engaged in a scherzo before being joined by the women for an impressive finale. 
By creating minimalist sets and costumes, with the exception of "Fancy Free," Robbins choreography was allowed to shine through as the most important feature of the night. His distinct movements, featuring snapped fingers and jazzy poses, were present throughout all three ballets, creating a link through the three very different works. It was truly an inspiring celebration of an American genius.
____________________________________________________________________________
Presented by Boston Ballet. At the Boston Opera House, through Sept. 16. Tickets start at $37.
617-695-6955, www.bostonballet.org