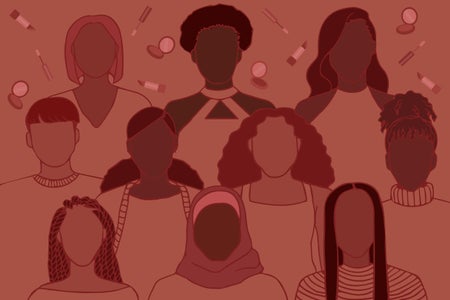 Adebusola Abujade / Her Campus Media
9 Inspiring Women from History You Never Learned About in School
Women have been doing amazing things from the very beginning, but often their stories and accomplishments have been overshadowed by men or forgotten in history. Therefore, for this Women's History Month, I am bringing you some of the most kick-ass historical women that your high school, or even college, history classes didn't teach you about — at least in the U.S. Without further ado, here are nine historical women to inspire you this month:
1. Tamar the Great (c. 1160 – 1213)
Tamar the Great was the first woman to rule Georgia in her own right, presiding over the apex of the Georgian Golden Age. During her reign, she led a pan-Caucasian Empire that stretched from the Black Sea to the Caspian and from the Caucasian Mountains (which border Russia today) to Lake Van (Turkey's largest lake). Her legacy continued after her death: she was the inspiration for Georgia's most famous poet, Shota Rustaveli, and was canonized by the Georgian Orthodox Church. 
2. Zheng Shi (1775 – 1844)
I'm currently putting together a presentation for my students on 鄭氏 (Zheng Shi/Ching Shih), a Chinese woman and the most successful pirate in history, and if you don't know about her yet, you're about to. pic.twitter.com/0JjZ8wOCv5

— Ariana Zhang (@ArianaZhang) November 5, 2019
Considered the most successful pirate in history, Zheng Shi ran the Chinese Seas with a crew of 20,000-40,000 pirates spread across 300 ships. She fought multiple empires, including the Chinese Qing dynasy, the British Empire and the Portuguese Empire.
In 1810, she accepted an amnesty offer by the Qing dynasty that allowed her and the majority of her crew to keep all of the loot they had collected and live out the rest of their lives peacefully. Many of her crew went on to lead successful lives in the military, while she, in her later years, served as a military advisor to the Chinese in the First Opium War. 
3. Nana Asma'u (1793 – 1864)
On #arewaliving today we share with you a post about the legendary #arewa literary icon, Nana Asma'u https://t.co/1IMHzPZ084 pic.twitter.com/CYU3dnQPWJ

— Northernlife.NG (@northernlifeng) October 31, 2017
Nana Asma'u was leading scholar in the most influential Muslim state in West Africa; she was well versed in four languages, was well educated in the classics of the Arab and Classical world and acted as an advisor to the Caliphate. In addition to her role as an advisor, she worked to promote female education. To achieve this aim, she create a cadre of female teachers who travelled throughout the Caliphate and taught women through poetry she had written. This style of teaching is still used in some parts of Africa to this day. 
4. Ada Lovelace (1815 – 1852)
The daughter of the poet Lord Byron, Ada Lovelace was a mathematician and writer who is recognized as being one of the first computer programmers. As a teenager, she became acquainted with the British mathematician Charles Babbage, now known as one of the "father of computers," and worked with him on his Analytical Machine. Her work influenced many generations of computer scientists, including Alan Turing.  
5. Kate Sheppard (1848 – 1934)
New Zealand's most prominent female suffragist, Kate Sheppard played a large role in granting women the right to vote. 
Originally from England, she emigrated to New Zealand in 1868. She became an active member in many social and religious institutions, including the Women's Christian Temperance Union, where she eventually became the National Superintendent for Franchise and Legislation. Her main work consisted of organising various meetings and creating petitions, the most important of which was presented to Parliament with 30,000 signatures. As a result, New Zealand became the first country to establish universal suffrage. Sheppard then became the first president of the National Council of Women of New Zealand. 
Following her success in New Zealand, Sheppard traveled to Britain and assisted the suffrage movement there. However, once her health began to fail, she returned to New Zealand. She never stopped writing on women's rights, though she became less politically active as she aged.
6. Briet Bjarnhedinsdottir (1856 – 1940)
An Icelandic suffragist, Briet Bjarnhedinsdottir founded the first women's magazine in Iceland. She also founded a women's society and wrote various articles promoting women's rights. In 1906, she attended the International Women's Suffrage Conference in Copenhagen, where she was encouraged to found a women's suffrage society in Iceland. In 1907, she did just that and served as the society's president from 1907-1911 and 1912-1927. She also belonged to the first group of women to be elected to the Reykjavík city council, where she served from 1908-1912 and 1914-1920. 
7. Nellie Bly (1864 – 1922)
Born Elizabeth Cochran Seaman, she took the pen name Nellie Bly after being hired by the Pittsburgh Dispatch as a female journalist. At only 21, she traveled to Mexico to serve as a foreign correspondent, where she spent six months reporting on the lives of the people. 
In 1887, she left the Pittsburgh Dispatch and moved to New York City to work for the New York World. It was here she gained her reputation for investigative journalism, the most famous of which was a report on insane asylums. To create this piece, Bly spent ten days in an asylum; the abuses she uncovered led to a reform of asylums across the U.S.
While at the New York Post, Bly also went on an around-the-world voyage to try and prove that the journey in Jules Verne's book Around the World in 80 Days could occur. It became a race, and Bly won, arriving back in New York after just 72 days, a world record at the time. 
Later in life, she reported on the First World War as a war correspondent; she was even arrested once after being mistaken for a British spy. She was also an inventor and at one point was one of the leading female industrialists in the U.S.
8. Elvia Carrillo Puerto (1878 – 1968)
A Mexican socialist and feminist, Elvia Carrillo Puerto founded Mexico's first feminist leagues. Focused on promoting women's rights, they gave talks on child care and economics, inspected schools and hospitals, established a state orphanage, and led campaigns against prostitution, alcholism and superstition. Through the leagues, family planning programs were also instituted with legalised birth control, the first of their kind in the Western Hemisphere. 
In 1923, she was elected to the Yucatán legislature and became Mexico's first female member of state legislature. While in office, she promoted the issue of land reform and organised local chapters of women into Gualbertista Central Agrarian Communities for Females. However, following her brother's death, women's rights were once again restricted and their suffrage revoked. In 1925, she was elected to the national Chamber of Deputies; however, she was denied the seat as female suffrage was not recognised nationally. She continued to fight for female suffrage through various presidencies until it was finally granted in 1953, when the Mexican Consitution was amended. 
9. Sabiha Gökçen (1913 – 2001)
One of the adopted daughters of Mustafa Kemal Atatürk, the founder of modern-day Turkey, Sabiha Gökçen was the world's first female fighter pilot. 
In 1935, she was enrolled at the Türkkuşu Flight School as its first female trainee, where she gained her pilot's license. She then gained additional training in Russia before coming back to Turkey to train as a war pilot. She took part in active military operations for a few years before becoming a flight instructor and training other female pilots. She continued to fly around the world until 1964. 
These are just a small fraction of the women who have played an important role in history. Take some inspiration from their actions and go make a difference in the world.