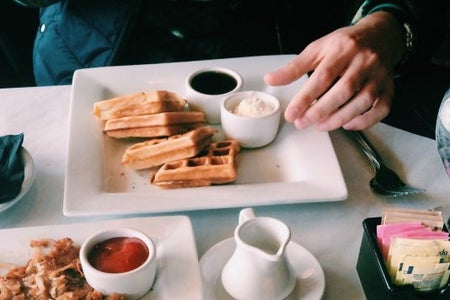 The Wondrous World of (Mini) Waffles
What has a four-inch cook surface and weighs just over one pound, is only $10, is all over TikTok, and turns cheese into "chaffles" and cookie dough into a gooey dessert-for-breakfast? The Dash Mini Waffle Maker. 
The Dash's trendiness has only made me skeptical of it. In most of the TikTok videos I've come across, the "waffled" item isn't on a plate but is encrusted into the grates of the waffle maker. With spring break coming up, I decided I'd try it out and save anybody looking for a staycation activity the hassle of trial-and-error. 
I ordered the Dash mini waffle maker from Target, but it is also available on Amazon or through the Dash website. I recommend buying some bases to go with it, but I also bought cans of Pillsbury cinnamon buns and biscuit dough and a tube of cookie dough. The mini waffle maker comes with an instruction manual and a recipe book containing recipes ranging from banana bread waffles to waffle birthday cake. Not only is the mini maker incredibly compact, it comes in a variety of colors and prints as well as cook surface shapes (bunny, flower, or heart shaped waffles, anyone?). Once I unboxed it, I followed the directions and cleaned it with a wet soapy cloth. I plugged it in, waited for the blue light to turn off, sprayed both cook surfaces with cooking spray, and plopped two tablespoons worth of chocolate chip cookie dough in it.  
My apprehension about the waffle sticking to the grates lessened as I counted down the seconds on the two-minute timer I had set. I love cookie dough (raw or baked) and fluffy waffles, so I was looking forward to the chocolate chip cookie waffle hybrid. Sadly, the cookie pieces did not hold together and retreated into the crevices of the waffle maker. Liberally brushing the cook surfaces with vegetable oil instead of spray oil yielded the same unsuccessful results. 
My faith in the Dash was restored by the time I poured vanilla icing onto the crunchy cinnamon bun waffle (cook for about two minutes in the maker or until it is golden brown). In fact, I think the prepackaged cinnamon buns taste better waffled than they do baked. Refusing to give up on the cookie dough, I filled a cinnamon bun with cookie dough and discovered that the cookie dough works when encased or stuffed inside something else. 
The biscuit dough, which can be easily removed from the Dash, offers the most opportunity for experimenting with sweet and savory combinations; it affirms my belief that one could use the Dash to make breakfast, lunch, and dinner. I recommend leaving biscuit dough based waffles in the Dash for about three to four minutes to ensure that they are thoroughly cooked. I divided the biscuit dough into two rounds and put sliced bananas and dark chocolate chips on one of the rounds, lightly pressing them down with a fork before placing the second piece of dough on top. The softness of the slightly caramelized bananas was delectable against the crunchiness of the waffled dough. The biscuit dough could also be stuffed with cheese, lunch meat, or nut butter for a hearty breakfast or lunch. Mini waffle pizzas can also be made by stretching out the biscuit and adding sauce and mozzarella. 
Not every waffle will emerge from the Dash seamlessly, and not every combination will be tasty, but it really doesn't matter—most things that go in it aren't supposed to be waffles to begin with! Maybe conjure up a waffle combination or two in anticipation of an invitation to a post-COVID waffle party in which everyone brings their own Dash. I know I'd host one!