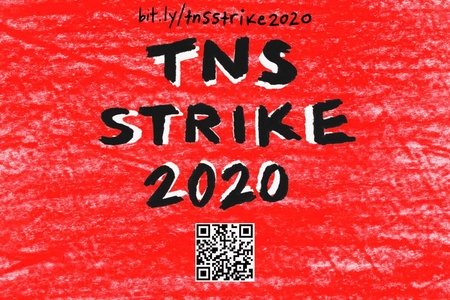 Sara Muñoz Ledo Rodriguez
Just as a note: currently there are image limitations, however the image will be changed to the TNS Strike Icon as soon as possible.
*Link to TNS Strike 2020 information page: http://bit.ly/tnsstrike2020
Attention to all TNS students! As I'm sure many of you know, in light of Covid-19, the higher up individuals in our university have not only failed to act quickly and help the student body, but blatantly ignored our cries for help. Many students have lost their jobs, and suffer from homelessness and food insecurity. 
But it doesn't stop there. The University plans to increase tuition by 3.8%, despite already being one of the most expensive schools in the US. While students (and their families) have strong uncertainty of the future, The New School passed a decision which will severely impact our ability to return in the fall semester. 
Because of the decisions made by higher ups in TNS, particularly president David E. Van Zandt and provost Tim Marshall, our wellbeing in light of Covid-19 has been severely affected. In addition to that, our future has also been put in jeopardy. Because of this, we the student body, plan to go on strike starting April 6, 2020. 
Here are the reasons why we are going on strike:
The quality of our classes has dropped drastically. Zoom, a free platform, does NOT have the same monetary value as our in person classes. We pay tuition for access to school facilities, not for video calls at home. 

We, the student body, also deserve a partial tuition refund. While the housing and meal plan refunds have been expedited, we also demand a partial tuition refund for the reasoning in #1. 

We deserve a platform and a place to be heard. Our voices have gone ignored. During the online town hall with David E. Van Zandt, not only was the chat bar restricted, our questions were ignored. On TNS' page for our president DVS he says "Supporting the aspirations of thousands of New School students, all with their own stories and ambitions, is what we are here to do." How will we do this if we lack a voice?

We deserve transparency. TNS preaches itself as a progressive school, but we don't know where the money WE PAY goes to. But, we do know DVS is paid over a million dollars a year, and the university pays for his 15 million dollar townhouse. In addition, only 1% of the tuition we pay goes to emergency funding. We have a right to know where our money goes. If TNS is truly progressive, they would also give us the transparency we deserve.
With all this being said, our demands are:
A partial refund for the Spring 2020 semester.

The removal of Incomplete and Z grading for the Spring 2020 semester for all students.

A platform for students and staff at TNS to be properly heard, where we can voice our opinions without being silenced.

Continued pay for cafeteria workers and all other staff whose jobs will be affected by Covid-19.

Financial hold waivers extended to the entire registration period.

Healthcare improvements for all students, without increasing the cost.
We will not stand by and watch as the University cuts our chances at the future. This is our time to take charge, and our chance to make change. We the student body will keep The New School new. For conditions to participate in the strike and other resources, please visit http://bit.ly/tnsstrike2020