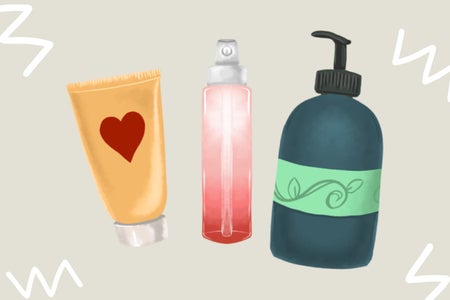 10 Ways To Keep Your Beauty Routine Waste Free
There are many tips out there to reduce waste in your life, but there aren't that many to do the same for beauty when it's one of the biggest perpetrators of waste. 
In 2018, in the U.S. alone, almost 7.9 billion units of rigid plastic were created just for beauty and personal care products, according to Euromonitor International. Asia, a booming market for the beauty industry, has 13 times the population of the USA, so can you imagine how much waste we're complicit in producing?
While not forgetting that companies and institutions create the most waste, what can we do as individuals as well?
Good news is that these can be cost-effective — being environmentally doesn't have to be costly. Here are 10 tips to reduce your waste generated in your daily routine. We recognise that not everyone is keen on switching their products, so some of these are tips you can easily incorporate into your current routine.
This might sound off-putting to some, but I promise it's not gross! Beautypantry.co is a platform where you can contribute lightly used products and buy these same lightly used products. They also have new products (dependent on donations). They make sure to sanitise the product thoroughly and hence liquid products with wands such as gloss or mascara are not accepted unless new. These products are also on discount — I've seen more luxury items like Hourglass Ambient powders or Marc Jacobs bronzers on there too. Other than that, try Carousell if you're comfortable and able to sanitise these products yourself. They're often up to 80% off!

The easiest way to know what's going into your products as well as reducing packaging waste is to DIY. Three easy and cost-effective DIYs are setting sprays, dry shampoo, and hair gel. Dry shampoo often comes in aerosols which we all know are bad not just in the packaging generated, but the effects it has on our ozone. 

1. Setting sprays (not fixing sprays that have alcohol etc. to make your makeup last longer) are basically glycerin and water. Try this tutorial, but we advise against putting essential oils into your spray.

2. Dry shampoo is extremely easy to make as it's basically mixing some powders. Try this tutorial — I advise using more clay powders in your mix if you also want more volume! As for the containers, try reusing a baby powder bottle or get one from your local National Service supply store (or filch one from the men in your life). Carefully pop the bottles open with a dull knife or other similar implements. Alternatively, just use any container and apply with hands or a brush. 

3. Hair gel is shockingly simple to make and quite effective too. All you need are flaxseeds. This blog explains in detail the pros and benefits of using DIY flaxseed hair gel. @bamboostrawgirl also often posts tutorials on her Insta stories about it.

These DIYs are not exhaustive! Other DIYs to try are deodorants or body scrubs.

Single-use cotton is one of the biggest waste products from our beauty routines. You can buy cloth or bamboo rounds (or make your own!) easily these days, but why not simply go without? Use your hands to apply toners by patting the liquid in. As for makeup removers such as micellar or biphase products that require cotton rounds, try switching to makeup removers that are rinsed off instead of wiped off.

4.

Donate your packaging (boxes, bubble wrap etc)

For the online buyer, try @package.pals, a circular packaging initiative, where they take your donated packaging and link up with various businesses to reduce single-use shipping items.

5.

Use oils or conditioner as shaving cream

It helps the razor glide well without needing cans and cans of foam. If your skin is not too dry, you can try using soap as well. This option is moisturising, cheaper than buying shaving cream, and reduces waste generated in your routine.

6.

Switch away from plastic eyebrow pencils

Retractable eyebrow pencils are something we don't often think about, but so much plastic is involved with this product. Instead, switch to actual pencils, powders or pomades.

1. Pencils can be kept for longer as only the tip is exposed to the air when sharpened, and often contain more grams of product. They are also plastic-free (other than the packaging).

- To reduce product waste, try carefully sharpening your pencils into the Niigata (sword) shape that Shu Umera uses for their pencils. This gets rids of just the wood and exposes the product for use.

2. Eyebrow powders or pomades last extremely long as well, but also consider repurposing your eyeshadow as eyebrow powder if you own many to be used up!

3. Lastly, instead of buying a spoolie, keep one of your empty retractable pencils for the spoolie.

Have you ever felt frustrated with razors going dull within a few uses? So much plastic is involved in just one razor head, and the rate of replacement doesn't help. Safety razors are a return to old razors that are purely metal and refillable with metal blades. These blades are not proprietary, meaning that you can buy any blades to refill your safety razor. They also last much longer, and you can sharpen them if you like — but be very careful as the blade is quite sharp.

8.

Switch to bar soap or refillable soaps for face, body and hair

We know packaging is bad for the environment especially in Singapore where plastics are hardly recycled. Reduce plastic generated in your shower routine by switching to bar soap — often packaged in cardboard, and some come package free too. Did you know Lush switched their plastic products to bars because they realised it was more efficient and environmentally-friendly?

- Tip: Repurpose the nets that your garlic or sweet potato come in as a lather net/soap holder. Put the bar into the net, rub it in between your hands and voila, foam! Bars don't lather easily, so this helps ease use if you're more familiar with liquid soap with foaming agents. Do not use it directly on your skin as it may be too rough

9.

Switch to multiple masks or cream type mask packs

Instead of single-use sheet masks, try masks that come in multiples a la wet wipes such as Saborino or Lululun. You can move away from sheet masks entirely as well by using cream type masks. Clay masks are bountiful from Innisfree to Caudalie, while hydrating or moisturising masks that are not sleeping packs are a bit harder to find. For non-drying wash-off masks, try I'm From Ginseng Mask or Queen Helene, Avocado & Grapefruit Masque.

10.

Switch your deodorant

Natural and package free deodorants are popular and may surprise you with their effectiveness. Try crystal deodorant stones (lots of positive reviews!) that stop the bacteria from forming which prevents smell. Alternatively, DIY your own.
When discussing sustainability, we often talk about zero waste or reducing waste. This is a combination of cutting down on purchases and reusing or recycling owned products as the sequence goes "reduce," "reuse," then "recycle." The most important takeaway should be that if you don't use these product categories at all, there is no need to buy anything more.