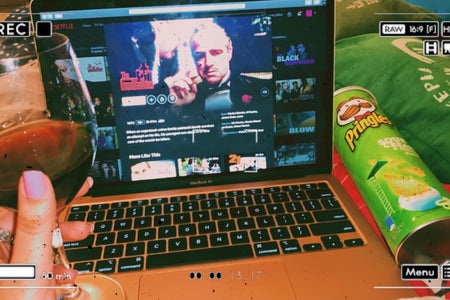 Original photo by Kriti Chaube
6 Movies to Watch after a Break-Up
Let's be honest here: break-ups suck. They are messy and complicated. The whole ordeal of getting over an ex can be emotionally and physically exhausting. You feel like you're missing a part of yourself and you're most probably right. But trust me, that's only for a hot minute (okay, maybe minutes? hours? days?) 
There are multiple ways to get over a break up. A very widely accepted and comforting way is to get into your sweats, open a tub of ice cream or a packet of nachos- whichever you prefer, and fire up one of these flicks. 
1. Someone Great: 
'Why men great till they gotta be great?'
Jenny, the female lead is a 29 year-old music journalist who lands a job with Rolling Stones. It's sounds like the opportunity of a lifetime, except she has to leave New York and move to San Fransisco. Her boyfriend, Nate doesn't want to slog a long distance relationship and decides to end it. Imagine getting dumped by your boyfriend of 9 years. Yes, ouch. This movie is likely to take you on a roller coaster of emotions. And teach you how to move on, rediscover yourself and have the time of your life with your best friends. Another reason to watch this movie is the iconic song Truth Hurts by Lizzo.
2. How to be Single:
Just as the name suggests, this movie will teach you how to have fun with singlehood. This Dakota Johnson and Rebel Wilson starrer will probably make you want to kick out your sweats and slip into something sexy and go on a wild night with your girlfriends/your boys. 
3. Legally Blonde:
Elle Woods was an absolute rockstar for getting into Harvard Law School just to prove her ex-boyfriend wrong. The movie will show you that there's more to life than a relationship. You should constructively use the time you have and explore new horizons. You might end up surprising yourself. 
4. Queen:
If your ex-boyfriend/fiance has broken up with you because he thinks you're not good enough for him then instead of doubting yourself, you need to take inspiration from this Kangana Ranaut film and learn to accept who you are and give love to yourself. You can too, make a trip out of it. After all, a solo honeymoon never hurt anyone! 
5. Sex and the City: 
After watching this movie, you'll understand that sometimes people hurt us without ever having the intention to do so. There could be a lot of love between you and the other person, but if they haven't dealt with their issues, there is no way you two can have a happy ending. Sometimes, they fix themselves and come back, other times, they don't. Either way, its important to know that its not your fault and there is nothing you could have done differently. 
6. Gone Girl:
You're probably surprised why this movie is on this list. The sole reason is that if your significant other is cheating on you, you can either have a dramatic break up or you can follow the path of Amy, the female lead, and get the perfect revenge. Just kidding (or am I?)