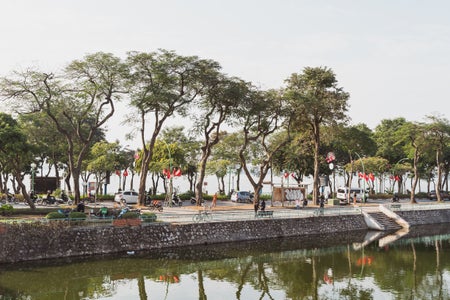 Trúc Bạch Lake: History and Personal Memories
One thing that I love about my hometown, Hanoi, is that there are many lakes both large and small. They bring solace to this fast-growing metropolis. There is Hồ Gươm (Lake of the Returning Sword), located in the historical center of Hanoi. It is the symbol of Hanoi, recalling the legend of king Lê Lợi, the founder of the Lê dynasty, returning the sword that helped him defeat the foreign invaders to the Rùa thần (the Golden Turtle God). There is Hồ Tây (West Lake), the biggest lake in Hanoi with an encircling road of approximately 20km (12.5 miles). West Lake has always been the most popular sanctuary for local young adults to ride motorbikes around with their beloveds, to stop by a coffee shop opposite the shore, sipping bạc xỉu (white coffee), watching the iridescent waves and letting the breeze ease heartbreaks or daily worries, or for the elders to do daily exercises with their neighbors. Being a less famous and smaller lake, Hồ Trúc Bạch (Trúc Bạch Lake) is embedded with a lesser-known history and contemporary culture of Hanoi, as well as always reminds me of my afterschool solace search when I was still a high schooler. 
Trúc Bạch lake is currently located in the ward of the same name, Ba Đình district. The history of Trúc Bạch lake stretches back to the seventeenth century. The lake used to be a part of West Lake. The currents in Trúc Bạch were less turbulent than those of West Lake, making it a more ideal habitat environment for fishes. Thus, in order to expedite fishing and fish-farming conveniently, the residents of Yên Hoa and Yên Quang villages decided to build a dike called Cố Ngư to separate a section from West Lake, and as a result, Trúc Bạch lake was created. The dike is now known as Thanh Niên road, a small road approximately 1km long.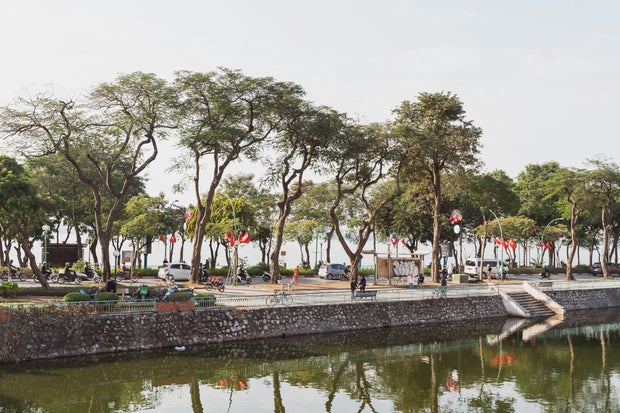 Photo by Louie Dang
Trúc Bạch lake on the right, Thanh Niên street and West Lake. Photo by Louie Dang
According to Thong Tan Xa Vietnam, in the Trịnh Giang lord reign (ruling Northern Vietnam from 1729 until 1740), a retreat palace called Trúc Lâm for the royals was constructed by the side of Trúc Bạch lake to serve the royals. Later, Trúc Lâm palace became the detention center for imperial maids who committed crimes. In the palace, the maids began to raise silkworms and weave silk from them to earn a living. As the silk they made was fine and had a beautiful luster, the neighborhood surrounding Trúc Lâm palace became a famous silk village, named as Làng Lụa Trúc (Trúc Silk Village). 
Around Trúc Bạch Lake, there are many well-preserved temples and pagodas, reflecting the dominant religious culture of Taoism, Buddhism, and Confucianism, and folk religion in Vietnam. Situated in the southwest corner of the lake lies the Quán Thánh Temple, which is dedicated to Xuan Wu -- one of the deities in Taoism. By the shore, there is Châu Long Pagoda, which is believed to worship princess Khiết Cô, daughter of king Trần Nhân Tông (1258-13-8) of the Trần dynasty. The very small Thuỷ Trung Tiên Temple rests on a small island on the lake. Having survived for 1,000 years, this relic relates to a Vietnamese folk religion of dog worshipping. It is also originated from the event of king Lý Thái Tổ (reigned from 1009 - 1028) relocating the capital to Thăng Long (now Hanoi) in the year of the dog, 1010. 
People stop by Trúc Bạch lake for many reasons. By the shore, many uncles gather in the playground. They play cờ tướng, a type of chess game that originated in China or cards. Some aunts sell trà đá, nóng (iced, hot tea) on a vendor and plastic blue stools -- an emblem of Hanoi's frugal beverage culture. The uncles would order a cup of the amber-tinted nhân trần or the bitter green tea while playing and take a sip to refresh their mind before making each of their big moves in the games.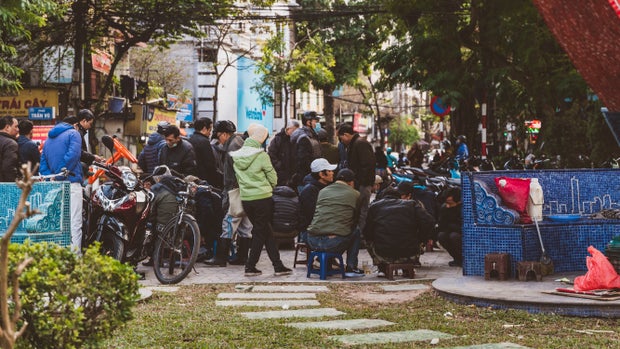 Photo by Louie Dang
Photo by Louie Dang
Noon is a perfect time for people to stop by the lake to have a short but well-deserved break from working. Office workers also stop by the tea vendor. The peaceful scenery of the lake and a sip of tea definitely help them push through that midday drowsiness.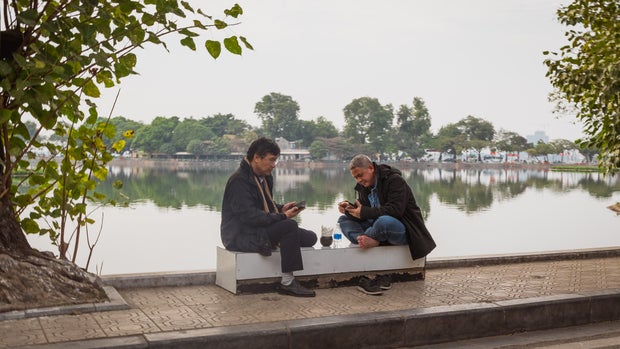 Photo by Louie Dang
Photo by Louie Dang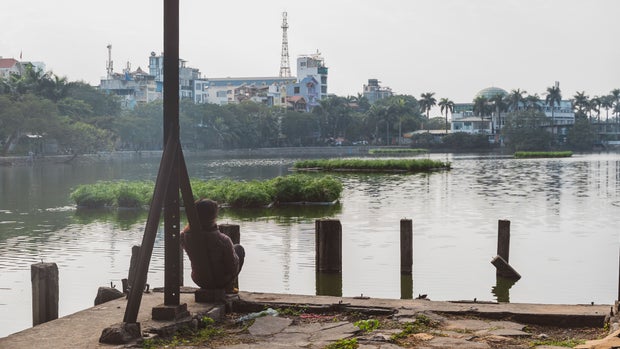 Photo by Louie Dang Photo by Louie Dang ​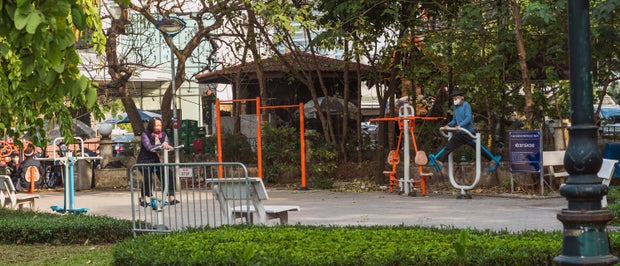 Photo by Louie Dang Public Exercising Space by the shore. Photo by Louie Dang ​
Fishing has always been a common sight at Trúc Bạch lake, perhaps because for decades, the currents have always been still, and the fishes still prefer to inhabit here. Some people go there for leisure, while some consider fishing as a way of making a living. On a recent visit to Trúc Bạch lake, I came across an uncle who had just reeled a catfish that looked quite big to me. However, the uncle told me that this catfish was actually just medium-sized. He looked at the fish waggling on the ground pleasantly, then told me that the fish would serve him for his dinner.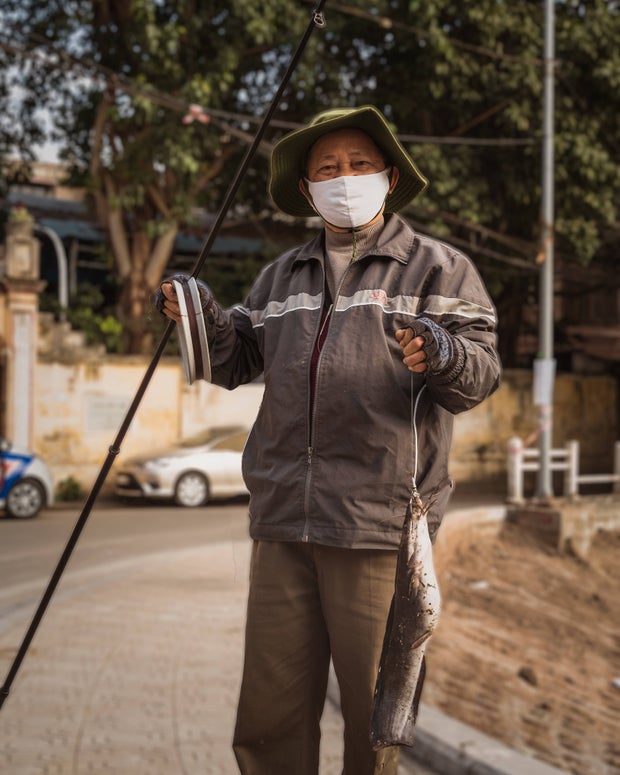 Photo by Louie Dang
The fisherman with his catfish. Photo by Louie Dang 
My former high school is 11km away from Trúc Bạch Lake. During my final year at high school, on Monday and Thursday every week, I had my TOEFL group study session with my friends from different high schools in Hanoi near Trúc Bạch lake from 3:30 pm until 6:30 pm. TOEFL is an English standardized test prerequisite for enrolling in English-speaking universities. I only had to spend half a day at school, and usually arrived home at around 1:00 pm. On Monday and Thursday, instead of going straight home to have a rest before going to tutoring class, I always preferred to hop on the bus and go straight to Trúc Bạch lake. It took me about 45 minutes to get there. 
Before the group study, I usually stopped by the convenience store Circle K at Ngũ Xã street, one of the streets that encircles Trúc Bạch Lake, to buy lunch. My lunch consisted of stir- fried noodles with sausage and a bag of corn bim-bim for a snack. Circle K stores have a small dining area; however, I loved to enjoy my lunch by the lake, no matter how fast the food could grow cold because it was winter when I began to participate in group studying. The store in Ngũ Xã street was literally 20 steps away from Trúc Bạch lake (I counted). Sometimes I would sit in front of the lake, eat my lunch and observe what people were doing around the lake while I was eating, and wonder why they visited the lake at this time of the day. 
Once in every month, if I saved enough money, I would eat a quick lunch at home, then treat myself to a cup of coconut milk coffee at Cộng Cà Phê located by the shore, a pioneer coffee chain that follows the concept design of Vietnam during the subsidized era, wartime and after-war paraphernalia. Bored with coconut milk coffee, I switched to trà sen vàng (lotus seed cream cheese tea) at Highlands Coffee, the first coffee chain shop established by a Vietnamese American businessman. Highlands Coffee has a total of 240 stores in Vietnam. The one in Hồ Trúc Bạch is a coffee boat, because the coffee store is located in a boat on the lake. Hanoians calls it Highlands Du Thuyền (Highlands Yacht). As it was during weekdays and long after lunchtime, both the coffee shops were quite deserted. Thus, I could have a quiet spot for myself after stressful classes of the final year in high school.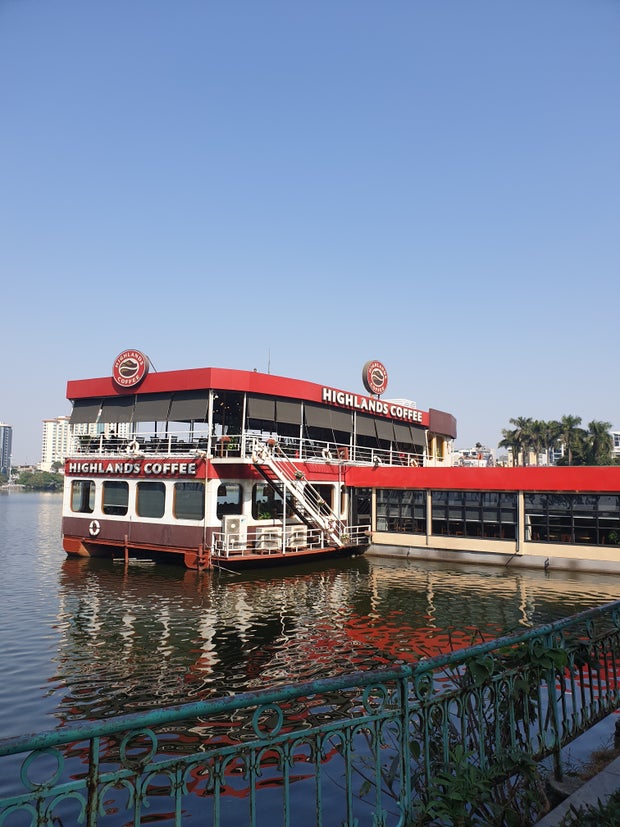 Original photo by Thien An Dang Nguyen
Highland Coffee Yatch​
At that time, some of my friends were always curious about why I preferred the coffee shops by Trúc Bạch lake to those located in West Lake. West Lake's vastness could sometimes make me suddenly feel small and inundated if I stood right by the shore, especially on those windy days. The waves traveled fast, forming defined curls. They evoked in me a sense that they could eat me up if I came closer. Also, standing on one side of West Lake, I cannot see the other end clearly; everything on the other side looks minute. Whereas with Trúc Bạch Lake, I always get an eyeful of the lake from every corner of the shore.
Fewer people visit Trúc Bạch lake compared to West Lake, which made me feel inaccessible whenever I wanted to spend time alone, or to truly focus on preparing for my English standardized exams -- the SAT and TOEFL -- and the U.S. college application. I wouldn't be worried about whether I would come across my acquaintances. Therefore, Trúc Bạch lake became my perfect study spot and getaway within the hometown. "Perhaps it's because Trúc Bạch lake is located right next to West Lake, people usually forget about it. It's like a smaller cousin of West Lake," a friend told me once.
There was a time, around summer 2018 after my first year at Mount Holyoke, that I decided not to visit Trúc Bạch lake because I was afraid of experiencing a pang of nostalgia of those days reviewing TOEFL with my friends, or of moments when the most insignificant memories such as absentmindedly eating my lunch by the shore became intense. However, now, as I'm spending more time in my hometown, I decide to visit the lake more often. I would pay a visit to Cộng coffee shop and remiscine about how I have sat at every table there, and about how they used to look messy with my TOEFL and SAT exercise worksheets. I also enjoy my friends' look of bewilderment when I tell them every historical background detail and everything I know about Trúc Bạch lake. 
If you would like to write for Her Campus Mount Holyoke, or if you have any questions or comments for us, please email [email protected].