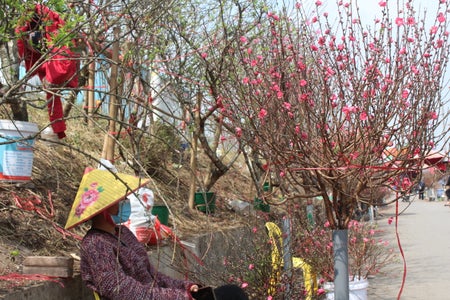 A Lunar New Year of Peach Blossom Sellers Amidst the Sudden Surge of COVID-19 in Hanoi
Lunar New Year,the most important holiday of Vietnam, occurred from February 12, 2021 until February 16, 2021. However, after more than 45 days of no local transmissions COVID-19 cases since Jan 27, 2021, Vietnam detected its first local transmission case. Thus, as of February 05 2021, the Ministry of Health confirmed 394 local transmission cases, twenty three of which were from Hanoi, the capital of Vietnam. 
Following the outbreak, which Vietnamese health officers commented as highly contagious due to the UK variant, Hanoians began to hesitate to go to public spaces where public gatherings could occur. Quảng Bá flower market, the largest flower market in Hanoi, is a public space and is always crowded 1 week before Tết holiday. Flowers are an essential adornment to the house and a sign of luck and fortune for the new year. Hoa đào (peach blossoms) are a must-have flower for Tết holiday, especially in the northern regions of Vietnam. In Vietnamese culture, a peach blossom symbolizes fertility and a family's prosperity in both health and business. 
On February 05, 2021, Miss Châu, a peach blossom seller who was always present at Quảng Bá flower market before Tết, shared: "Perhaps due to the outbreak in Hanoi, few people go to the market and buy peach blossoms. Also, the price increases this year, perhaps due to economic hardship after COVID-19." 
Miss Châu then pointed at all the big pots of peach blossoms around her, shaking her head: "You see all the pots here. No one buys them, so I might just bring all these home." 
According to VietNamNet, a small branch of peach blossom is typically around 80,000VND-100,000VND ($3,48-$4.35), and big ones in pots are around 2 million VND to 4 million VND ($87-$174). Before Lunar New Year 2021, the price of small branches increased by around 30,000-50,000VND ($1.5 - $2), and 100,000VND - 300,000VND ($4.3-$13) for bigger ones. 
Another peach blossom-seller (asked to be anonymous), whose business has been operated for decades and planted peach blossom at Phú Thượng, a district that is about 10-minute drive away from Quảng Bá flower market, further comments on the hardships that flower sellers confronted in 2020: "2020 is rough. Flowers sellers like us spent around one year planting peach blossoms and waited for late January to sell them, preparing for Tết. However, the first difficulty this year was huge, continuous floods. Then, there came this third surge of COVID [in late January 2021]." 
She then shared: "I'm almost 60 years old, and I should retire. However, I love this job so much. Despite this year's difficulty, I've waited until this day to sell peach blossoms for Tết." 
Peach blossoms are often planted in northern provinces of Vietnam, most notably Lào Cai, Hà Giang, Cao Bằng, and Lạng Sơn. Moreover, peach blossoms cannot withstand in soil with excessive moisture. In August 2020, northern regions, including Hanoi, suffered from serious floods. Thus, due to the floods, the soil became too moist. Furthermore, the floods also potentially damaged the trees. 
Furthermore, on the day I interviewed the two sellers in Quảng Bá flower market, which was February 05, 2020, there was one confirmed COVID-19 case in Hanoi. Although there was only one, nine places, including apartment buildings and primary schools, in Hanoi had been blockaded after COVID-19 cases were found in those areas. Amidst the latest surge, it is undoubtedly unsettling to go out in public spaces. Therefore, Quảng Bá flower market was not as crowded as it was last I visited, although Lunar New Year was approaching in less than one week. I last visited with my friends at the flower market on January 14, 2020, 11 days before Lunar New Year 2020, to enjoy the bustling atmosphere of pre-Tết before flying back to the U.S. for spring semester 2020. My friends and I had to hold each other's hand to avoid getting lost in the sea of people. However, on February 05 2021, instead of holding hands, we would wash our hands from time to time after visiting some parlors. We were able to wander around individually without getting lost. 
Furthermore, typically flower sellers would be busy greeting buyers and recommending flowers, and buyers sometimes had to either wait for the sellers or to go to another selling parlor so that they could buy flowers quickly. However, now the sellers just sat still and looked around, waiting for buyers. 
Hải Dương province has recorded the highest number of COVID-19 cases since January 28. As of February 05 2021, there were a total of 290 cases in this province. Therefore, commuting in this province has been restricted; residents in Hải Dương are not allowed to leave the province. As a result, traders from areas such as Hanoi and Ho Chi Minh city could not deliver peach blossom trees into Hải Dương. Peach blossom sellers were afraid of the possibility of being unable to sell the trees, which would even lead to bankruptcy. 
Upon hearing this, the peach blossom seller who chose to be anonymous commented: "I was very sad, extremely sad. I just sincerely hope that authorities in Hanoi will control the spread successfully, and everyone will be cautious so that sellers like us won't go hungry in the new year."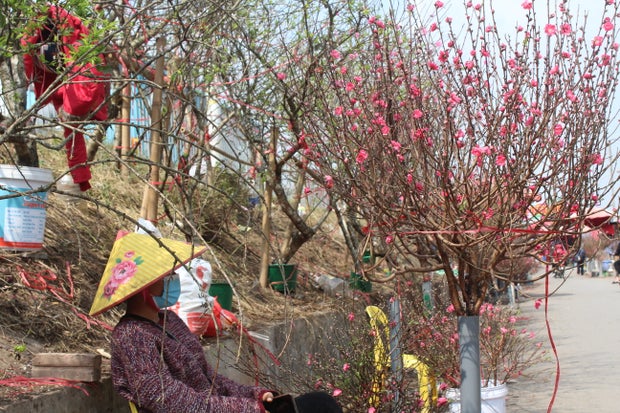 Photo by Vuong Nguyen
Miss Châu ​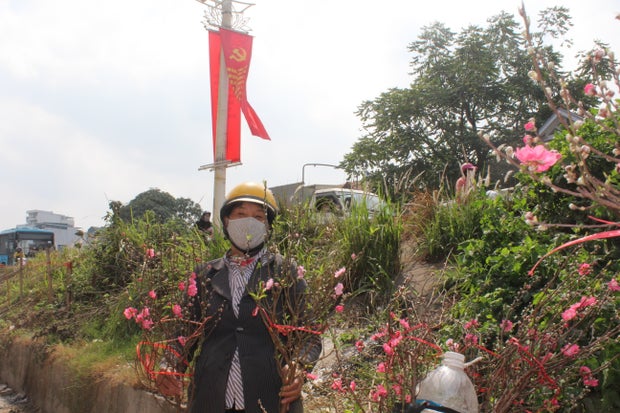 Photo by Vuong Nguyen
Peach blossom seller (asked to be anonymous)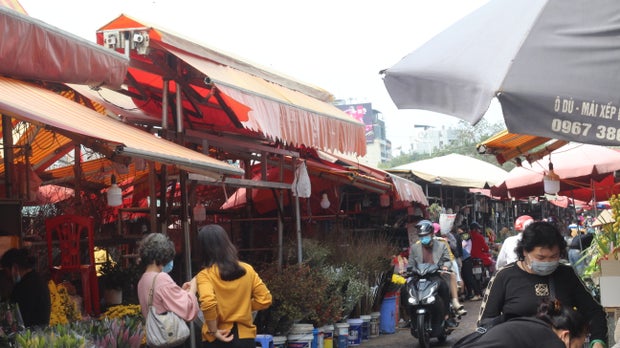 Photo by Vuong Nguyen
Quảng Bá Flower Market on February 05 2021 ​
If you would like to write for Her Campus Mount Holyoke, or if you have any questions or comments for us, please email [email protected]