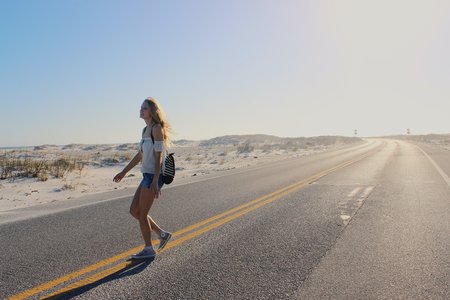 Anna Schultz / Her Campus
How to Have the Perfect Long Weekend on Martha's Vineyard
For mid-semester break, my friend Ella and I spent a long weekend on Martha's Vineyard. When Ella and I first met, we bonded over our love for the book We Were Liars by E. Lockhart, which takes place on an island called Beechwood near Martha's Vineyard. On this trip we were so excited to explore all of the Vineyard locations mentioned in our favorite story, so that's what we did!
At around 100 square miles, Martha's Vineyard is split between down-island and up-island. With picturesque towns and stately homes, down-island is comprised of Edgartown, Oak Bluffs, and Vineyard Haven. Up-island is mostly coastline and rural farmland, made up of Aquinnah, Chilmark, and West Tisbury. 
This old-school New England island is a dream with its white-sand beaches, iconic lighthouses, and great food. Columbus Day weekend is the last stretch of the season which, when the weather is as nice as it was this past weekend, is perfect because the towns aren't too crowded and the boutiques are having major end-of-season sales.  Keep reading for my guide to the perfect long weekend on the island + our travel playlist. 
Day 1
Take your car onto the 8:00 AM ferry into the main port in Vineyard Haven. You'll arrive to the island in around 45 minutes. Originally a fishing village during the whaling era, Vineyard Haven is now filled with charming shops, local restaurants, and the beautiful harbor, often filled with yachts. Grab a coffee at Mocha Motts, do some shopping, and get lunch. 
Before leaving Vineyard Haven, go to the grocery store and pick up some fruit, cheese, Cape Cod potato chips, chocolate, and any other picnic favorites, then head to Gay Head Light House on the Aquinnah Cliffs. There is an easily accessible lookout for stunning views of the ocean and lighthouse. Then, you can follow the walking trail until you reach Moshup Beach. Sit on the white sand and enjoy a Pinterest-perfect picnic during sunset.  
Day 2
Edgartown needs an entire day, so dedicate your Saturday to shopping, eating, and biking around town. Grab a coffee on Behind the Bookstore's beautiful patio. Then, walk along the water and do some shopping on Main Street. The trendiest boutiques are Nell, SALTE, SLATE, Suka, and Rags. I suggest grabbing lunch at Among the Flowers waterside restaurant. Then, rent bikes from Wheel Happy and follow the bike path from Edgartown to Katama beach. You'll pass traditional Greek Revival- and Cape Cod-style mansions with perfectly manicured lawns along the way until you've arrived at dune-swept South Beach. After some time collecting seashells and getting your feet wet, cycle back to Main Street and get ice cream from Vineyard Scoops. I recommend chocolate chip with hot fudge. Finish your evening with dinner at a local favorite like Chesca's, Atlantic, The Port Hunter, or The Covington.
Day 3
Spend your last afternoon on the island in Oak Bluffs among the colorful, Victorian homes. Ride the world famous 'Flying Horses' Carousel, which was constructed in 1876 on Coney Island before being moved to Oak Bluffs in 1884. Walk around Circuit Avenue, a lively street full of boutiques, gift stores, restaurants, and ice cream shops. Stroll around or have a picnic at Ocean Park, enjoying the gazebo, greenery, and ornate cottages. 
For your final evening, see the spectacular sunset in Menemsha, the quaint fishing village in the northwest end of Chilmark where most of Jaws was filmed. Walk out on the jetty and watch as the clouds turn cotton candy pink and mandarin orange. 
Adele & Ella's Road Trip Playlist
Lastly, here is our playlist for your 3 hour road trip from campus to the Cape or for some background music during your sunset picnic!
"Real Love Baby" by Father John Misty 
"Sleepwalking (couples only dance prom night)" by Modest Mouse 
"Dips" by Daisy the Great
"A Little More" by Alessia Cara 
"Beige" by Yoke Lore
"Daylight" by Madolin Orange 
"Famous" by  Ivy Adara
"You Know I'm No Good" by Amy Winehouse 
"Across The Universe" by Imaginary Future, Kina Grannis 
"Heavy" by Kiana Lede
"8TEEN" by Khalid 
"Life on Mars?" by David Bowie 
"Fuck it I love you" by Lana Del Rey
"Sunday Candy" by Donnie Trumpet & The Social Experiment
"We're Going to Be Friends" by Jack Johnson
"In The Door" by Guantanamo Bay Surf Club
"Playing Games" by Summer Walker 
"Wolves (You Got Me)" by DREAMERS
"The Next Best American Record" By Lana Del Rey  
XOXO,
Adele 
If you would like to write for Her Campus Mount Holyoke, or if you have any questions or comments for us, please email [email protected].