I have named this article "Catch a Falling Star" because just as onlookers wait for hours to observe shooting stars, I have anticipated my college years ever since Tadashi Hamada showed his little brother around his vibrant and inventive lab in Big Hero 6. A shooting star is brief and disappears with the blink of an eye but lights up the whole sky with its beauty, which is exactly how I feel about my first year experience. This year may have passed quickly, but I have made so many special memories that I will treasure for the rest of my life. 
☆ Rainbow Jelly Dance Club
I've trained in ballet since I was five. I am used to the world of fluid movement, elongated lines, and curtsying at the end of every class to thank instructors and live pianists. My experience in elegant tutus has familiarized me with twirling on my toes without being able to see my legs, yet when I was dressed from head to toe in black and looked down at the crop top and combat boots I wore for my first performance with RJ, I could barely recognize myself.
My Spotify is filled with Korean pop music, and my feet are filled with the spirit of dance, but before college, I never could have predicted that I would join a K-Pop dance crew. Ballet is rather classical and graceful while the K-Pop dance practice videos I often stay up late watching exude modernity and contagious energy. After years of pliés, pirouettes, and pas de bourrées, I believed that ballet had shaped my body to move like a swan so that experimenting another dance style more akin to a peacock would not suit my form.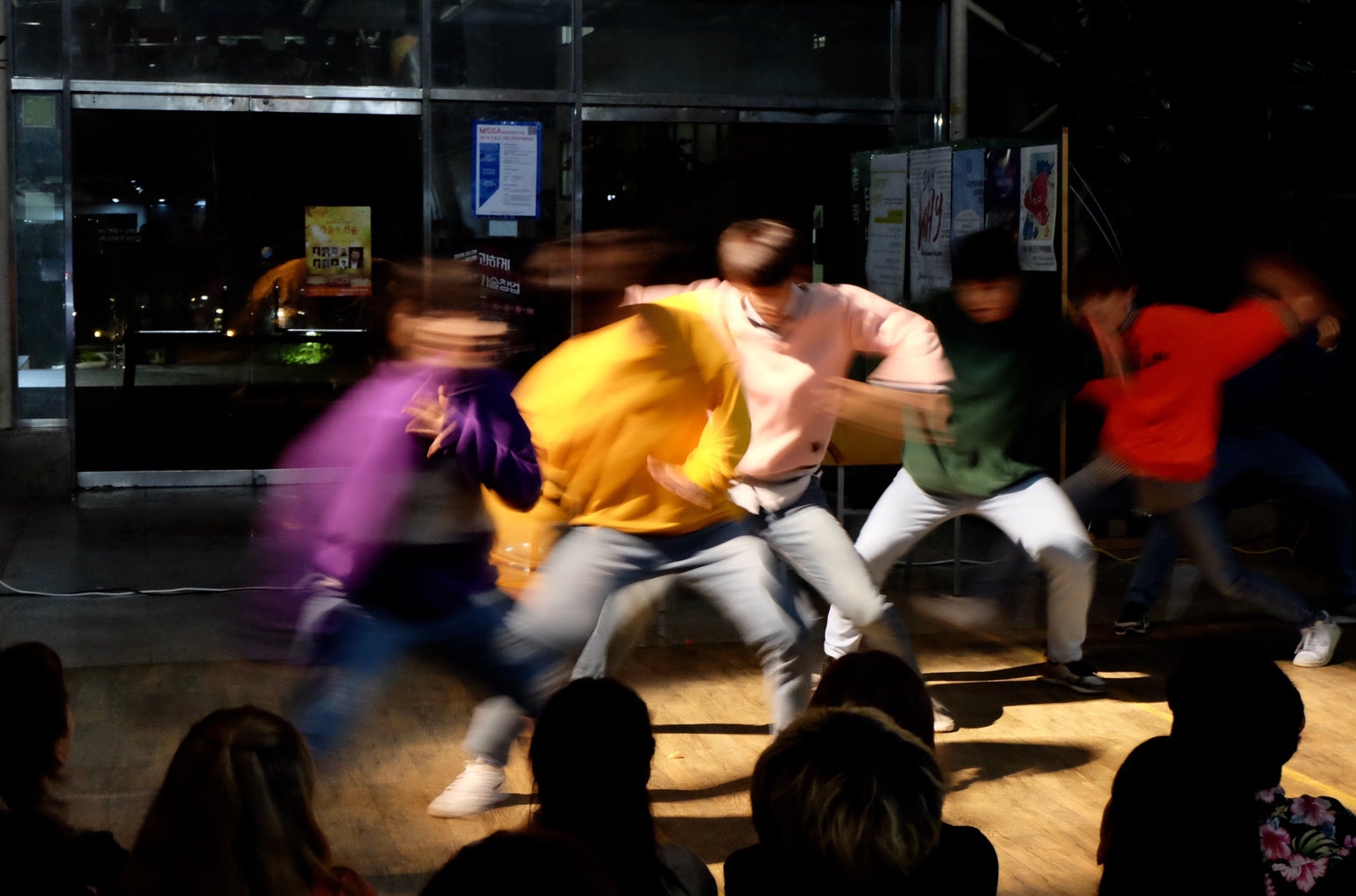 Even so, I showed up at the first open workshop this past fall with the mindset that even if I failed at swaying my hips or body rolls, I still love trying new things. Three hours later, I walked out of the workshop with an adrenaline rush from how much fun I had, friends who I cannot wait to visit once the coronavirus has subsided, and a new perspective on how putting effort into something that I really enjoy is more important than how good I am at it. 
RJ has revealed a side of me I was unaware of before. I am the floaty tutus and shimmering pointe shoes I wore during Giselle and Sleeping Beauty, but I am also the cargo pants and heavy duty high tops I danced in for the VariAsians event last semester. I have learned to break free of the initial restrictions I placed on my body so that I can dance from my heart, fully free of fear. 
(Also stan SuperM, and heed the letter "u" ➷)
☆ Koinonia Fellowship (Growth Group associated with First Baptist Church in Amherst)
Growing up in a Christian family, praying before I sleep feels just as regular as brushing my teeth every morning. In my hometown, I do not have many close friends who share the same reliance I have on a higher power, and before coming to college, I was interested in finding a community that associates the name "Jesus" with love. This growth group has been an answer to my prayers. 
The strong women I have met through GG have welcomed every part of me, from my insecurities to my anxious thoughts, with open arms. Nothing is considered territory too unclean or erroneous to talk about, and I have found the greatest comfort from having a sister hold my hand when sharing about my struggles in my faith and knowing that she understands. Studying the Bible together has been one of the most meaningful aspects of my first year in college, as my peers show me practical applications of the ancient text to our everyday lives now and help me approach life with fresh eyes. 
I will never forget our dance parties to "All I Want for Christmas is You" in the middle of March or #BlazeIt2020 when we all decided to wear blazers one Sunday and filled up our church pew looking like businesswomen. My sisters have set such positive and loving role models in how they always make time for one-on-one meals to take care of me even in the midst of their hectic schedules, and the minute I express hardship they spend a moment to pray for me. I only have one older brother, but as I tell my new family all the time, GG has given me the sisterly experience I have always dreamed of.
☆ My first job! 
My years of ballet have trained me as a performer, so even though the stage was a home to me in high school, working as a dance office assistant at Kendall has been my first experience working behind the scenes during shows. The American Ballet Theatre Studio Company's visiting performance this past January was my first time as part of a theater tech crew. When I was assigned to work the soundboard, all I could feel was panic. Not only was this my first show and first time touching a soundboard in my life, but ABT is one of the greatest and most renowned dance companies in the world. A mistake on my part was not an option, given the company's acclaimed reputation.
Even so, I received this opportunity as a chance for me to learn something new and challenge myself. Though I learned how to use the soundboard technology the day of the first performance, I pushed myself to believe that I was capable. With the production manager and the dance department's technical director encouraging me every step of the way, the shows went as smoothly as I could have ever asked for. 
Even if it was for a short time, I've learned so much from my job as a dance office assistant. I now know why the knee-tall lights in the stage wings are labeled "shin busters." Also, my new understanding of what goes on backstage during performances has given me a greater appreciation for the operations that are crucial to putting on shows yet often go unnoticed. Most importantly, "you're stronger than you know" is a statement that I readily agree with, but working this show had me internalize what that means and reminded me to have more confidence in myself even in uncomfortable or novel situations. Taking a job that is unlike anything I have done before has shown me the reward and growth that comes from stepping out of my comfort zone. The worst thing that can happen from trying something new is realizing that it is not suitable for me, but the best outcome is discovering a new love.
☆ Ansley
The moment I stepped out of my mom's car onto the green last April for Preview Weekend, I met Ansley and her dad. Surprise does not cover how I felt when I learned that the two of us were deciding between Mount Holyoke and the same small obscure liberal arts college in middle-of-nowhere Ohio. Over the course of less than four hours together, I found that we both hoped to write for a campus publication, worked at libraries during our time in high schools, and showed interest in becoming teachers in the future. Of all things, we talked about being the type of person to avoid confrontation and how both of our schools switched principals right before our senior year. We bonded over the short story collection Interpreter of Maladies by Jhumpa Lahiri and a similar taste in books.
Some people believe in coincidence, and others believe in fate, but I believe that God allowed Ansley and I to be in the right place at the right time. It's rare to meet someone who matches in personality and background so well, and I am so thankful that I have found this person for me in Ansley, my first MoHo friend. We are similar and different in the best possible ways, and my first year of college was made special because of her. When I think back on the nights we studied in Blanch together, I forget about the stress and smile at how we listened to meme songs, mimicked Vines, and watched John Mulaney skits during our disproportionate breaks. I remember how even studying was joyous just by simply being together. From getting bubble tea in Amherst to movie nights of popcorn and booing Hans in Frozen, every moment with Ansley is special. She is a friend who is always there for me, and she is the friend who introduced me to Her Campus, which I will always be thankful for.
☆ Her Campus
I have always dreamed of writing for a campus publication in college. I like to write openly about the beauties and wonders I have discovered in the world as if I am having a conversation with a close friend. While my literature courses assign analytical essays, Her Campus has provided the most wonderful outlet for me to write in the way I love best. Rather than inducing stress to meet deadlines, preparing articles for HC is always a highlight of my week and allows me to relax into talking with you. 
I have loved sharing my experiences every week, and I hope that you have been able to recognize yourself in my stories. In your time in college, whether this has been your first, second, third, or last year, I hope that you find a passion that drives you whether it's dance or something else entirely, a community that accepts you for who you are and not who you wish you were, an experience that challenges or even frightens you at first to show you that you are stronger than you know, and one very special friend who understands you like Ansley understands me. 
Thank you so much for being part of this journey with me,
Elizabeth ☆
If you would like to write for Her Campus Mount Holyoke, or if you have any questions or comments for us, please email hc.mtholyoke@hercampus.com.