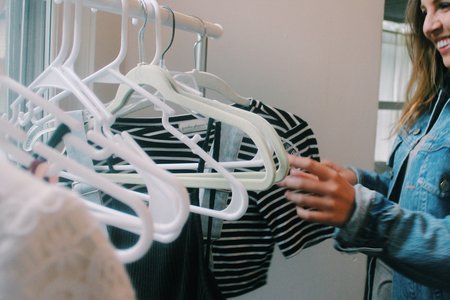 Anna Schultz / Her Campus
A Look Back: Which Trends Were Really Popular in 2019?
Curious to see if your predictions for the new year ever turn out right or wrong? Well, early last year I published this article, "Fashion Trends I'm Anticipating For 2019." Now it's time to see which predictions of mine for 2019 turned out to be true.
The 90s Square Toe 
This was my prediction of the year and I've seen the evolution of square-toed shoes from round-toed shoes. This style gave us more variation in choices for shoes and could help change up the overall feel of an outfit. The squared toe was definitely a throwback, yet gave booties and other heels a more futuristic and chic feel while wearing them.
Puffed Shoulder Blouses
Of course - another throwback trend, but this time from the 80s. The puffed shoulders were A Look and were pretty popular during the summertime as there were blouses in variations of sheer and floral prints. The sheer material was more popular as it could be easily worn for any occasion, from work to a night out, they have a delicate and chic effect.
Shiny Textures and Animal Patterns...well for a bit
Even though this prediction also was accomplished back in 2018, I thought the same trend would continue for 2019. The animal patterns were still evident, but shiny textures only made an appearance on a few runways and haven't caught on yet. Although there weren't that many shiny textures and animal patterned clothes as anticipated, there were more sequins used for makeup in time for Coachella and overall throughout the year as folks became more adventurous and creative in choosing makeup looks.
Sustainability - FINALLY!
Sustainability has made a big impact on our environment and our society as a whole as a lot of folks have become more aware of the effects of fast fashion. Not only have I been trying to be sustainable as possible, but influencers from YouTube and Instagram have been promoting brands that support sustainability. Brands like Reformation, thredUP, along with any local Goodwill and thrift stores all promote sustainability and can help you build/keep a timeless closet. Sustainability has been more accepted this year and continues to be as more awareness is being spread and more of us are now being sustainable in our lifestyles. 
I was probably wrong about one prediction for 2019, but in 2020 retailers and runway creative directors will help to evolve old trends further while creating new ones to keep the peak the public's interest.