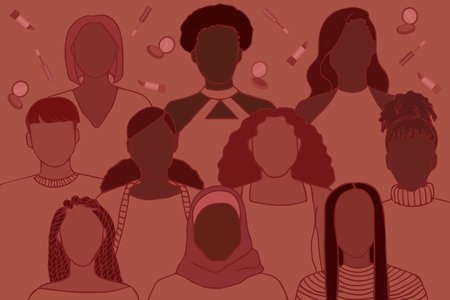 Adebusola Abujade / Her Campus Media
Shaving My Head: Honest Review
August 15, 2020 was the day I finally got the courage to shave off over twenty-four inches of hair. It's something I've been wanting to do for some time now (even wrote an article about it, if you want to check that out). Since I've had over a month with my new hair, I'd like to explain some of the reasons why I did it and what I've learned so far from this experience.
First, I'll go over what led up to August 15th. Months before this date, I would ask people what they thought about me shaving my head, and to my shock, the majority weren't a fan of it. They made excuses saying, I wouldn't like how it turned out or it didn't seem like something I would do. After a while, I realized other people's opinions shouldn't get in the way of what I want to do. I don't want to look back on my life and regret not doing something because of fear. Fear of the unknown. Fear of rejection or judgement. Life is too short to mold yourself to fit what other people want to see.
I had a list of reasons for shaving my head too. I thought of how freeing it would be to cut the hair myself. To figuratively and literally cut out the bad and start fresh. To be able to experiment with different cuts and colors as it grows out. To not take myself so seriously. I felt like my long hair didn't fit my personality, where now I feel like my appearance lines up with who I am. There were many more reasons but these are just some examples.
So, August 15th came, I was staying with my sister and I decided that it was time. I can't express how satisfying it was to cut my hair. It was terrifying and exciting all wrapped into one. After cutting the hair, my sister helped me shave my head, which was such a cool experience to share with someone I'm so close to. Afterwards I was so happy that I did it.
Now, let me share what I've learned so far. One of the biggest ah-ha moments for me was the amount of support I got from it. Surprisingly, some of it came from those who were against me doing it in the first place. Which just goes to show you can't base your life on other people's opinions, because the only person you're letting down is yourself. I've learned how fun "beauty" can be. Wearing cute headbands or big earrings are things I would have never worn before but I'm enjoying now. I also appreciate how easy it is to get ready for the day. Washing my hair or having it look presentable used to be a constant struggle where now it's so simple, which I love.
Overall, this experience has been amazing! Now that you know some of my reasons behind the dramatic haircut and what I've learned so far; I encourage anyone who has ever considered shaving their head before to just go for it. Plus you can donate your hair to charities in need. Don't worry, I'll keep you all updated on how the grow out process goes too.