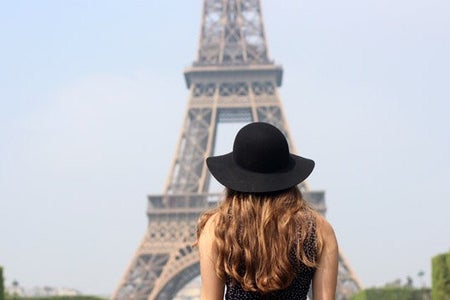 Kellyn Simpkin / Her Campus
Spring 2020 Couture Shows to Cure Winter Woes
The ability of couture's intricate craftsmanship to be transportive in nature is something the middle of winter is more than welcoming towards. From January 20th-22nd, the Spring 2020 couture shows in Paris allowed spectators near and far into the fantasy where haute couture first began. 
Your front-row invitation awaits.
Ralph & Russo 
Lovers of sparkle and bows will appreciate the award-show worthy gowns in pastels and subtle hues that celebrate a new decade for the house. Looks included elements from the brand's history mixed with designs meant to appeal to a younger base.
Explore the show here
Christian Dior 
Anyone with an inner greek goddess should see the golden, body defining, draped garments 
complemented with roman sandals and ancient symbols that represent the eternal creative power of women. 
See it for yourself here 
Chanel
Minimalists will like the the black, gray, mauve, cream, and white palette worn by the show's schoolgirls in staying true to the characteristics of the founder's turn-of-the century clothing. Paired with black patent shoes and white ankle socks, the refreshing styles carried an adult allure. 
Experience it first-hand here
Givenchy
Art enthusiasts can admire the clean, sculptural silhouettes in this poetic collection reminiscent of 1950's head-wear and volumizing cloche shapes developed by the designer, all in stand-out pansy colors to bring modernity.
Get an up-close look here  
While the fashion calendar might be of dated order, the significance behind the mere three days of haute couture fashion week proved that meaningfulness certainly is not. Each nod to tradition made the pivotal season resemble something out of a fairytale.