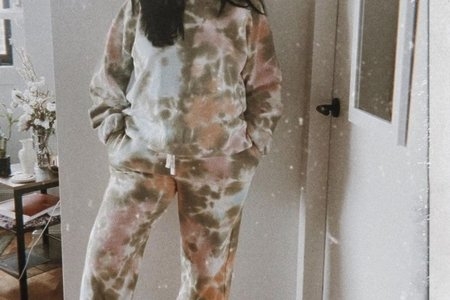 Original photo by Shelby Hall
Being at home literally all of the time has made for some incredible spikes in sales on loungewear, lounge brands starting and lounge looks being out and about online and anywhere people can go now-a-days.  Although loungewear is the main idea of the trend, being cozy and comfy while working/zoom uni-ing from home, there are many trends within the bigger trend idea.  
The Tie-Dye Lounge Look: Tie-dye is all the rage this year.  From everybody wanting to tie-dye their entire wardrobe to tie-dye masks to tie-dye lounge sets, tie-dye is a gigantic 2020 trend, and a very nostalgic one at that.   Original photo by Shelby Hall Via @shellzzii on IG 

The Monochromatic Lounge Set: Whether it's all green, all lavender or all tie-dye (like the above point), monochrome looks are huge in 2020.  Who knew all it would take to look semi put-together on our zoom calls would be an outfit all in one color?   Original photo by Shelby Hall Via @shellzzii on IG 

The Groutfit, Brownfit and Blackfit: The groutfit is not a new idea, wearing all grey, but wearing all brown is something I'm seeing a lot more of lately.  The all black outfit is also not super new, but wearing a black hoodie and black sweats is a 2020 staple.   Original photo by Tori Genesis Via @tori_genesis on IG 

The Elevated Lounge Fit: Elevating your lounge look with a scarf, a matching mask or a hat is a big idea of this year.   Original photo by Madi Cobb Via @madicobb on IG 

The Trench/Blazer With Sweats Outfits: I've been seeing this trend everywhere!  Wearing a structured or oversized blazer with a monochromatic sweats look or wearing a long trench with a lounge look under it.  

The Heeled Shoes and Sweats Idea: Using heels for a night out, but still keeping up the sweats and comfort idea is a big one for as of late since bars and restaurants are more open now than ever in months.   Original photo by Kenzie Pierre Via @kenziepierre on IG 
I, for one, am a huge fan of the world of lounge looks and have been wearing and investing in lounge more than anything else this year.  I mean, were all at home, why not look good while staying comfy at home?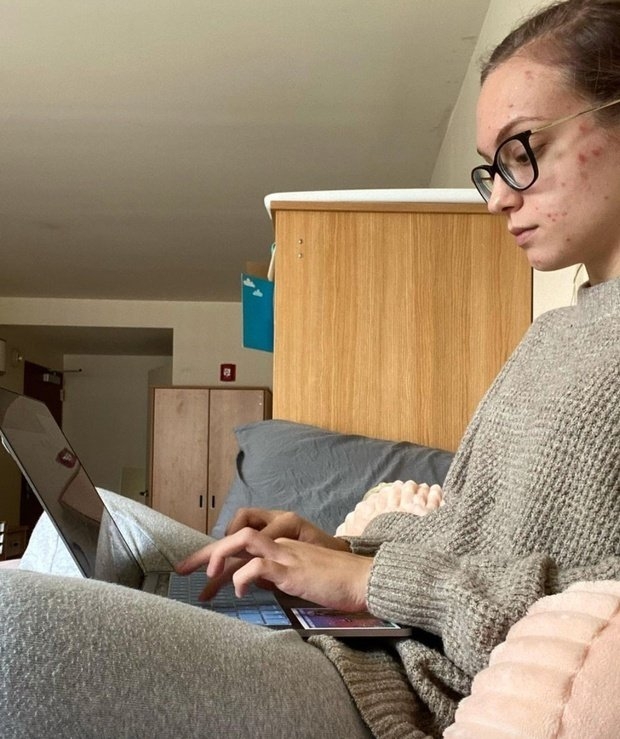 Original photo by Anna Saggese
Via @anna.saggese13 on IG