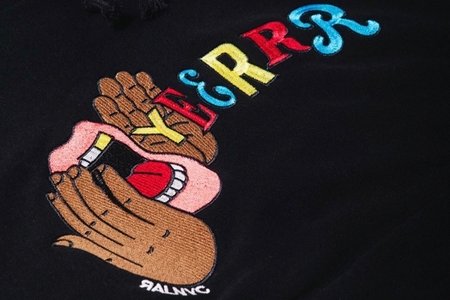 Ral Chime on His Inspiration, Goals, and Life Before and After Fashion
It looks like RalNewYork is here to stay. 
Ever since the first launch of his new fashion brand RalNewYork in 2017- a soon to be cultural phenomenon in fashion that embodies New York and Nigerian cultures- the streets have been buzzing. 
Ral Chime has been inspired and embracive of the two places he calls home-New York and Nigeria. He believes both places have many differences, but they also have much in common. As an advocate for using art as an expressive outlet, Chime aspires to rise up in the fashion industry with creativity and designs that represent both of his homelands. 
He continues to increase his followers as his brand expands. Jack Wickman- follower of the brand- had a few things to say about how he feels about RalNewYork. Wickman was asked about the aspects of Chimes brand that make him want to purchase his products and what about it he connects with. "His brand represents a youthful lens. It speaks to the teenagers and people who are on the come-up in today's age, and I want more of that. There is a kind of social comfort that is represented in his pieces." It is clear that Chime thrives to make his purpose and statement as a designer clear when putting together his pieces. Wickman believes Chime will thrive as he remains on the lookout for Chimes new pieces that convey a unique style with his intertwined cultural messages.
When did Chime initially get the idea to start his own brand? "I initially had the idea for my brand in 2012 when I was living in Nigeria. My parents had sent me there to study the culture, language and to further my education. It was not until 2017 that I had gathered enough funds to execute my first launch and it was released on October 8th which was indigenous people's day. Releasing it on this day was important because I always felt a connection with the indigenous people of America and how they treated their culture with so much respect." A lot of Chimes work is culturally urban, and he clearly encompasses the passion and motivation of a new young designer.
Since Chime is aspiring to be a successful designer, that does not mean he can't do other things that he enjoys. Chime, finds time to enjoy life with other hobbies like modeling and traveling. "Modeling teaches and shows me numerous ways other brands advertise themselves. Traveling is always a good experience because it allows me to embrace different cultures that influence me as a person and a designer," he says. 
But, what are some goals with this twenty-three-year-old new designer fashion brand? Well, he wants to use his brand to allow kids to connect to the culture in New York and Nigeria. He believes children are the future and says, "During my time in Lagos, Nigeria the kids were not offered a proper education in the arts, and not even given the chance to discover the field as much as they deserved as well as in America where children are not educated about street art because society has deemed it unworthy of learning." With his blend of both worlds he believes it will help bring awareness and people of different communities together. 
Currently, RalNewYorks' popular pieces are his hoodies, and t-shirts that run between $25 to $70. RalNewYork was initially created to target elementary and middle school children, but an unexpected turn happened when his brand started to attract those between the ages of seventeen and thirty years old. Chime expresses that, "As RalNewYork grows we intend to release more items that can relate to every age group. A special couture lab is set up in East New York in order to expand the styles and patterns that we offer customers. For example, some of our customers prefer a more luxurious look or a more mature style. Over at the lab we produce these special garments to give customers of all age ranges a feel of what it means to be a part of the brand's cultural aesthetic." RalNewYork is a brand that can be part of a revolution to bring authenticity, personality, and casual comfort into the closets of those who vibe with it. 
Chime explains that fashion has helped him in ways that he wishes more children would get to experience. He has been able to express himself with his platform and use it to tell his story. His designs have cultural colors like green, white, blue, and red. He sends out his messages in the form of colors, patterns, and sceneries that clothing itself embodies. Many of his pieces are true to size and comfortable. Ultimately, his brand will definitely make you leave your house feeling fresh, swaggy, and up to date on cultural trends.