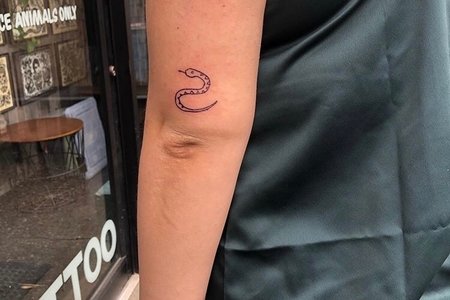 I Finally Did It Guys, I Got a Friday the 13th Tattoo
Growing up, I never thought that I would get a tattoo. In fact, it wasn't until after I received my first tattoo (on somewhat of a whim) that I actually started getting into tattoos and tattoo culture. Friday the 13th has a rich history with tattooing, which originated from sailors. '13' was an unlucky number, so sailors would get the number tattooed as a "jinx" to keep bad luck away. 
Most tattoo shops began releasing Friday the 13th Flash Sheets containing spooky designs such as black cats, coffins, the number '13', and others about the size of a silver dollar. The tattoo would traditionally cost $13 with a $7 for $20 total, which for a tattoo, is an amazing deal. Today, flash tattoos can range from $13-$100, despite the date.  
After having missed the last few Friday the 13th's, I vowed to myself that for the next one I would get a tattoo. I told my friends that I planned to call out from work. I was willing to wake up early and wait for hours in a line. I wanted that tattoo. In the events surrounding this past Friday the 13th, Coronavirus concerns caused many tattoo parlors to cancel their deals. Luckily, the tattoo shop I was planning on going to didn't cancel Friday the 13th tattoos, but opted for scheduling appointments online as opposed to a large group of people waiting outside. I scheduled my appointment for 12:30 and was ready to go. 
A friend of mine had stayed over the night before, and after a fun day of sleeping in and grabbing McDonalds breakfast, I headed over to my appointment. Due to precautions, my friend wasn't allowed in the tattoo shop with me, although my tattoo artist did point out, "This is probably one of the cleanest places you could be." 
I chatted with my tattoo artist, filled out some forms, and then got ready to get my tattoo. I've gotten tattoos before, so I had an idea of what to expect. I had decided on the snake from the flash sheet, because my sisters and I have inside jokes about being "snakey." I'm also a Slytherin, so it fit! My tattoo artist and I talked it over until I decided on above my left elbow, my tattoo artist even placed the stencil exactly where I wanted it the first time. I also happened to be in one of the most comfortable positions I've ever received a tattoo in, lying down the whole time. Getting tattooed took about 30 minutes from getting the stencil on to getting the plastic placed over the finished design. 
While it wasn't the experience of getting up early and waiting in line for hours to get a cheap Friday the 13th tattoo, it was clean, organized, and resulted in one of my favorite tattoos that I can't wait to show off.