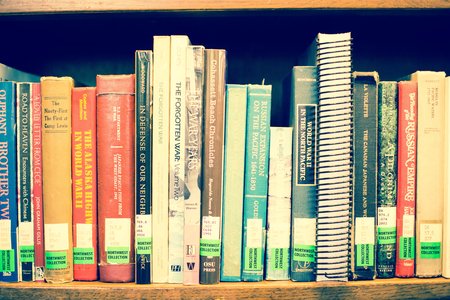 Breanna Coon / Her Campus
6 Books that are Helping to Diversify YA Literature
Have you ever read a story and realized how much you related to the main character? From their favorite music and the way they awkwardly talk to strangers, to their struggle with frizzy hair and need for morning coffee, you can see yourself actually completing the adventures of this character. But what happens when you don't see yourself represented in the books you love?
As an avid young reader, I spent hours in the young-adult and children's section of the library. I read every novel I could get my hands on, but there was one problem. As a biracial kid, I rarely saw stories that followed girls like me. Actually, I rarely found books that were not about straight white characters. While that can be a great point of view, there also needs to be other stories to represent all of the people that read. If no one person's life experience is exactly the same, then why do we read all from the same perspective? Seeing yourself within the pages of a book gives you self-confidence and encourages you to lead your own adventure. Similarly, diverse stories can also expand the world view for people who usually see themselves written in books. You can gain a new acceptance for people different than the ones in your community. It also allows you to understand difficulties that you would have never experienced.
Fortunately, in the past few years, YA and children's publishing has started to recognize the need for diverse stories. 'We Need Diverse Books' is a relatively new non-profit that promotes diverse stories in children's publishing. With the help of this organization and the birth of social media, authors from varying backgrounds are receiving the opportunity to have their stories told. Although there is still a long way to go, walking through the library today, one can see a huge collection of YA and Children's books that represent a range of American children and teens.
The six YA books on this list are just a small part of this new wave of diverse literature. They expand from every part of American teen life. While books such as The Hate U Give, Simon Versus the Homosapien Agenda (Love, Simon), and To all the Boys I've Loved Before are remarkable reads with unique perspectives, they also now have critically-acclaimed movies attached to them. This list is for books I loved that I haven't seen on the big or little screen yet, but hopefully will soon!
1.

Frankly in Love by David Yoon

David Yoon's debut novel, Frankly in Love, was my first read of 2020. It follows high school senior Frank Li (do you get it?) as he navigates high school, girls, and college admissions. As a second generation Korean-American, Frank must find the balance between his extremely Korean home life and his extremely American social life. His main mission is to secretly date his white girlfriend without his parents knowing. How can Frank stand against his parents' traditional Korean expectations while trying to have a stereotypical American teen life? 

2.

A Very Large Expanse of the Sea by Tahereh Mafi

Author Tahereh Mafi is known for her adventurous dystopian series and magical worlds, but in A Very Large Expanse of the Sea Mafi takes from her own experience as Muslim teen girl after 9/11. Our main character, Shirin has always had her guard up. This girl knows how to swear and fight, but her anger comes from constant stereotyping and harassment from her peers. She knows that most Americans see her and her family as a terrorist threat. With 9/11 happening only one year before the start of the novel, Shirin has never felt more isolated in her own community. Navigating high school can be difficult when you're constantly being attacked for who you are.

3.

When Dimple Met Rishi by Sandhya Menon

Sandhya Menon takes the stereotypes of arranged marriages head on in When Dimple Met Rishi. This cute romcom starts with our main couple Dimple Shah and Rishi Patel already knowing they will marry one day. Dimple has just graduated high school and is about to start a pre-college summer program when her parents tell her of a boy named Rishi also in the program. The two sets of parents have arranged their children to meet, date, and hopefully marry. Fortunately this pressure does not deter Dimple and Rishi from having a splendid summer romance. This book is able to tackle Indian-American stereotypes and the struggles of growing into oneself all while depicting a super cute, loveable summer romance.

4.

The Absolutely True Diary of a Part-Time Indian by Sherman Alexie  

This novel follows Junior, a thirteen year old boy who lives on the Spokane Indian Reservation, who dreams of becoming a cartoonist. The poignant story follows Junior as he leaves his reservation school to attend an all-white farmtown high school. Like many books on this list, Sherman Alexie pulled experiences from his own life. He delves into the obstacles of balancing his heritage while still appreciating the world around him. Though over ten years old, The Absolutely True Diary of a Part-Time Indian speaks greatly to the world we live in today.

5.

Aristotle and Dante Discover the Secrets of the Universe by Benjamin Alire Saenz

Benjamin Alire Saenz's novel follows two boys Aristotle "Ari" Mendoza and Dante Quintana in 1980's Texas. Our narrator, Ari, is misunderstood by his family. His parents always keep their son at a distance. His sisters are too old to relate to their brother, and his forgotten older brother is currently in prison. Ari feels like a stranger in his own home, until one day he meets Dante. Ari and Dante grow a long lasting relationship filled with so much love and respect, that you expect these boys can handle anything. Aristotle and Dante Discover the Secrets of the Universe is definitely my favorite book on this list. With no surprise at all, it has won many awards, including the Printz Honor Award and the Stonewall Book Award.

6.

The Stars and the Blackness Between Them by Junaunda Petrus

The Stars and the Blackness Between Them is the most recent book I've read on this list. It follows two perspectives: Mabel, a sixteen-year old girl living in Minneapolis, and Audre, a sixteen year old in Trinidad. When Audre gets caught with her girlfriend, her strict mother decides to send her to the States to live with her father. As neighbors Mabel and Audre become inseparable. Their bond stays strong through all the difficulties that come with being Black and gay and teenage girls. The book reads as if these two girls are simply talking to you as their friend. It's an emotional yet enjoyable journey from beginning to end.

 

 
These six books are only a small sample of a greater movement in YA and children's literature. Each book is completely different than the one before it, just like each human's experience is unique to the person next to them. Readers deserve books that reflect the vast number of people that will read them. Though most of these I did not read until I was a junior in high school or even older, I'm proud that these books exist today for kids and teens who wish to see themselves in the stories they read.