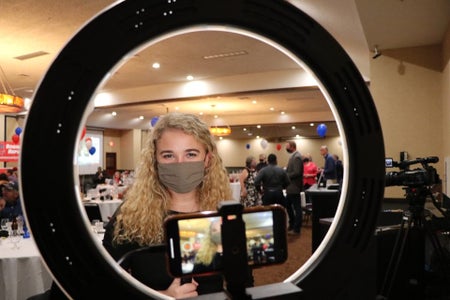 Original photo by Cara Wagner
Avery Maslowsky Shines as KOMU Anchor, Producer and Reporter
Avery Everett, as she is known on screen, holds many positions at KOMU-8 News, primarily as the Saturday 9 p.m. anchor and producer.  
She also works as a Wednesday morning live reporter and a desk attendant on Thursday nights. Everett loves the experiences she gets to have at the Mizzou Journalism School's affiliated broadcast station, especially learning how to produce.  
"Producing is completely new to me. My goal coming out of college was to have tried as much as I can and to dip my toes into as many avenues as possible to really find what I love for a career. Right now, that's reporting but that could change in two and a half years," she said.  
She discovered journalism through her high school newspaper during her freshman year. What started out as coverage of softball and club fairs turned into long-form pieces on cafeteria health code violations, mental health and body positivity. She then joined her school's daily morning show and knew she wanted to do broadcast journalism, specifically for television.  
Everett remembers a moment covering the Philadelphia women's march that left her inspired.  
"I was just awestruck at all the things I could cover and all the stories I could tell and how I was the one who got to report history," she said.  
Originally, Mizzou was never on her radar, but she finally toured and decided to become a Tiger. During her first week at MU, she realized this is where she is meant to be. She carries the lessons learned from this experience into other areas of life, like applying for summer internships.  
"I didn't think I would love Mizzou, but here I am, and it's given me everything…What happens will happen, as long as you work hard for it," Everett said.   
During her first semester at Mizzou, Everett signed up to be a production assistant and the Sunday morning live reporter. She also submitted her anchor reel and gained the position of a cut-in anchor on Thursdays.  
Her first story as a KOMU-8 reporter was about a fourth grade girl organizing a "march for the earth." Everett did her first live shot that day in front of the Boone County courthouse.   "That was literally, like, all my dreams coming true," she said, reflecting on the experience.  
Outside of journalism, Everett is involved in her sorority, Pi Beta Phi, and is focused on caring for herself and her mental health. She loves running and taking time to enjoy the little things in life like friendship and nature. She also takes time to shut her phone off and take a break.  
It can be difficult being a full-time student and having a job with hours outside the typical workday, but she loves journalism and her work is both a job and a hobby.  
"It's funny to think how much KOMU and how much journalism has shaped my college experience," she said.  
You can see Everett anchor on Saturday nights at 9 p.m. on Channel 8 or on komu.com. That's also where you'll find stories that she covers.