How to Host the Perfect Friendsgiving According to Friends
Thanksgiving is rapidly approaching, and that means colder weather, pretty leaves, lots of food, friends and Friends. As college students sometimes life makes it difficult to travel home to celebrate with your family, so why not give thanks with your family here at your home away from home? Like the characters in Friends, no matter the situation, these pals manage to make the best of all of it and spend the day together. Here's how to host the perfect Friendsgiving according to Friends!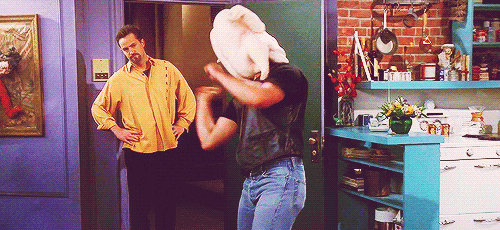 Make a list, and make sure you have everything.
The worst thing is realizing that you forgot to buy an ingredient at the store after you're in the middle of cooking. Make a list of all the supplies you'll need, and be sure to do your shopping a few days in advance so you don't make mistakes and avoid the last minute shopping rush.
Delegate responsibilities.
It's a pretty hectic day, so get your friends to help you out! Assign each person a role for the day. Some tasks you may need to be done include prepping the ingredients, preparing a certain dish, setting the table, clean up and whatever else you can think of.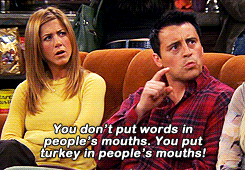 Set the scene.
You need to decide what kind of party theme you are going for. Do you want it to be elegant? Classy? Comedic? A full on rave? Pick a theme that you feel describes you friends perfectly, and be sure to get all your decorations and party favors beforehand so you're not as stressed the day of.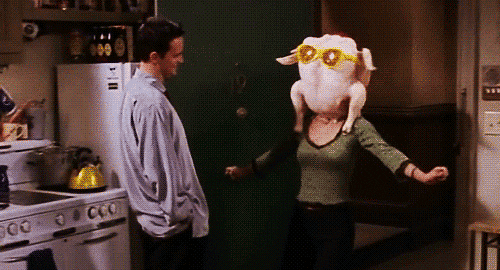 Plan some fun activities.
Cooking a thanksgiving dinner can take a while, so be sure to come up with something fun for your guests to do in the meantime! It wouldn't be Thanksgiving without some football. You can either put the game on tv or go outside to throw the ball around. Don't be afraid to try other cheesy party games as well. It's what the day is all about.
Coordinate how clean up will play out.
You don't want to make the host do all the cleanup, so lend a hand ask what you can do to contribute. Make sure that someone is helping clear the table, transferring food into tupperware, washing dishes and wiping up any food spillage. The process will go by a lot quicker if everyone does their share.
Give away leftovers.
Odds are you're not going to be able to finish all that food by yourself. As college students are always looking for free food, put together a bag for them to take home. They'll definitely be grateful for the extra food and the fact that you were thinking of them.
Make new memories and remember to give thanks!
It's important to keep in mind what brought you all to the table on this day. Take time to reflect on the past year and all the reasons that you're thankful to have each other around. Share some good memories, make some new ones, and enjoy the food.
Have a Happy Thanksgiving, Gophers!