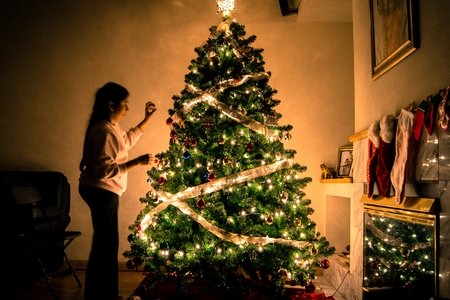 My Top 15 Christmas Songs
I am an avid SirusXM user, except during Christmas time. AFTER Thanksgiving, I fully accept Christmas music no matter the condition outside. The only station I trust to play bop after bop is Warm 103.3 Central PA's Christmas Station. It lives up to its name so well because it plays the classics and the jams we all love. Year after year my favorites play over and over. I will genuinely drive around town looking at Christmas lights while blasting Christmas songs. Its socially acceptable this time of year.
1.

Believe by Josh Groban

Every single song in the Polar Express absolutely slaps. This song is no exception. I love it because it encapsulates the entire theme of the movie which is for children to believe. It is my favorite Christmas movie and I definitely still believe in Christmas magic. Every time this song comes on, I crank it up all the way and pour my heart out.  

2.

Last Christmas by Wham!

This song explains what my relationship life has been for the last two years since I have coincidently been dumped on the 1st of December for two years straight. If you're like me, then this song hits hard when you're single and yelling at the top of your lungs in the car.

3.

Where are you Christmas by Faith Hill

Okay so Cindy Lou Who did okay with this track, but Faith Hill really brings it home with her smooth adult voice. Everyone loves the Grinch, but do we have any Cindy Lou Who fans? Just me? Okay moving on. This is one that I love to turn up and pour my heart out to. I like to think I can hit the high notes she sings but any bystander would be wondering if I'm okay.

4.

All I Want For Christmas is You by Mariah Carey

The Skinny Legend has been the face of many Christmas memes for years. This song truly is a jam and probably the embodiment of Christmas. I think that this song can go so many different ways for people. I genuinely think that anytime someone hears those bells in the first 3 seconds, that their heads perk up. I wonder how much Mariah Carey makes each Christmas season from this song alone.

5.

It's Beginning to Look a Lot Like Christmas by Bing Crosby

There are a lot of artists who cover this song. I think all the versions are pretty good, so I had some trouble trying to pick my favorite. This song gets me in the Christmas spirit even if there is no snow on the ground. I like that a song has the ability to do that. I like any version sung by a man and a silky voice. One of my favorites is this version by Bing Crosby.

6.

Sleigh Ride by The Carpenters

For my entire high school career, I sat through an hour-long concert by our school's ensembles. Each year concluded with this song. It just paints such a wonderful wintery scene in my head. This song just can take me on a journey on a sleigh ride. 

7.

Here Comes Santa Claus by Gene Autry

This song was featured at the end of one of my family's favorite Christmas movies, Santa Claus is Coming to Town. These puppet movies are so old that they are overshadowed by Elf. Unpopular opinion, but Elf is not that great of a movie. Anyway, this song just has a lot of childish Christmas spirit that everyone needs.

8.

You're a Mean One Mr. Grinch

Featured in both the Jim Carey and the classic Grinch movie, this song is just plain mean. I think the Grinch hated people more than Christmas. I mean he just wanted to eat some roast beast and have who-pudding. He was the cheermeister for crying out loud. Nevertheless, this song is perfect for all the Grinches in our lives.

9.

I'll be Home for Christmas by Bing Crosby

This song reminds me that it is okay if a loved one is not with me for Christmas. Whether they can't be home or they are no longer with us, it is okay because they still love us and will always.

10.

Wonderful Christmastime by Paul McCartney

It wasn't until like two weeks ago that I realized that Paul McCartney sung this song. I felt really stupid, but in my defense I was too busy singing along to this bop to realize it was his song.

11.

Little Saint Nick by The Beach Boys

The Beach Boys have such a fun sound. I have no idea how to describe it besides Margaritaville mixed with Spring Break. It makes sense to me, but I think weird. Nevertheless this is a really fun song about Santa.

12.

Christmas by Trans-Siberian Orchestra

Instrumentals are just as good as typical songs. Every year I wish that I can see Trans-Siberian Orchestra when they come to Hershey. I feel like they would have the greatest concerts. I like instrumental versions of any songs. They manage to make Christmas into an awesome instrumental, rock-and-roll Christmas party.

13.

Feliz Navidad by Jose Feliciano

This blind artist makes me love my heritage just a little more each year. I feel good when I'm rolling my Rs and belting out the Spanish lyrics. I love a good Spanish song, and this is definitely one of the favorites for me.

14.

Have Yourself a Merry Little Christmas by Big Crosby

Guess what? Another Bing Crosby song. I love his silky smooth voice. He is my king of Christmas besides Jesus. I love his songs and he embodies Christmas in my ears.

15.

Dominick the Donkey by Lou Monte

Silly christmas songs are the best of all songs. It is impossible not to smile while singing along to them. This is my favorite one.
The kings and queens of the Christmas scene are shining down upon us this year. Hopefully they also bestow a white Christmas on us here in Central PA. I hope that whatever you celebrate, it is full of love and laughter surrounded by the most important people. Merry Chrystler!
HXCO,
Cecilia