Her Carnival Goes Virtual
Her Carnival began two years ago in the spring of 2019. It is a women's empowerment event centered around celebrating diverse women and speaking on current women's issues. It is typically held in the Student Memorial Center, but this year due to the ongoing pandemic, we had to hold it virtually. This limited what we were able to do, but we came together as a chapter to brainstorm creative ways to engage with our members and followers through social media. The event was mostly held on the Her Campus Millersville Instagram page from March 21-27. In this way, we could post daily content in a week's time rather than holding a one-night event in person. Here are the highlights of the virtual Her Carnival event:
1.

Target Self-Care Set Giveaway

We started off the event on Sunday with a Target giveaway full of self care items. The giveaway included a makeup bag, accessories, face masks, a cactus USB charger, skincare items, makeup products, and a reuseable cup set. It was our largest turnout out of the giveaways we hosted this week, receiving 75 likes and 66 comments. This particular giveaway centered around starting the event with a fun activity and letting one of our followers pamper herself with the given items. ​

2.

Inspirational Rock Scavenger Hunt

On Monday, we promoted an inspirational rock scavenger hunt around the Millersville University campus. Members of our chapter painted rocks and wrote women empowerment quotes on them at the meeting prior to the event. They then hid them around campus for students to find and send photos of to our Instagram page. We wanted this to be an in person activity and engaging, but we also posted about it on social media to give students hints to where the rocks were located.

3.

Imani Anderson Guest Speaker

We wanted to host at least two guest speakers during Her Carnival through the Instagram livestream feature. Imani Anderson is the vice president of both the Millersville University Black Student Union (BSU) and the Society on Latino Affairs (SOLA). I hosted the livestream with her on Tuesday afternoon. We touched on many current issues surroudning women of color in our country. We discussed educating people of non-color about racism and saying something to a friend if they witness inappropriate behavior surrounding the topic of race. We also touched on women of color in positions of power, such as Michelle Obama and Kamala Harris. We both agreed that there is still more proress to be made in the United States, but seeing women of color in these positions opens up more doors for younger girls of color to see themselves being represented. Imani shared her personal experiences and what motivates her to be the best version of herself and inspire others. We were so honored to have her as a guest on our Instagram, and she was very well spoken. Please go support her and check out the livestream if you have not already!

Click here to view the livestream.

Follow Imani and her organizations below on Instagram:

Millersville BSU: @iambsu

Millersville SOLA: @sola.mu

Imani's personal account: @thee_manii

 

4.

Female Small Business Owner Giveaway

On Wednesday, we hosted another giveaway to support a female small business owner. Stephanie Magor is a current junior at Millersville. She is an Early Childhood Education/Special Education major, and she founded the small business inkNfiber. We gave away one of her matching cloth face mask and scrunchie sets. Stephanie sells different accessories on her Etsy shop and has an Instagram page for her small business. Every accessory is handmade by her. We were honored she agreed to partner with us because we wanted to support a Millersville student and increase her following on her professional account. Please go support Stephanie at the links below:

For her Etsy shop, click here.

Follow inkNfiber on Instagram @_inknfiber

5.

Women Empowerment Spotify Playlist

On Friday, I created a women's empowerment playlist on Spotify. I thought this would be a fun way to connect with our followers through music that lifts up women of all kinds. I chose all female artists, including Demi Lovato, Lizzo, Hailee Steinfeld, Little Mix, and Lady Gaga. The playlist includes 21 songs that are upbeat and brighten your day.

Check it out by clicking here.

 

6.

Cecilia Arvelo Guest Speaker

Cecilia Arvelo is the current president of the Millersville Her Campus chapter. A topic that is close to her heart is Latinx and her Hispanic heritage. She loves to advocate for this community and speak out about current issues they face. She hosted a topic talk livestream on Saturday, the last day of our event. She addresses Latinx/Hispanic struggles, stereotypes, and her own personal journey with her ethnicity as a woman. Please go support her and our chapter by watching the livestream saved to our Instagram account.

Click here to view her livestream.

7.

Ipsy Products Giveaway

For the final day of Her Carnival, we posted the one last giveaway featuring hair, skincare, and makeup items from Ipsy. One of our members, Kayla Campbell, generously contributed all of the given items for the giveaway. She was saving up unused Ipsy products she received in the mail to give to women's shelters, so she decided she wanted to create a giveaway with some of them. Full size products were given away, including face masks, makeup palettes, lotions, shampoo and conditioner, as well as two makeup bags.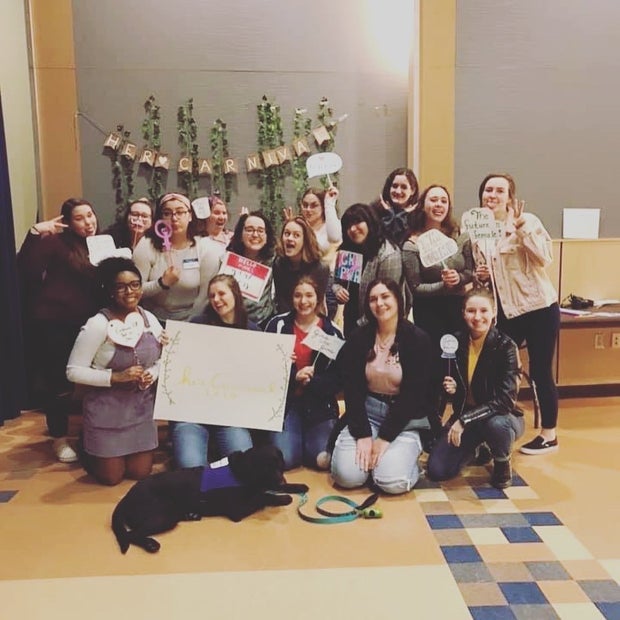 Alyssa Dicker As you can see, we tried our best with what was available to host Her Carnival this year. We did not want to miss out on organizing this event this year because it is very close to our message as an organization and we want to hold it annually. I am so proud of our chapter members and also to everyone who participated in the event. I think it was very successful and allowed our club to receive more visibility. I am excited to see how this event can grow even bigger when we return to campus in the Fall 2021 semester. Please go check out all of the Her Carnival content on our Instagram page @HerCampusMillersville. Click here to take you to our page. Thank you for all of your support!
HCXO,
Rachel