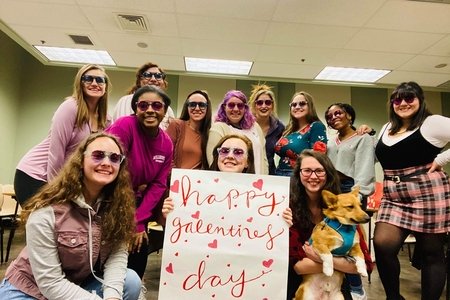 As I sit down to write my very last Her Campus article, I feel at a loss for words. This is one of the worst problems a writer could have. I spent the last two and a half years spilling my heart out in my articles, but now I am dried up. The words aren't flowing from my brain to my fingers like before. What has changed?
As you read this, I have become a new person overnight- a college graduate. It's terrifying to think that I am completely finished with my college career. There are so many thoughts racing in my head that I'm struggling with wording them out loud. Perhaps I feel that if I keep these thoughts inside, they won't come true, as if I possessed a magical power where the things I speak immediately turn true. I'm at a crossroads where I desperately want to pursue my dream career and have a classroom of my own, yet at the same time I can not bare to think about leaving everything behind. The biggest thing I'll miss is Her Campus Millersville.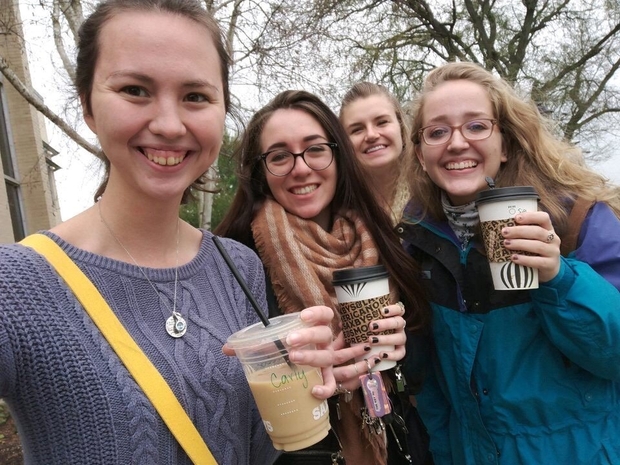 I went into my freshman year with my head full of hope for what lay ahead of me. I expected my first year to go like the movies I had seen, where I meet my lifelong best friend on day one and have a giant group of friends that live our lives to the fullest, going on midnight adventures and creating memories that would create a great montage scene. And sure, while some of those things did happen, when it was time for sophomore year, I quickly realized that some friends weren't going to stick around. I felt lonely and lost, searching for some kind of purpose amongst the 7,000 other students at school. But then, I met a super cheerful, passionate, and kind woman who introduced me to a club that I'd never heard of before. This club was Her Campus Millersville.
Thanks to Jordan, the women I had met, I quickly fell in love with this club. From the very first meeting, I felt so welcomed and included in a way I hadn't felt since beginning my journey at Millersville. I met inspiring women who challenged me to think and supported me in becoming the woman I wanted to be. After my very first semester in the club, I ran for social media director. Building our social medias was an incredibly rewarding and fun position and I was able to build the environment of the club to show our followers what we stood for- acceptance, speaking our minds, and spreading kindness. Giving back to a club that gave me so much was the least that I could do.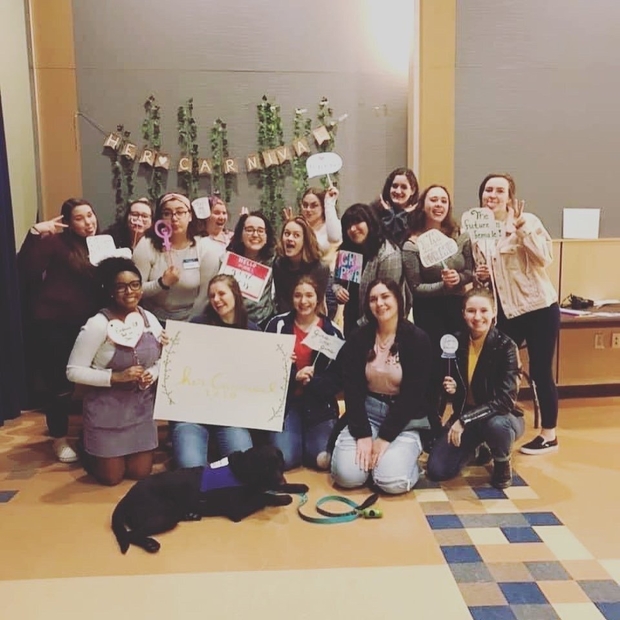 When the position for president first opened up, I doubted myself. I tend to be hard on myself, and I thought I definitely couldn't run a club. Sure, I knew everything about Her Campus, but I felt that I wouldn't be the right fit. I am so grateful for my Her Campus friends for having my back and encouraging me to run. My year as president was amazing and I am so glad that I could show so many new members what Her Campus truly means.
Through Her Campus, I learned so much about writing, but more importantly, I learned several valuable life lessons. I learned to never apologize for who I am and to write from my heart. I also learned that people may leave your life, but the true friends that you make will stick around through thick and thin and have your back the whole time. I also learned how wonderful it is to have something you are passionate about in your life. From eating pizza at meetings to going to the library for study nights, these writers quickly became more than just members of a club. They became friends who were uplifting, insightful, and inspirational.
Our chapter has faced several challenges in this last semester. While my heart breaks at the thought of never having a last Saxbys brunch or a HC sleepover, I am SO proud of all the work this chapter has done despite the difficulties we've faced. The articles that have been written are incredibly thoughtful and meaningful. Our virtual Zoom meetings weren't the ideal, but they sure were fun and always were a highlight of my week (even if my internet would kick me off three times a meeting). The fact that writers still continued to pour their heart and souls into a club while our worlds turned upside down was the sign I needed that the true meaning of this club has carried on to our new members. 
As I write my very last article, I want to give the remaining members of Her Campus some words of wisdom. Never ever quit sharing your voice, especially on topics that matter to you. You have such a wonderful and supporting platform in front of you. Use it for good. Spread kindness everywhere and use your words to make a change. In addition, this club has earned so many points that I am speechless. However, do not get caught up in the points. Sure, getting recognition for your hard work is rewarding. But don't lose sight of the true meaning of this club. This club is about sharing your voice, creating forever friends, and supporting the women around you. 
As I graduate, know that I will never forget this club. Thank you to Alyssa, Erika, Jenna, Alanna, Lexie, Kasidy, Sam, Alex, Rachel, Maeve, Sharon, Kaylee, Em, Cecilia, Katie, Devon, Cassidy, Valentina, Brianna, Laura, Sydney W., Sydney G., Hannah M., Hannah O., Rebecca, Taylor M., Taylor H., Riley, Lola, Carlee, and Jordan for giving me the world. No matter where I end up, I will always be a text or phone call away. I can't even describe how much you all have changed my life for the better. Time and time again, you've shown me love and kindness, even when I personally felt I didn't deserve it. You all are going to achieve things beyond your wildest dreams and I am so thankful I had the opportunity to know you. The future of this club is in amazing hands. 
I don't know where I'd be without Her Campus. From the bottom of my heart, thank you to all the members, both past and present, for believing in me and inspiring me to see the world in a better way. This is Hannah, your president, but most importantly, friend, signing off for the last time.
HCXO forever, Hannah N.