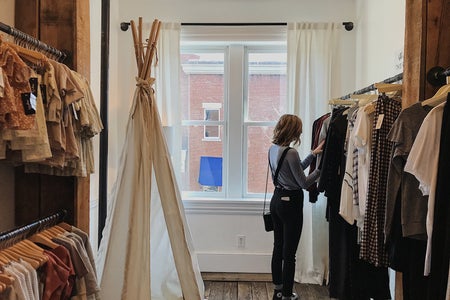 Sustainable Consumption in Fashion: What You Can Do
If you ever ask me who my fashion icon is, my answer in a heartbeat would be my mother. She has always been interested in fashion, dressing in the best way possible and staying in tune with trends. "The key is to carry yourself confidently in whatever you wear," she explained. As I grew up, I noticed how my sense of style (heavily inspired by my mother's) allowed me to feel comfortable and confident in my own skin. I liked how the clothes I wore resembled statement pieces, and how I was able to stand out whilst being my true, authentic self. Needless to say, I liked dressing up and evidently, shopping was a fun experience for me.
It wasn't until last year that I realized how damaging the fashion industry could be. Don't get me wrong - I have nothing against shopping. However recently, my eyes opened to the realities of what was going on right in front of my face, and that there were things I could do as a shopper to reduce my impact. Let me start by introducing the central theme of this article: fast fashion. Fast fashion is essentially a term used to describe inexpensive designs that move from the runway to stores in order to meet new and emerging trends in fashion. It allows mainstream consumers to purchase trendy clothing being produced at rapid rates and at affordable prices, which in turn increases the customer's appetite. The dark side of the fast fashion industry provides a glimpse of the waste and labour associated with it, a model that has changed the world. This results in not only an impact on our wallets, but the environment we live in as well. Stores such as Zara, H&M and Old Navy contribute a great deal of pollution; the fast fashion industry itself is the second-largest polluter in the world. In addition, the clothes are usually made in countries where the workers are severely underpaid and have limited rights.
What I want to focus on is what YOU can do to reduce your impact. As consumers, it is important to recognize the part we play in contributing to the overall environmental footprint and recognize what steps we can take. When I first became interested in impact of fast-fashion, I uncovered the 7 R's of sustainable consumption: Reduce, Reuse, Recycle, Rent, Repurpose, Repair, Research. 
1.

Reduce: lower your consumption!

Try to shop for value to eliminate the need to buy more clothes. You can also reduce the amount that you machine wash and dry your clothes, extending the lifetime of your garments and saving water and energy. Another tip is to purchase garments that can be styled in different ways to create new and exciting outfits.

Go thrift store shopping! There are cute and chic thrift stores all over the GTA that have trendy and affordable garments.

Many textiles can be recycled and there are donation bins all over the GTA. In fact, stores like Zara, H&M and Mango allow you to donate your clothes within the stores. You can also give your clothes to family and friends! Be sure to also checkout social media platforms such as Facebook and see the pieces people are selling there. Aside from that, try looking for garments and shoes made from recycled textiles and ocean plastic waste when you shop.

When buying clothes for big events that require a lot of money and you will only wear on a couple occasions, you can consider renting or borrowing, a cheaper and more environmentally-conscious alternative!

You can revamp your clothes by cutting, stitching, or even tie-dying. Try converting your old pair of leggings to biker shorts or tie dye an old shirt!

Many clothes and shoes with rips or holes are disposed of rather than donated. Small holes and rips can easily be fixed by sewing, leaving your garments good as new! Repairs generate less waste and if you do it at home, it's free.

We should all do our part and analyze our shopping tendencies to find ways to reduce our environmental footprint with regard to shopping. If we become more careful with what we choose to buy, we can make a sustainable impact on our environmental footprint and help mitigate the impacts of climate change. A quick Google search on sustainable clothing reveals several websites that advocate for green clothing brands.
Fashion is important to me, but so is being mindful of my impact as a consumer. My hope from this article is that you try to reduce your environmental footprint in any way you can. After all, it's our Earth we are looking after isn't it?