The NextNOW Fest Went Virtual. Here's How It Went.
A variety of artists have been performing at the NextNOW Fest for the past six years, and the coronavirus pandemic wasn't going to put a stop to its seventh. Typically held at the Clarice Smith Performing Arts Center for two nights, the festival ran digitally for five nights from Sept. 8 to Sept. 12. The festival utilized tools such as Zoom, Vimeo and Instagram Live to broadcast the arts. 
While this format isn't what people are used to seeing at the NextNOW Fest, the transition was smooth. The directors of the festival tried to choose artists who were familiar with recording their own media and live streaming events. They also restructured the event to allow students more freedom to tune into the events they actually wanted to see.
"Our early schedules did include overlapping virtual events, which we quickly realized was not the move," associate director of programming Megan Pagado Wells said.
Each night, the festival included student-run workshops at 6 p.m., alumni performances at 7 p.m., student performances at 8 p.m., national external artist performances at 9 p.m. and DJ sets at 10 p.m. This allowed people to pick and choose what they wanted to watch and not feel like they were stuck in front of their screens the whole time.
"I know a lot of folks have screen fatigue, Zoom fatigue, so I get that, you know, it's just a different experience than getting ready to leave your room to come to the Clarice for an event that you can touch and feel," Pagado Wells said.
Some people liked having the freedom to pick and choose more than others. Since viewers had the ability to enter and leave a Zoom room anytime they wanted, it was hard to tell how far an artist's reach went beyond the screen.
"It's not an in-person experience where you're actively engaged, and you're influenced by the people around you," Vital Signs panelist Sadia Alao said. "Maybe you're sitting alone in your room watching a bunch of different segments, and you can exit out of your web screen anytime you want."
dav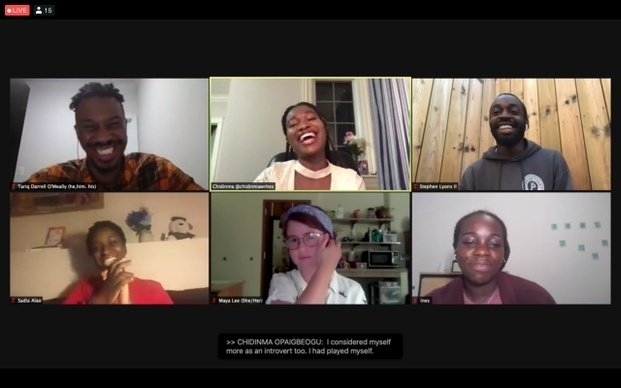 Photo by David Andrews
Photo by David Andrews
Vital Signs: Creative Arts for Black Lives Mini-Grants awarded five artists, including Alao, $500 to create art that would "affirm Black life and vitality, and respond to and/or interrogate white supremacy and anti-Blackness through the lens of their own identity," according to their webpage. 
Alao's art will be produced through the lens of a Black woman identity. It will focus on the juxtaposition of Black joy and Black pain, seen through the current protests and chaos. The festival also included events like a sustainable fashion talk, a songwriting workshop and numerous virtual art galleries that you can still view.
While a virtual festival wasn't the ideal situation, there are some aspects that could stick around for future events. Live Streaming and recording performances for easily accessible, repetitive viewing could become the norm for the NextNOW Fest. The live streams opened the audience to people from out of town, and the recordings will allow people who couldn't watch in real time to watch later.
"I hope that we'll be able to continue some of these ways that performances can live on after the live event, and can continue to be accessible to more people," Pagado Wells said.