Members of Created Equal, an anti-abortion group, gathered at Hornbake Plaza at the University of Maryland Oct. 26 and Oct. 27 to speak with students and conduct outreach. Some students stopped their walk through campus to engage in debate.
Created Equal, according to its website, is a nonprofit group. Members of the organization call themselves "preborn defenders" and travel to various locations, sharing their views on abortions. In 2011, founder Mark Harrington took inspiration from the freedom rides of the 1960s, gathering people to ride buses around the country to fight the "ageism of abortion."
"The reason we are here today is to show the gruesome reality of abortion. These are real pictures and this is what our country is doing to 2,300 innocent humans every day. We believe that it's always wrong to intentionally kill innocent humans. Abortion does that and that's why we think abortion is wrong," Created Equal executive assistant Lisbeth McCulfor said at the Oct. 26 demonstration.
Created Equal believes elective abortion is intentionally killing human beings because they consider an embryo to be a human, according to their website.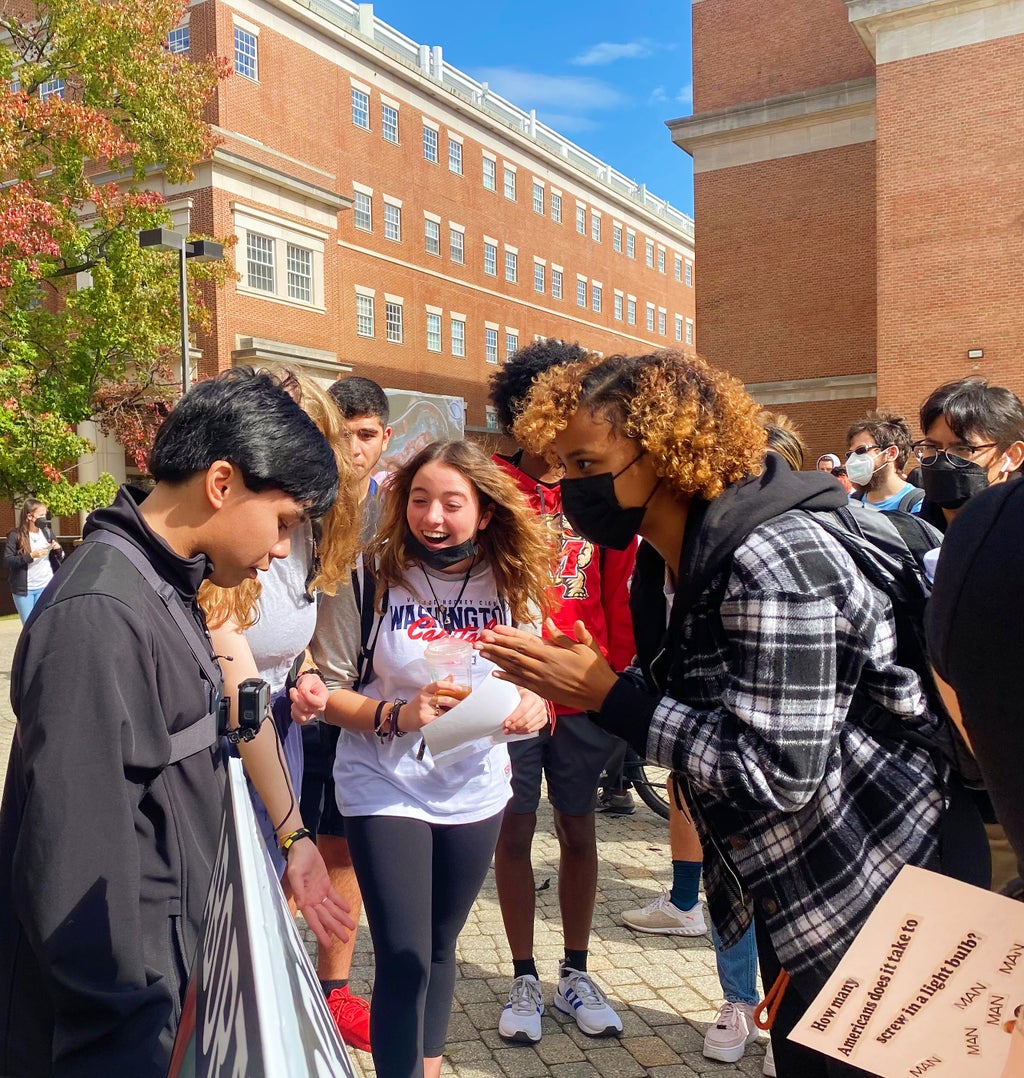 During the demonstration, Created Equal displayed graphic posters throughout the plaza and gory videos on a jumbotron Some students argued there was no credible sourcing for the content displayed, even after the group was asked about it several times. Created Equal provides documents signed by an abortionist and a photographer on their website in an effort to prove that the pictures are real, but the photographer's name is blurred out on the document.
On the group's website, Created Equal defends the use of these images by referencing Martin Luther King Jr. They wrote that King used gruesome images of Black people being tortured at his protests and demonstrations during the Civil Rights Movement. Created Equal is taking an example from him, by wanting to "expose the injustice of abortion."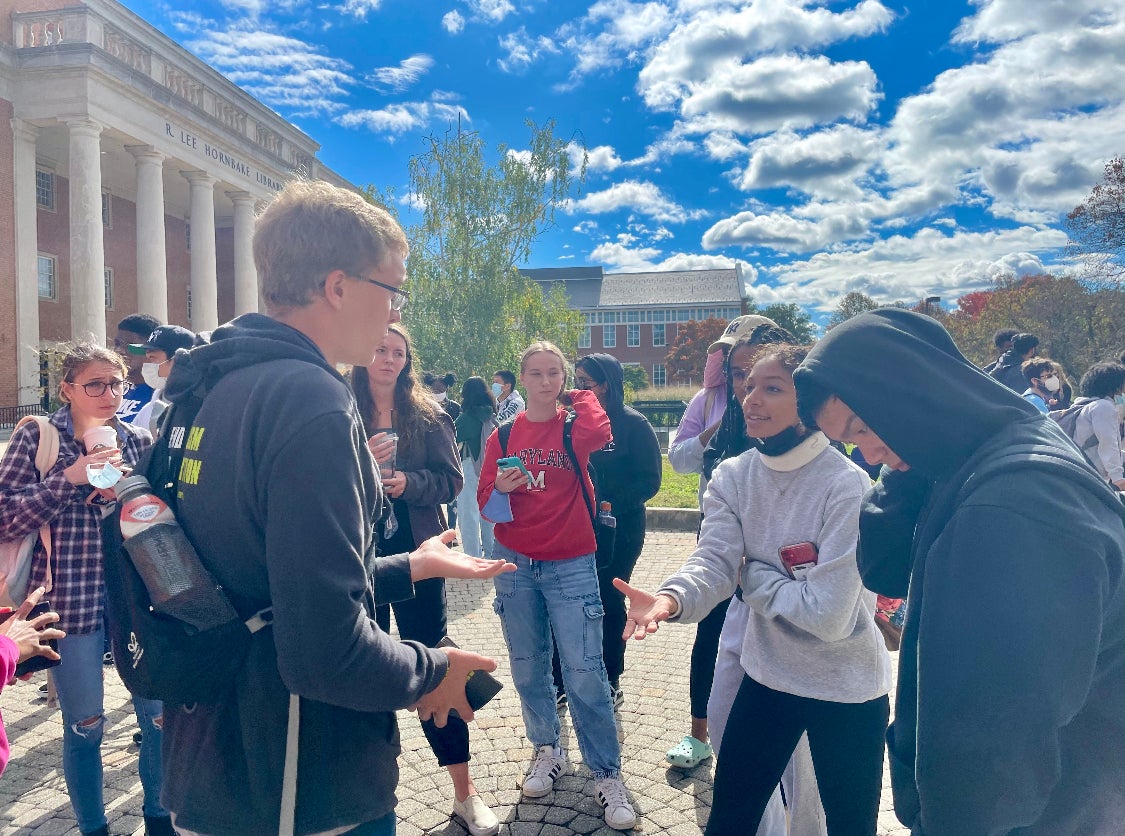 Many students agreed that walking out of a class and seeing these images plastered on signs and a huge jumbotron was disgusting. UMD student Greg Vanderham said he came out of class to see a group of anti-abortion demonstraters spreading their gore, trying to make people angry and telling them abortion is bad.
UMD student Amanda Radko said she feels like the group was trying to promote controversy and not actually achieve a goal.
"I just feel like this would be so traumatic for someone who's had an abortion," she said.
The Created Equal members were wearing body cameras strapped to their chests while handing out flyers against abortion. According to Evangeline Abaffy , Created Equal's program coordinator, demonstrators were wearing cameras for their own security and to keep track of any property that was damaged. During their time on campus, several students tried to steal or damage signs, she said.
Andre Christie, a manager at The Food for Thought cafe on campus, however, was not comfortable with the idea of body cameras filming passerbys.
"I guarantee you they are going to take all the reactions here from those body cameras and twist it, just like they twisted all these videos here now. And they might not even take some of the good things that were said. They're just gonna say, 'Look at all these angry people yelling at them,'" he said.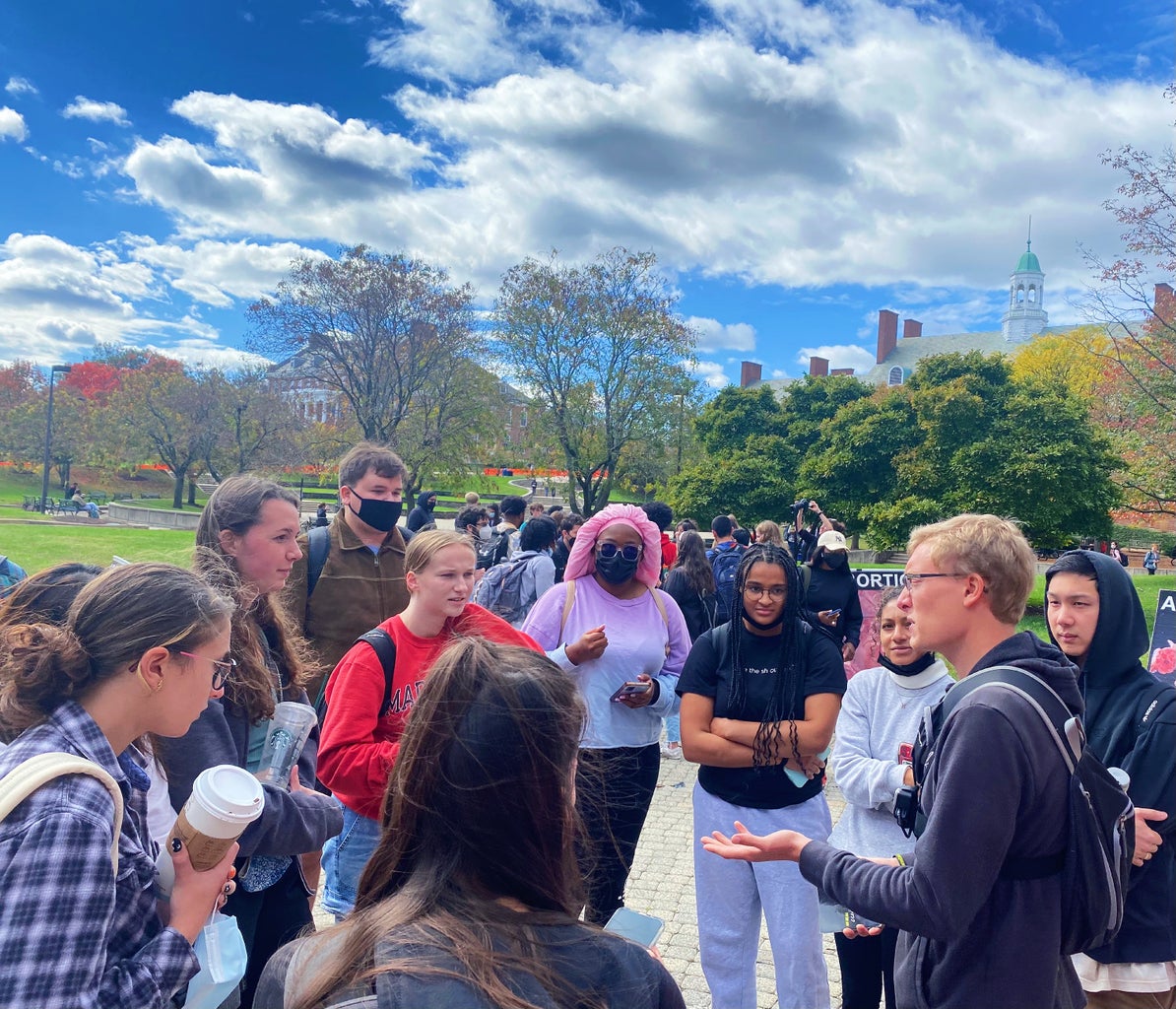 Many students were upset that more than half of the Created Equal demonstrators were men. According to Isaac Buehler, the Created Equal creative media specialist, a lot of people came up to him to argue that he shouldn't have a say in the matter.
"I would say, quite simply, my gender doesn't change what abortion actually is. It doesn't change what's shown on these images. If abortion actually is intentionally taking an innocent human life, which is the topic of debate today… my gender doesn't change that," Buehler said.
For UMD student Julia Echols, hearing men talk about female bodies was extremely frustrating. One of the demonstraters who Echols talked to, told her that Created Equal provides no resources or information to support women after they have a baby, despite telling women not to get abortions According to Echols, the organization suggests that women find other organizations with better resources when they decide not to have an abortion..
"I thought that was interesting, that they're advocating for women to have babies, but they have no resources for women after the fact," she said.
Some community membersargued that the foster care system needs reform before we can fully discuss the legality of abortion.
"Some of these kids are gonna be back out on the streets, they are gonna be incarcerated, they might not make it to nineteen. Some might make it, but it's a very small percentage. What are they supposed to do? They didn't choose that life, but they're plugged into it and we don't have a solution for them," said Andre Christie, a campus cafe manager.
There are approximately 424,000 foster youth nationwide, according to 2020 statistics. The number of children entering the system each year has also seen a large increase. Around 20,000 youth each year age out of the system entirely, leaving them without ever finding a forever family to support them in the future.
The children who experience the harsh realities of foster care often experience mental debilitations. According to National Foster Care Statistics, 25% of foster care children experience PTSD and tend to suffer from severe depression.
Like Christie, UMD student Amanda Radko also thinks about the children that are born and women who are pregnant who don't have the resources they need.
"I feel like their time would be better used supporting kids in the foster care system and women who don't have support systems when they're pregnant," Radko said.