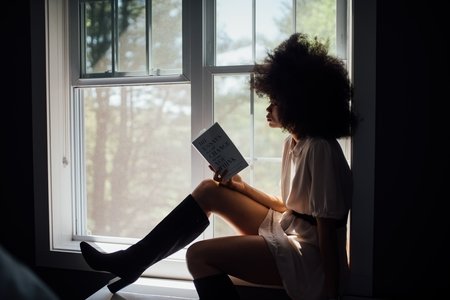 3 Shows, Movies, and Books for Quarantine
This is a time to be extremely grateful for the artists that crafted our favorite TV shows, movies, and books. I mean, imagine going through quarantine without Tiger King or Harry Potter. It's a time to return to old favorites and explore new stories, but if you are like me, you are tired of seeing Noah Centineo's newest movie on your Netflix recommended list. Here are some different recommendations to help you expand your tastes and go on new adventures.
TV
Euphoria
Euphoria is HBO's raw depiction of modern-day high school as told through the budding romance of two girls, Rue and Jules. The show includes romance, a trans main character, really awesome eye makeup, and lots and lots of problems. It follows Rue, Jules, and their classmates as they navigate through substance abuse, gender, sexuality, mental health, friendships, family, and love. The breathtaking cinematography brings a kind of vivacity to the show that I have never experienced before, sweeping you into the mysteries of teenage life and love. Plus, Zendaya plays the lead. Need I say more?
Mindhunter
If you have ever wondered how Criminal Minds and the BAU began, watch Mindhunter. The cinematic visuals and set design enrich the show's details and put it one step above being just another crime show. Based on true events, Mindhunter delves into 1970's America, a time of impeccable fashion sense and unexplained murders. The show combines the human fascination with psychology and interest in crime to create a captivating origin story of the term "serial killer."
Psych
Shawn Spencer and Burton Gustor will be your best friends in quarantine. Psych is the story of a hyper-observant, fake-psychic who solves crimes with his best friend. Yep, you read that right. Every episode is filled with obscure references, made-up nicknames, bizarre crimes, pineapples, and the best friendship ever seen on TV. The writing and cast make it one of my all-time favorite shows. You can watch (or re-watch!) it on Amazon Prime now and thank me later.
Movies
Arrival
When spaceships touch down around the world, linguistic professor Louise Banks attempts to decipher alien language and maintain international cooperation. As she begins to understand the extraterrestrial language, her understanding of linear time begins to unravel. Arrival's beauty lies in its concept, music, picture, and editing. Its non-linear storytelling allows for philosophically-dense concepts to develop through a compelling science-fiction narrative—the result of which is a combination of a Nietzche's eternal return and Amy Adams conversing with aliens. What more could you want?
Rear Window
When I came to college, I realized that not everyone's father had forced them to watch Alfred Hitchcock marathons when they were ten. So, I have taken it upon myself to introduce you to one of Hitchcock's most influential films, Rear Window, about an injured photographer who passes the time by watching his neighbors from his apartment window. One day, he believes he witnesses a murder. It is a fun, cinematically beautiful thriller that will definitely help pass the time in quarantine.
Whiplash
I know literally nothing about drumming but I know that you should watch this movie. Miles Teller plays an ambitious drummer seeking first chair at his elite music conservatory and the approval of his professor, played by J.K. Simmons. The dichotomy between Teller and Simmons makes this movie a must-see. In Whiplash, director Damien Chazelle showcases his artistic talent in a more intense, provocative way than in La La Land, and the result is an hour and forty-five minutes of non-stop engagement. The movie asks an important question for anyone who strives for greatness: what are you willing to do to achieve it?
Books
The History of Love
When people ask me what they should read, no matter who they are, I recommend this book. Nicole Krauss' brilliant writing weaves two wildly different stories together. The novel follows Leo Gursky, an old man, and Alma Singer, a young girl, as their stories of love and loss inevitably intertwine. The History of Love has some quirky characters, books inside of books, and eloquent insights into what it means to love someone.
The Power
What would happen if the power dynamics between men and women were reversed? If women could summon electrical current, conduct it willfully through their bodies, and use this current to kill people, how would they yield this power? The novel explores these questions in a dystopian universe where female power is the new normal. Author Naomi Alderman immerses you in a world of opposites, strips you of your biases, and shocks you, over and over again.
The Storyteller
The Storyteller is one of my favorite Jodi Picoult novels. It centers around Sage Singer, an introverted baker, who befriends 95-year-old Josef Weber. When Josef asks her to make a near-impossible decision, Sage comes to her grandmother, a holocaust survivor, for advice. The novel shifts between Sage's moral debate and her grandmother's experiences in Nazi concentration camps. It develops both storylines side by side, pulling us between universes so our understanding grows along with Sage's, and we feel the weight of her decision as if we had to make it ourselves.