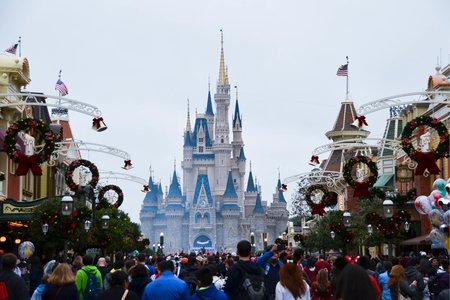 Disney Sequels That You Never Knew Existed
Everyone enjoys spending a rainy afternoon curled up inside with a good Disney movie. And if you're as much of a Dis-nerd as I am, then you probably feel as though you've seen every Disney film out there. I am here to tell you that you haven't. Here are ten Disney sequels that you never knew existed.
1. Cinderella II: Dreams Come True & Cinderella III: A Twist In Time
That's right. Cinderella has not one, but two follow-ups for the original animated film. Cinderella II: Dreams Come True was released in 2002, 52 years after the original was premiered. It covers three short tales of Cinderella adjusting to her new life in the palace after marrying the prince. 
Cinderella III: A Twist In Time came out in 2007 and is easily one of the most dramatic and underrated Disney films that I've ever seen. The plot involves Cinderella's evil stepmother turning back time so that Cinderella and the prince never meet. The romance and character development is phenomenal, plus there is a big suspense factor for an animated Disney flick.
2. The Little Mermaid II: Return to the Sea & The Little Mermaid III: Ariel's Beginning
The second Little Mermaid film is one of my personal favorite sequels. The film premiered in 2000, and tells the story of Ariel and Prince Eric's daughter, Melody, as struggles to fit in and figures out where she belongs, on land or in the sea?
Despite being the final film in the franchise, the third movie is actually a prequel to the first. It takes place long before Prince Eric and shows us what young Ariel's life was like before her mother's death. We even get to see how her mother dies and why her father has such a hatred towards humans. Watching this film definitely allows you to view the original in a new light.
3. Lady and The Tramp II: Scamp's Adventure
This film is unbelievably cute. It focuses on Lady and Tramp's puppy, Scamp, who tires of following the rules and runs away to join a band of junkyard dogs. In the original, both Lady and Tramp were very committed to their upper-class and lower-class roles, so it's refreshing to see their son experience both social scenes.
4. Tarzan II & Tarzan and Jane
Tarzan II is a prequel that focuses on Tarzan's childhood as the only human boy in the jungle. When Tarzan hears some apes talking about his relationship with his mother, he decides that his family would be better off without him and runs away.
Tarzan and Jane is a cute flick about Tarzan and Jane's first year together in the jungle as Jane adjusts to her wild new life and Tarzan gets used to being around other people.
5. Peter Pan II: Return To Neverland
Okay, so clearly Disney has a habit of making sequels involving the children of the original movie's protagonist, and this film is no different. Return to Neverland takes place during WWII and stars Wendy's daughter Jane, who lacks all the belief that her mother for which her mother was known. After getting mistaken for her mother, Jane is kidnapped to Neverland and must avoid Captain Hook as she searches for a way home.
6. The Lion King 1 ½ and The Lion King II: Simba's Pride:
The Lion King 1 ½ is a fun film that portrays Timon and Pumba's point-of-view throughout the entirety of the Lion King movie, before and after they met Simba. The film focuses specifically on them and their role in saving the pride lands, so you know this movie is bound to be seriously funny.
The second (technically, third) film in The Lion King franchise is cute, but not overly exciting. In it, Simba's daughter becomes friends with Scar's son.
7. Atlantis: Milo's Return
While Milo married Queen Kida at the end of The Last Empire, his friends returned to the surface. They return to Atlantis to ask for help when monsters start attacking people on the surface. Meanwhile, the people of Atlantis, especially Kida, must decide if Atlantis is ready to reveal itself to the outside world.
8. Aladdin: The Return of Jafar & Aladdin and the King of Thieves
As the title states, Aladdin, Jasmine, and the crew must save Agrabah when he returns with a vengeance. Viewers also get to see more cute moments between Aladdin and Jasmine, which is  definitely a plus. 
The third film takes place on Aladdin and Jasmine's wedding day, which is then crashed by a band of thieves. On his quest to bring the group of criminals to justice, Aladdin discovers that their leader is actually his father. 
As far as Disney sequels go, the Aladdin ones are some of my favorites. The plot is interesting, the songs are catchy, and the animation pretty much up to par with the first movie.
 9. Beauty and the Beast: an Enchanted Christmas & Beauty and the Beast: Belle's Magical World
What could be better than a classic Disney film combined with a Christmas movie? The film takes place  in the castle when the prince is still a beast. Belle and the others try to plan a perfect Christmas, but face a threat that might ruin everything.
Belle's Magical World is similar to the second Cinderella movie in that it tells three short stories, this time about Belle trying to get used to her life in the castle with the Beast. 
Overview: I'll be honest, the plot for most of these sequels is not up to par with their originals, with a few exceptions. Also, the animation in the follow-up movies is generally pretty terrible. However, the movies are still fun to watch and almost all of them include super catchy songs that'll be stuck in your head for weeks. Happy watching!