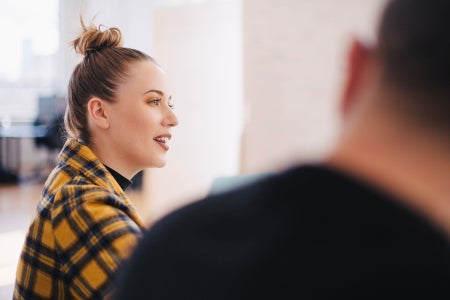 Why My First Internship Wasn't What I Wanted, but Was What I Needed
For most college students, summer internship application season is in full swing. And it's SO STRESSFUL. Believe me, I would know. The reality is, getting an internship in today's world is essential, but also very difficult and competitive. I remember my freshman year, thinking that when the time came, it would be so easy to get an internship, and that my first day at Cosmo or NBC would be right around the corner. Looking back, I can't believe I ever thought it would be that easy! Last year, rejection after rejection kept pouring in. I think I sent in well over 100 applications. I didn't have any professional experience, and I thought that it was very hypocritical that employers want you to have experience to do an internship or job, but nobody is giving you that experience (I still think this). 
By April, I had finally gotten a couple of interviews. One was a political reporting internship in DC (they never called me back), one was for a PR firm in NYC, and one was for a magazine in Worcester, MA, only 20 minutes away from my house. The PR firm wanted to hire me, and of course I wanted to work there, but it was going to be unpaid. My parents told me that sadly, they could not afford to have me stay in New York and produce no income. So I had to take the one at the magazine in Worcester. I was really upset at the time. It meant that I would have to return home for the summer, barely see any friends (most of them had internships somewhere else), and still have to work a minimum wage side job (this internship was also unpaid). 
However, this internship turned out to be amazing and was the best opportunity for me. Since this was a smaller publication, I was able to actually write articles and get bylines. I was able to go out on the job and interview people while getting real world journalism experience. By the end of the summer, I even got a cover story! I honestly don't know any other publication that let's their interns do that. It was far better than getting coffee. My boss liked me so much that at the end,  I even got a PAID freelancing gig that I'm still doing right now! It really was an awesome resume builder in the end, too.
This week, I actually just got the news that I will be interning this summer for a media agency in NYC called Gale Partners. I will also be part of the W.I.S.E program at Manhattan, a program that gives opportunities to outstanding young women at Manhattan entering the workforce (oh yeah and they give me free housing!). Originally, I didn't even think I was going to apply for this program, as it's so competitive, but I'm so glad I did. This internship is going to be totally different for me, it will be a different side of the media industry, and will really push my boundaries and take me out of my comfort zone. Again, it may not be exactly what I want right now, but in the end, I know that it will be exactly what I need. So my biggest advice is to keep persisting, and work hard. I know it sounds cliche, but it's so true. Something WILL happen for you, even if it's not right now. What's meant to be is meant to be, and everything will work out in the end.