Mother Appreciation Week: My Mom Stephanie Kinney
What better way to say "thank you" to the person who raised me than writing an article about how much I love her? It's about time we all started to vocalize our appreciation for our mother figures. Because let's face it, their influence is second to none when it comes to shaping our lives. So here's a little appreciation for my mom and all that she has done for me over the years. Mom, if you're reading this, here is everything I've always felt in my heart, but never said.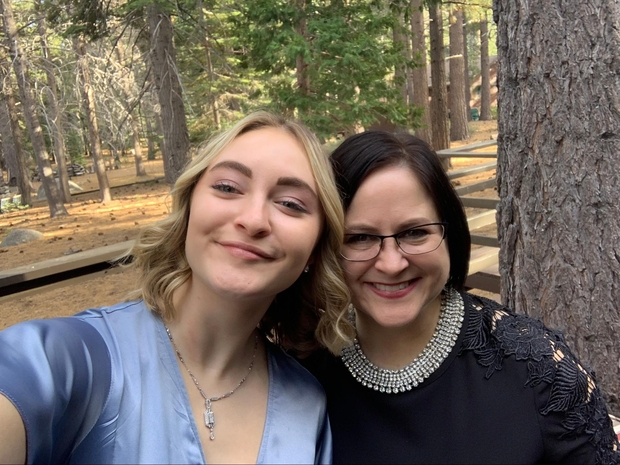 Allow me to introduce my mom, Stephanie Kinney. She's a relationships manager at her company, Allianz, which specializes in retirement planning and a bunch of other stuff that I don't care to worry about until I'm much, much older. But of course, my mom is so much more than her career. She's an amazing conversationalist, friend, caregiver, Disney-lover, baseball fan, Ireland enthusiast and more. Most of all though, she has been my mentor throughout my life. She has guided me through every difficult situation I've ever encountered, and relentlessly blessed me with her wisdom.
It was from my mom that I learned how to persist. As a competitive Irish dancer, I was often exposed to a world of subjective judging, which made me about the most insecure 13-year-old on the face of the earth. Yet after every loss I endured, she was always there to comfort me, and was already preparing to book our flights to the next competition (which was most likely halfway across the country, might I add). When I suffered an injury from constant dancing, she would not give up until we found the perfect orthopedic surgeon that gave us a guaranteed cure. And even after all of the pain, stress and recovery from a brutally invasive surgery, I was able to return to the sport I loved – all thanks to my mom. So when I finally made it to the top of the podium, I was beaming with joy knowing that I had made her proud. 
My mom also taught me how to succeed. She was as close to a perfect role model as a young girl could get. Always on time, always hardworking, always looking to do better and always helping others. She pushed me to be successful too; constantly signing me up for gymnastics, theatre, dance and art camps which kept me engaged and interested in all that life had to offer. She was all about me trying new things and guided me through every tough decision I've had to make. My mom helped me choose dance over all of my other activities, helped me choose what AP classes to take, and even helped me choose which college to go to (and thank goodness I'm at Loyola now)! She has constantly stood behind me no matter what, so I always knew that whatever I wanted to do, my mom would support me. 
And that's what I'm most grateful for at the end of the day: my mom's undying love and support. When I came home from my first year of college, after falling ill to an eating disorder, my mom was there to hear my struggle. If she had been any less supportive during my childhood, I don't know if I would've ever opened up. But ever since, she has been my advocate and source of accountability. She keeps me grounded, and sane. She shows me love in ways that nobody else can. She has made me the person I am today, and I will always be grateful for that. 
I wish everyone had someone like my mom in their lives. However I know this isn't the case for most people, so no matter who you look up to as a role model, or who you rely on for support, remember to thank them as often as you can. Because it's people like my mom that make the world a better place.  
And mom, if you're reading this and thinking "I love you," I hope you know that I'm thinking right back, "I love you more."