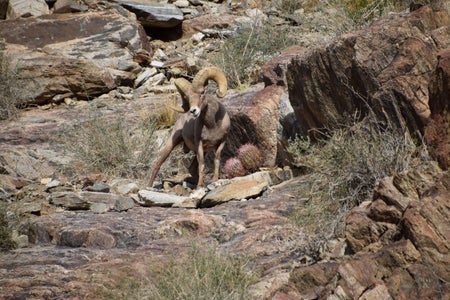 Original photo by Harshita Kumbham
Explore the Earth: Anza-Borrego Desert State Park
Welcome to Explore the Earth, a mini-series that celebrates our planet and all its wonders! Since we celebrate Earth Day in April, I thought it was only fitting to create a series that captures the beauty of our home. Earth Day is always a commemoration of the wonders of our planet, as well as a hope that we all come together in order to preserve our planet instead of harming it. Exploring the natural places around us can provide clarity on why we should care about environmental conservation. 
Imagine visiting the lush rainforests of Costa Rica, but then returning home knowing that someday soon, all of that beauty and land could be ruined because of our actions. By gaining first-hand appreciation of the natural world around you, it will hopefully encourage you to recognize the importance and urgency of positive environmental action. In this series, I'll be taking you along to some of the unique places I've been visiting lately, and I hope to encourage you to explore the natural wonders around you! Earth Day might only come around once a year, but every day is another opportunity to explore the Earth.
Note: While it's important to explore the Earth and discover the amazing places around us, remember that we're currently still in a pandemic. I was wearing a mask and practicing social distancing on all of these trips, and you should be too! Remember to protect yourself and those around you.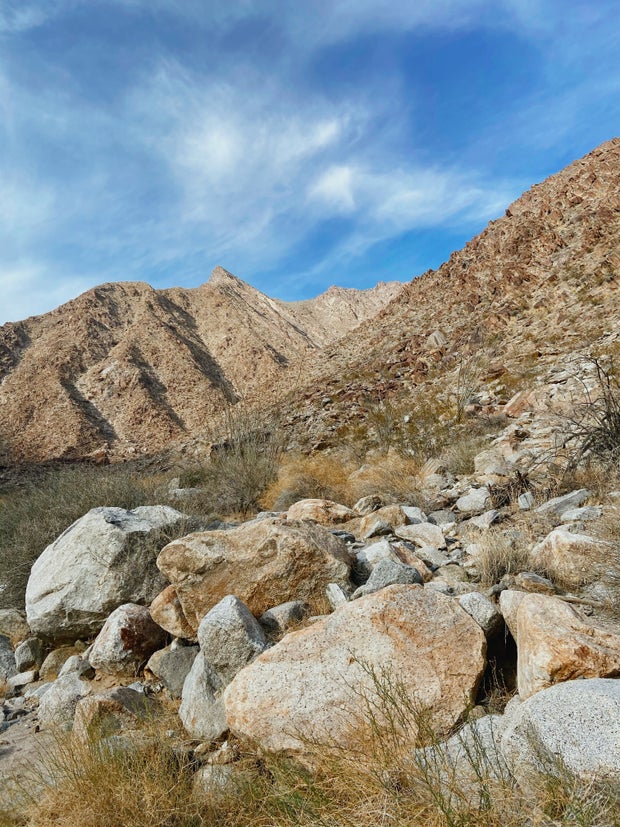 Original photo by Harshita Kumbham Our first trip in this mini-series is Anza-Borrego Desert State Park. This park is one of my favorite places, and I love it so much that I'm creating a field-guide on it for my biogeography class this semester. The first time I visited Anza-Borrego, I was so surprised at how suddenly the landscape around me changed. One minute I was surrounded by towering mountains and crumbing boulders, and the next minute I was gazing at a lush, green oasis in the middle of the valley. Anza-Borrego is one of the most biodiverse ecosystems in California, and there's always something new to be found in the desert.
Original photo by Harshita Kumbham
Like I said, I've been visiting this unique place frequently because of my biogeography project. One thing I've realized over the past few months is that the desert is always changing, and if you're not paying attention, you could be missing out on some pretty incredible things. Take for example, the endangered Peninsular Bighorn Sheep pictured above. I was lucky enough to spot many of these elusive creatures on my first visit to the park, but I haven't seen even a glimpse of one since.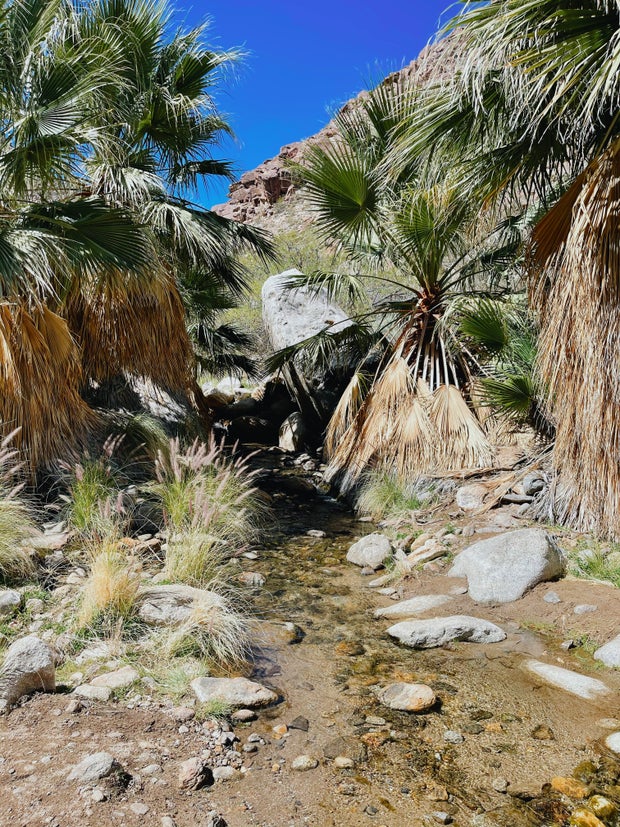 Original photo by Harshita Kumbham
Another example is the landscape of the park. On my first few visits to Anza-Borrego, the canyon was dry and cool, with only a few species of plants blooming. However, on my most recent visit last weekend, this trail was bursting with vibrant wildflowers, unique birds and lizards and stunning waterfalls among the palm trees. We took a break on our hike at the pretty stream pictured above and spent some time just listening to the flowing water and the palm fronds swaying in the breeze.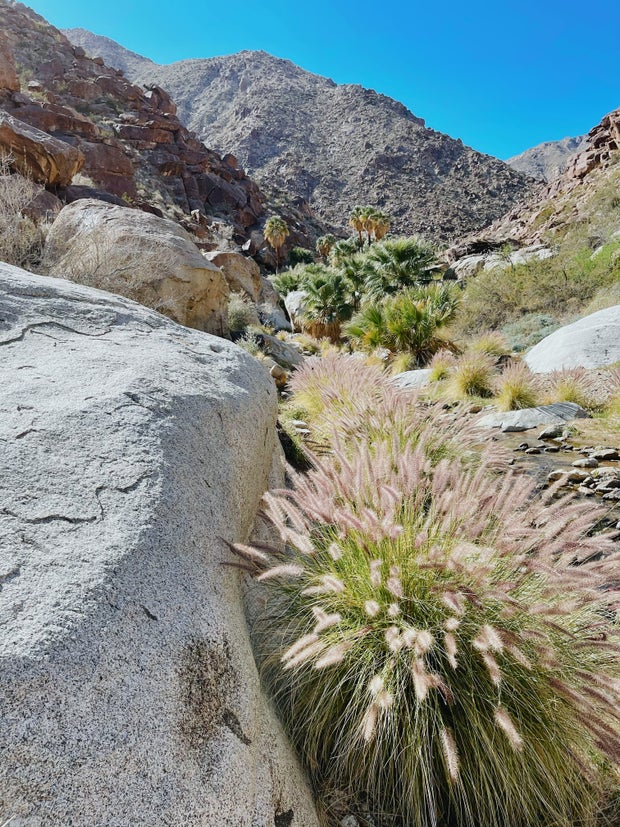 Original photo by Harshita Kumbham
There's nothing quite like being surrounded by the sights and sounds of nature. It always gives me a new perspective on life, which is why I always encourage my friends and family to go hiking. Wherever you're living, there's an endless amount to be discovered in the world around you. Visiting state, regional and national parks is a great way to support these lands and the people who preserve them for generations to come. 
I hope you enjoyed this brief glimpse into Anza-Borrego Desert State Park! Join me next week for part two of Explore the Earth, where we'll begin a new adventure at another beautiful place on the planet.