Back home in Ohio, my family does our grocery shopping at Kroger mainly because it's close but it doesn't hurt that I get an employee discount. When I moved to my downtown Chicago apartment, there was no Kroger to be found, but there was a Trader Joe's only a few blocks away. I've never done my "full grocery list" at Trader Joe's so I was excited to try some new things. After some trial and error, I've found seven things (in no particular order) I really enjoy at Trader Joe's and here they are. 
To start off our list, I have a family favorite among the Sommers'. I'm vegetarian but I can still attest that before I changed my diet, I was very excited when it was "Trader Joe's Chicken Dinner Night". My family has been eating this for the past few years and it is easy to make and pairs well with the Trader Joe's Fried Rice that is number two on my list.
2. Vegetable Fried Rice
This fried rice is not only safe for me to eat but also is enjoyable for all. My family pairs
this with the Mandarin Orange Chicken from above and it is heavenly. You can try this rice with a lot of other options as well like dumplings or beef. This is another easy thing to whip up for any meal!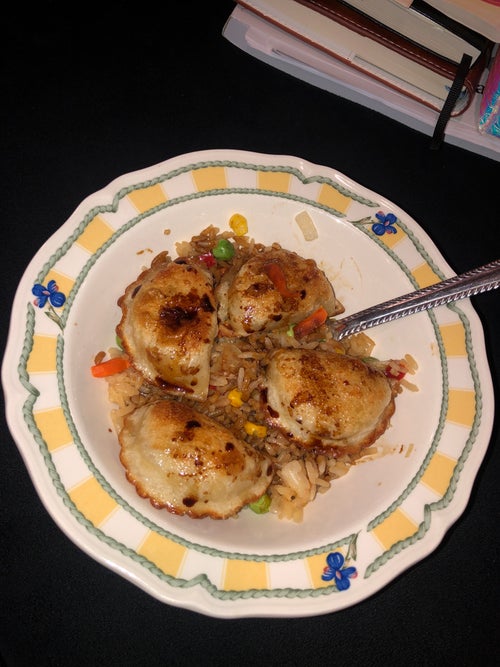 Trader Joe's Vegetable Fried Rice paired with vegetable potstickers. 
3. Bambino Pizza Formaggio 
I found this pack of four smaller pizzas when I was searching for a good replacement for Lean Cuisine. The one thing I am not a fan of at Trader Joe's is the fact that they don't have many "name-brand" items. I was struggling to find a good substitute for a Lean Cuisine pizza and found this pack of four pizzas in a similar size as the Lean Cuisine ones. They also taste amazing so that's a plus!
4. Reduced Guilt Mac and Cheese 
Found in the frozen section, this mac and cheese passes the taste test even though it's "reduced guilt" and fewer calories than the original mac and cheese. I can honestly say, I never really tasted a difference between this kind and Kraft mac and cheese. It takes only a short time in the microwave before you can devour it. The noodles and cheese come in a plastic covered container to microwave in but I transferred the noodles to a bowl after it cooked to mix it better.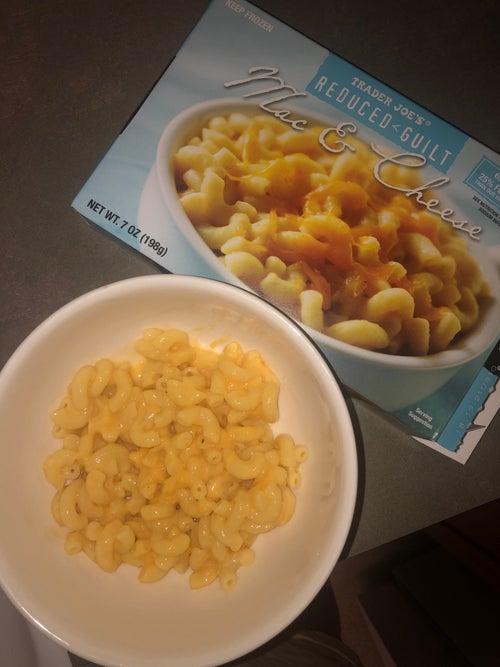 5. Sea Salt Caramels
A four-pack of sea salt caramels attracted my attention as I was about to check out and I decided to get them instead of the big container of caramels I had in my hand already. I knew deep down if I took the big container home, I was going to eat every last crumb that night so the four-pack was a better option since I lived alone and would have to eat it all by myself. (Insider tip: Put them in the refrigerator before you consume and it'll be even better!)
Saving a classic for last- I have been using this seasoning ever since it went viral a couple years back. There are so many different uses for this seasoning but my go-to is to top my avocado toast with it. I've also used it on popcorn, fries, and even eggs.This spice adds a little flavor to any dish you can think of, the possibilities are endless!
I am not vegan but like to cut down on my dairy intake from time to time. When I saw these mini ice cream cones, I knew I had to try them and I absolutely love them! They taste amazing and are nice sweets to have on hand when you have a sweet tooth but don't want to eat too much. Besides, the miniature nature of them is cute. 
There you have it, seven of my favorite items to try at Trader Joe's on your next visit. I can confidently say that after this trip, I'll be going back to try many other new items!