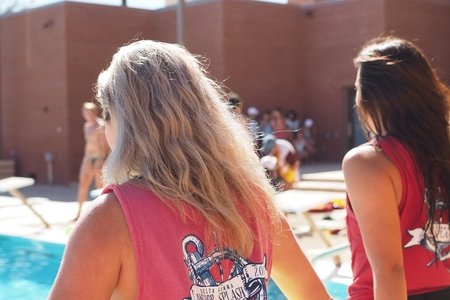 Four Reasons Why I Left My Sorority
As I came down from my senior high, said my goodbyes to my close friends, and had one last slumber in my childhood bedroom, I made my way to college! I was excited to start a new chapter in my life, meet new people, and work toward my future career. When it came to making new friends, well, I was a nervous wreck. I grew up in the same place my whole life and was basically with the same people, which I could never be more grateful for. But I had to put my big girl pants on and expand my horizons. I've never been shy but that doesn't mean I've never been intimidated. 
I decided to rush a sorority for the sole reason of my life prior to college. I went to an all-girls high school that I loved. I woke up every day and worked in an atmosphere filled with driven, confident females. My high school made a huge impact on who I am today. So, I put two and two together. My high school seemed to be looking into a mirror with sorority on the other side of the glass. Oh, this is perfect! With that, I went through rush, accepted my bid, and came to the conclusion that I was looking at that mirror incorrectly. After a full school year, I realized Greek Life was not for me and here's why:
Too big of a time commitment
When I came to college, I found the career I wanted to do for the rest of my life: journalism. I threw myself into organizations that would only further my skills needed for my career. I wrote for my university's newspaper, took up multiple roles at Her Campus Magazine, and started my own biweekly newspaper. Overall, I had my hands full with commitments I cared more for.
Money
I'm blessed to enough for my parents to pay for the vast majority of my expenses when it comes to college, but a sorority was not one of them. After one school year, the total ended up being well over $1,500, and I know that can be cheap in comparison to other universities. For some people, that is totally worth it, but for me it just wasn't worth it.     
Friends 
As I stated above, one of the main reasons I joined a sorority was to make new friends and be engulfed in a productive, female-driven environment. Granted, I did meet some great gals in my sorority. But I believed if I was to truly be friends with these girls, I would have met them some other way in my life. Unfortunately, some of the girls seemed to only want to stay in their specific cliques they had before even joining the chapter. I also felt as if many of my "sisters" were in the organization for the social/party aspect, which just wasn't for me.
Connections?
Aside from meeting new friends, many people, including myself, tend to join a sorority or fraternity in order to make a connection in the real/career world. Cheers to you if you luck out and have someone interviewing you representing the same letters. But for me, I thought to myself, "what are the odds of that really happening?" 
Overall, I'm glad I found this answer earlier than later. If you are debating on joining a sorority or leaving your current one, I only have to say my life motto which is "you do you." Take this article with a grain of salt or a million grains of salt. This is only my personal experience, and everyone's experience is different. 
I think sororities can have great purposes, but unfortunately that was not my experience.. Like I said about the friends I met, if I was truly meant to be in sorority, I believe I would have ended up in one. But I'm not and that's okay.