Quarantine: Binge-Watch Edition
This time of quarantine has been prompting a whole range of mixed feelings such as uncertainty, boredom, confusion, negativity, and repetitiveness. I cannot stress enough how important it is that we continue to remain home, despite these emotions tempting us to do otherwise. For those of you who have been self-quarantining and social distancing, GOOD JOB, A +, GOLD STAR, WHATEVER MAKES YOU FEEL GOOD ABOUT YOURSELF! 
Because you're doing such a good job staying home and staying safe, why don't you treat yourself? I know I am! And what better way to do so than starting a new show to binge-watch. This bizarre situation has pleasantly lent itself to allow us more time and freedom to watch those shows and movies that have always been on our neverending "To Watch" list, but have never gotten around to.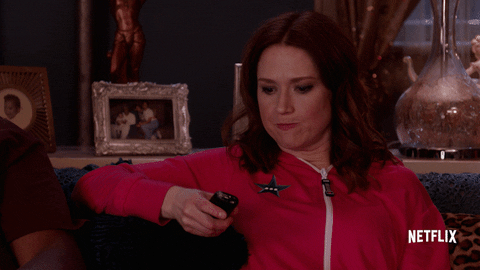 Netflix / Giphy
Below I've listed some of the TV shows I have on my list to binge-watch this season, and have marked with a star (★) the ones I've completed and italicized the ones I'm currently on. I know it may seem like a lot but hey, what can I say - I've had a lot of free time lately 😉!
Netflix:
"Love Is Blind" (★)
"The Circle" (★)
"Tiger King" (★)
"The Great British Baking Show (The Great British Bake-off)"
"All American"
​"A Series of Unfortunate Events"
"Locke & Key"
"Sex Education"
"Sherlock"
"Queer Eye"
"Supergirl"
"The Politician"
"Outlander"
"Parks & Recrecation"
Amazon:
"The Marvelous Miss Maisel"
"Fleabag"
"The Boys"
"Tom Clancy's: Jack Ryan"
"Carnival Row"
Hulu:
"The Handmaid's Tale"
"Four Wedings and a Funeral"
"UnREAL"
"The Act"
Disney+:
"Star Wars: The Mandalorian"
"Disney's Fairytale Weddings"
"Pixar in Real Life"
Apple TV+:
"The Morning Show"
"Dickinson"
So if you were one of the very few people that had no clue what to start watching (pssh, I don't believe you), then hopefully after reading this very excessive list there was something that caught your eye which you NOW cannot wait to finish all in one stretch! Pull that all-nighter! Just kidding. Not really though 😉.