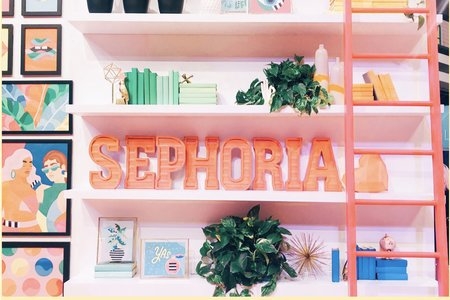 My Favorite Sample Products from SEPHORiA!
I am not that into makeup. Most days, I'll go makeup-less or just wear a bit of concealer and mascara (and maaaaybe some bronzer and blush, if I'm feeling fancy). The only beauty gurus I have ever really watched on YouTube are James Charles and Jeffree Star...and that was mostly just for their unforgettable personalities and shared incapacity to stray away from drama—not actually for the makeup. However, when I had the chance to go to SEPHORiA, I immediately knew it was an amazing opportunity that I just couldn't turn down!
SEPHORiA is an annual event hosted by Sephora where makeup lovers can score limited-edition and brand-new products, meet beauty influencers, and (the best part) get TONS of free samples!
Below I have provided some of my favorite sample products that I got from attending SEPHORiA. I genuinely loved these products, so much so that once some of them run out I may even have to go and buy their full-size versions! 
Herbivore
Herbivore is a skincare brand that offers natural, vegan, and cruelty-free products to its consumers that both look aesthetically pleasing and really do work.
From Herbivore, I received two face serums that I think are actually full size, despite this being a "sample size" haul! I scored both the serums pictured above: Prism and Bakuchiol.
So far, I have only tried Prism, but I really liked how it felt on my skin! Prism is advertised as an exfoliating serum and it works to exfoliate, hydrate, and even out the skin. It also helps get rid of blemishes...so say goodbye to acne breakouts from college stress!
The other serum I got from Herbivore is called Bakuchiol, which is advertised as an alternative to retinol. Retinol is known for reversing the signs of aging and preventing wrinkles, but it can sometimes also irritate the skin in the process. Instead of relying on retinol, Bakuchiol contains an ingredient from the pretty purple Ayurvedic Babchi plant, which has anti-aging properties. Better yet, the serum itself is purple, just like the plant!
Benefit
Benefit is known for its brow products, so I was super excited when I got several samples of their Gimme Brow+ Volumizing Eyebrow Gel! For my brows, I normally use nothing or I will sometimes put on a couple swipes of brow gel, so I'm really excited to try out this product to continue giving my brows a natural look.
Drunk Elephant
Before attending SEPHORiA, I owned zero products from Drunk Elephant. I had always wanted to try out their products! Now, after having tried some, I can definitely say that they live up to the hype.
Drunk Elephant was really generous with their samples, giving me a sample of their LaLa Retro Whipped Cream, their B-Hydra Intensive Hydration Serum, and their A-Passioni Retinol Creme. They also gave me a super cute neon pink zippered pouch, as pictured above!
I haven't tried the B-Hydra Intensive Hydration Serum or the A-Passioni Retinol Creme, but I have been using the LaLa Retro Whipped Cream and I absolutely LOVE it! The cream has six rare African oils and a ceramide complex that work together to moisturize your skin. It also contains additional ingredients that destress the skin and fight the signs of aging. I've been using it every night before bed and my skin feels super hydrated and soft after use. And a small dollop of it goes a long way, so I'm sure this sample size will last me a while!
Ouai
Ouai is a haircare brand that offers sulfate-free shampoos and conditioners as well as ultra-nourishing styling products.
From Ouai, I received a plethora of hair ties (which always come in handy, because let's face it, those things always go missing) and several samples of perfume that can be spritzed in either your hair or on your body!
The perfume is beautifully packaged and has subtle scents of rose, bergamot, lychee, cedar-wood, and white musk. It's the perfect combination of sweet and musky. You can buy the full-size product here.
HUM Nutrition
From HUM Nutrition, I got a couple of samples of their orange-flavored Glow Sweet Glow gummies. These gummies contain hyaluronic acid, vitamin C, and vitamin E, which all act together to give your skin a healthy glow. They taste super yummy and they're vegan, too!
Summer Fridays
Summer Fridays is a skincare brand that makes simple products that leave your skin feeling de-stressed (and feeling like it's Friday...even when it's actually Monday and you just stayed up until 2 AM cramming for an exam).
Not only did I get an adorable sticker, tote bag, and pin, ( if you know me, I have a pin collection that I am pretty proud of) but I also got a couple of samples of their Jet Lag Mask. The Jet Lag Mask is perfect for hydrating the skin, especially after a long flight that's left your skin feeling dehydrated, dry, and just plain gross. I'm really excited to try this one out after my next flight!
Amika
Okay, so isn't this the cutest packaging ever? Amika is a haircare brand that was created in 2007 with the goal of being the "antithesis of a typical beauty brand." 
From Amika, I received several bottles of their Un.Done Volume and Matte Texture Spray. The spray is perfect for all hair types and gives your hair a tousled, beachy look. It is also vegan and doesn't contain any formaldehydes or artificial colors.
Tom Ford
From Tom Ford, I got a gorgeous vial of their new perfume, Metallique. In terms of scent, it has notes of pink peppercorn, heliotrope, and balsam. To me, it smells a bit floral and sweet, but in a way that isn't too overpowering.
Fresh
So, this last one is more of an honorable mention, but I just had to mention it in my review!
At SEPHORiA, there was an offer where you could buy five products for $25, so my Her Campus gal pals and I split the cost and each bought a product! I bought the Fresh Soy Face Cleanser in the mini size (so not exactly sample size, but close enough) and I am already absolutely obsessed with it! It's gentle, forms a really nice lather on the skin, and smells amazing.
Not only that, but this product actually works! I have been using it daily ever since I got it and my skin is truly looking a lot better. One night, I had several blemishes on my forehead, put on the cleanser, and then woke up the next morning with them totally gone! 
I hope that you enjoyed this review and that you (hopefully) get to try out some of these products the next time you are at your local Sephora! And if you are in the area next year, definitely check out SEPHORiA to score some amazing free samples.
Note: All photos were taken by me! Check out my VSCO if you'd like to see more!