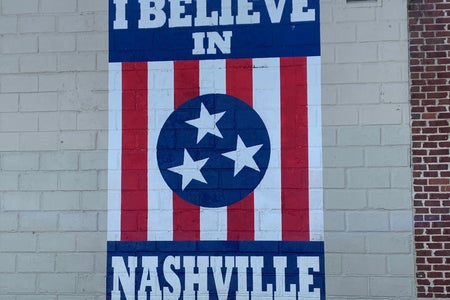 Original photo by Madelaine Sarisky
I Visited Nashville...Here are My Thoughts
Thinking of visiting Nashville? Most people in California would probably say no...but over Easter Break, I visited Nashville, Tennessee (aka the "music city") with a friend for a change of scenery and had an absolute blast! It was my first time traveling to the South, so it was interesting to experience a part of the country that I've never seen before. I'd definitely say that Nashville is an underrated place to visit – even if you're like me and are not into the country music that the city is known for. 
Here are a few small things that stood out to me and a few reasons why it's worth visiting Nashville.  
The people
Personally, I was blown away at how friendly, well-mannered, charming, and polite the people were in Nashville. I really admired the kindness and warmth shown to me by those who live there (as well as the Southern accent!). Generally speaking, people in the South are definitely different, and it was eye-opening to experience southern hospitality first-hand as well as the way people talk and act there. After my visit, I can say for sure that Nashville is home to some of the friendliest people I've ever met.
The nightlife
There are plenty of cities in the United States full of nightlife, but out of all the big cities I've been to, Nashville definitely wins. On Broadway – which is in Nashville's historic district – there's always live music in the many bars, clubs, and restaurants! Most of it is country music, of course, but you certainly don't have to love the country genre to enjoy it. What I most enjoyed was the liveliness of the street itself, especially in the evening with all the crowds. 
Shopping and dining
Just like most other cities, Nashville has great areas for shopping and dining. If you're looking for more of an LA vibe, definitely visit Hillsboro Village and 12 South. Both are filled with plenty of eateries, cozy cafes, boutiques, and some cute murals, too! I really enjoyed visiting shops and cafes that you can't find in California. Some of my favorite stores in Nashville include Molly Green, Posh, Holly Ray and Revv. For coffee shops, Anzie Blue is a cute eatery in Hillsboro Village and if you want something sweet, Five Daughters Bakery in 12 South has the best donuts on top of being a really cute, colorful place!
Landmarks 
Of course, we did a little bit of sight-seeing and visited some famous country music landmarks. We saw the Country Music Hall of Fame and Museum and the Grand Ole Opry House, which is home to a weekly country radio broadcast and country music concerts. These places didn't really excite me at first, but they were definitely still worth the visit. I was surprised at the amount of artists I actually recognized in the Country Music Hall of Fame! It never hurts to check something out – even if it doesn't interest you at first.