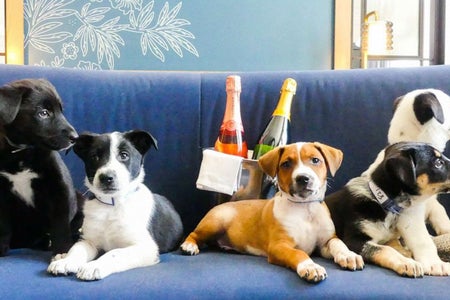 How to Help Animal Shelters this Holiday Season
Due to COVID-19, animal shelters are extremely overwhelmed, and with the start of the holiday season, these pets deserve loving families now more than ever! I adopted my dog and my BFFL, Buddy, from the Hawaiian Humane Society about eight years ago, and he has drastically changed my life and my family's for the better. I adopted him during a tumultuous period of my life when everything was changing for me. I was about to change schools after seven years, my brother was moving from Hawaiʻi to Oregon for college, and my mom was changing jobs. Buddy was and has been the only constant in my life, and I can always depend on him to brighten my mood. Here are several ways that you can help the animals in your local shelters have the best holiday season ever!
1. Donate supplies
If you have towels, tennis balls, old toys, or animal food around your house that you don't know what to do with, donate them to your local shelter! With the increase of animals up for adoption, shelters are struggling to keep up with the demand for supplies that these pets require. Some shelters may even accept items like old newspapers or cleaning supplies! LA Animal Services is looking for things like blankets and towels, peanut butter, and baby wipes. They also have a wishlist of other items that they are in need of.
2. Volunteer
I've volunteered at my local humane society, and it is so much fun! You get to spend the entire day spending time with animals, and while it isn't glamorous by any means, it is so fulfilling. A great part about volunteering too is that the hours are flexible, so you can make it to fit your schedule! Shelters may be more strict about volunteering due to COVID-19, so check with your local shelter first. Shelters like Best Friends Animal Society in Los Angeles are not accepting new volunteers, but their website lists multiple ways that you are still able to help like donating, fostering, or adopting.
3. Become a foster "parent"
The one thing that I will warn against is that if you are to foster an animal, you must be prepared to adopt them, trust me. However, even opening your home for a month or so to a dog or cat can make a huge difference. Fostering creates space for another animal to find their forever home, and especially now when we are home for the most part, it is so nice to have a furry companion by your side for those long Zoom classes. For the Los Angeles County Animal Care and Control, it's as easy as filling out an application and questionnaire, watching an orientation video on your own device, receiving a phone call, and picking up your new best friend
4. Adopt a pet!
The best thing that you can do is to adopt a pet and provide them a loving home. However, if you know that you are unable to financially support a new pet and are unprepared for any surprise expenses like surgeries or medications, do not adopt. These animals deserve families who will be by their side forever, and with the holidays less than a month away, there's nothing better than receiving a new best friend as a gift. Many shelters, like LA Animal Services, are having a holiday special with discounted adoption fees!