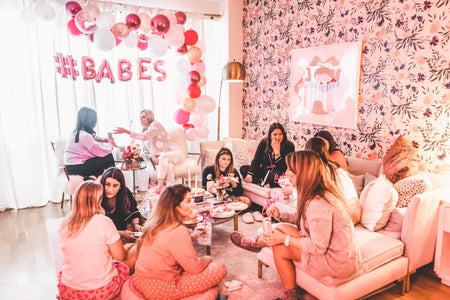 How to Celebrate Galentine's Day
Yes, it's almost here. The never-awaited, hallmark created, undeniably dreaded day for all singletons out there: St Valentine's Day. This commercialised holiday truly does band all those without a date together, whether it be through personal choice or not. If you are without a date, then this one day in the calendar likely reminds of you that little insipid fact. And it isn't to say we're bitter. No, not at all. The rest of the year without commitment fits perfectly around our lifestyles. There's no need to notify someone of the things we do or say, and that works quite well when you're at University. I mean, isn't this the time to find ourselves? And how are we supposed to do that when we're too busy trying to be a certain person for somebody else?
However, it might be time to admit that every time we see the roses in shop windows, those heart shaped chocolates in supermarkets, or maybe it's the endless stream of red and pink along each street we walk, that we cannot help but feel a teensy tiny bit forlorn over the empty abyss of our love lives. I mean, is it SO MUCH to ask that some random, mysterious stranger leave a dozen roses tied together with a message of romance at our doors?
Then again, we've all seen 'You.' So, we probably already know how that will end. And so, instead I implore you to use this day to celebrate those important women in your life. The women who held the ladder you climbed to get to the moment you stand at today. The women who helped you back up each time you stumbled or looked down. The women who were there through the laughter and the tears, the achievements and the bad decisions. Because chances are, if they've been here this long, they're in it for the long run.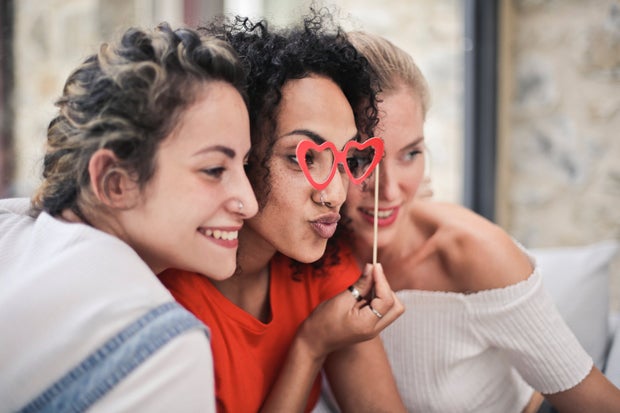 Pexels / Adrienn
And so, I present you with a concept to look forward to: Galentine's Day. A day just for you and your favourite gals. It's a universally known fact that the older you get the harder it is to plan a date to see all your besties. Cross-referencing each person's schedules usually leaves you with an opening to meet up in two years and 15 days from now. This is why it is so important to claim this date as a day to celebrate one another.
Last year my friends and I spent Galentine's Day together. The ways we celebrated are by no means an extensive or complete collection of ideas, but are simply the things we enjoyed doing. And so, I now present to you, the tried and tested Galentine's Day list!
I'm not talking about watching those traditional girl-falls-for-guy schticks, I'm talking about the modern rom-coms that advocate female empowerment. 'Bride Wars' is a personal favourite of mine, with the film highlighting the importance of female friendships, and the everlasting bond that extends far further than past romances. Another great choice is 'Girls Trip.' Here we see four powerful ladies take time out of their busy schedules to spend a weekend with one another, and in the process heal past and present mistakes. I would definitely recommend watching either one with a group of your girls.

2.

Treat Yourself to Some Fondue

Chocolate is the heroin of all women. If you don't like chocolate, you're either lying or you burnt off all your taste buds during childhood. It just doesn't seem possible to dislike it when there exists, a multitude of options to indulge in. And chocolate fondue is probably the equivalent of whatever elite brand exists for heroin. I mean come on; just the thought of dipping strawberries and marshmallows into my favourite melted chocolate makes me salivate. This is a definite must for Galentine's Day. And all it takes is a small bowl placed above a candle, along with your choice of chocolate and dipping condiments. And you can be as messy as you like, because guess what? You're with your GALS.

We've all been there, seen that, and done it. Those cringe worthy dates and toxic relationships stay engraved in our brains like those nursery rhymes learnt during our early years. That is to say, they're here for GOOD. So, what better way to spend Galentine's Day than airing all past mishaps with your girls? This is always a good way to get a laugh from the naivety of our youth and promise one another that we will never see that guy from Tinder again (even if our future-selves say otherwise). Sharing old relationship stories is important -not just to create a few laughs, but because sometimes it eases a tension we didn't know was there. Getting our emotions all out in the open helps us to heal. And with healing comes growth. And who better to grow with than the leading ladies of our lives?

4.

Candle-lit Dinner Anyone?

Breanna Coon / Her Campus

Why must we reserve all candle lit dinners for a night of romance with our significant other? Do our closest friends not deserve a night to celebrate them? Book that reservation, girl! Wear your most extravagant outfit. Put on those heels. Tonight, you are dressing up for YOU. We don't need to wait for that perfect date. An evening with the girls will provide more than enough compliments to feed our egos.

All my closest friends know that aside from sparkle, pink is my favourite colour. I love any and all excuses to wear pink. Galentine's Day provides that, and so you best believe I will dress in my pinkest dress/top/skirt/paperbag trouser combination. And I ask you all to let your inner Elle Woods escape for just a day. Extend the days you wear pink to more than just Wednesdays: extend it to Galentine's Day.
As I said, this is by no means an extensive or perfect list to celebrate Galentine's Day. It is just some of the ways my gals and I have spent previous years' celebrations together. Find something that works for you and your friends. Whether it be staying in watching movies, or a night out bopping to your favourite songs in single solidarity. Most importantly, spend this day with those that make you feel loved unconditionally. Personal wealth will always exist when we have the right people surrounding us. And that will always be our best friends. In the famous words of Leslie Knope, "ovaries before broveries. Uteruses before duderuses."
Words by Mariam Zara.
Edited by Kirti Shah.