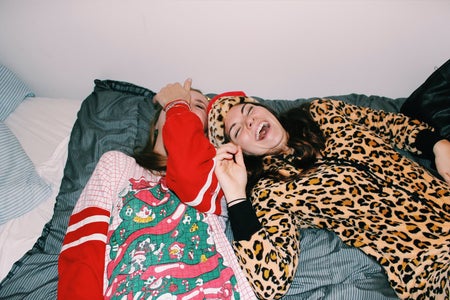 Anna Schultz / Her Campus
10 Movies to Hype Up the Holidays
The holiday season is a time that many people eagerly wait for each year. I don't know about the rest of you, but I have been listening to Christmas music since July – yes, you read that right, since July. Prior to 2020, we were all so excited to find out many holidays this year would land on the perfect days to celebrate – if you're a party-goer, then you know exactly what this means. For obvious reasons, quarantined celebrations are the vibe this year. Unfortunately, we just have to suck it up and go with it. Lucky for you, the internet is a beautiful place, and I have a few movies worth watching to get you hyped for the holidays!  
1. Home Alone
Let's start off with one of the classics! This iconic movie never gets old, no matter how many times you watch it each year. If you want a laugh, this is always a safe choice! Home Alone is definitely a family favourite. From the crazy family, to the watchful neighbour, to the villains, this lighthearted comedy is appropriate for any gathering.
2. The Polar Express
Another classic! This one hits home. This has got to be one of the most nostalgic Christmas movies to ever exist. The soundtrack, animations, story, and characters put you in a whole other world when watching it. I may be a little biased, but seriously, 10/10 every year. 
3. Elf
Although some may find this movie cringe-y, the sole fact that Will Ferrell plays the main character is the reason I always come back to it. This movie never fails to make anyone watching it at least give a nose-chuckle. It's an adult who thinks he's an elf in the real world – you can't tell me the awkwardness in this movie doesn't make you laugh! 
4. How the Grinch Stole Christmas
This movie is one that you CANNOT survive the holiday season without. This is the source of one of the biggest memes out there. The version released in 2000 is the one where Jim Carrey does an amazing job as the Grinch – but let's be real, Jim Carrey is amazing in every role he's ever played. Seriously though, this is the cutest movie for a holiday date night. Everyone knows the songs to this movie, get together (in a covid friendly manner) and sing along! 
5. Four Christmases
This is the heart of feel-good comedy. It is one of the most hilarious movies. With Reese Witherspoon and Vince Vaughn as the main characters, there is no dull moment. Those with big, crazy families will closely relate to this movie. It portrays just how stressful holidays can get because not only do some people have to deal with extended family, but with their own families too! 
6. A Charlie Brown Christmas
Yet another feel-good, nostalgic and wholehearted film! This has to be one of the cutest Christmas movies ever to exist. If you're in the mood for a cartoon, this has to be your go-to! Charlie Brown and his dog, Snoopy, seek out the true meaning of Christmas with the help of all his little friends. Plus, the soundtrack is the sweetest thing you will ever hear. If this movie doesn't scream cozy holiday vibes, I don't know what does. 
7. The Nightmare Before Christmas
If you're not over the spooky season yet, Tim Burton blends Halloween and Christmas in one film! Although slightly creepy, this movie is also a super cute animation. It's a stop-motion film, like Coraline if you've seen that, so it gives off a very old-timey vibe! This is definitely one of the classics, it achieves both spooky vibes and heartwarming emotions at the same time! 
8. Serendipity
Hallmark romance movies are a staple to the holiday season. This movie tends to be on repeat on various channels throughout the season as soon as November 1st hits. I know many of us are hopeless romantics, this Christmas love story is one worth watching! It plays on fate and destiny, and makes you wish you could experience "love at first sight" – single people, this may make you hate being single even more than you may already. 
9. Fred Claus
This has to be one of my favourite holiday movies. I'm a sucker for fiction and comedy. This movie also features Vince Vaughn, so you KNOW it'll be one full of laughs. The dynamic between Vince Vaughn and Paul Giamatti is absolutely hilarious and they do a phenomenal job playing the characters of Fred and Santa Claus. This one is definitely in my top 5! 
10. Miracle on 34th Street
Saved the best for last? Maybe! This is an all-time classic. This 90's film is a staple to the holiday season. It takes place in New York – a commonality amongst quite a few movies on this list; clearly, New York around Christmas is the place to be. There's something about old-timey movies that just hit differently. This is definitely fitting for those nights where you want to snuggle up with some hot chocolate and tons of blankets, and need some calm, heartwarming energies! 
Rather than sulk about how different the holidays will be this year, it's important to remember that it's a first for ALL of us! We are all going to have to adjust to this new lifestyle. Figuring out how to celebrate under new restrictions is just something we all have to do. If there's anything guaranteed with the holiday season, no matter what the circumstances are during that time, everyone is much more joyful and grateful. Everyone is saying Merry Christmas or Happy Holidays to each other, even strangers, and people will actually smile as they pass you! Although we live in a world of masks now, start practicing your "eye smiles" to still spread around some Christmas joy through them!
The most important part of the holidays is being with family, blood-related or not! Although the pandemic changes things, it doesn't affect the way we give thanks, appreciate, or love our families and friends. Hopefully, this list of movies finds you well this season, and helps you make the best of the situation! It is what it is. You might as well look on the bright side.