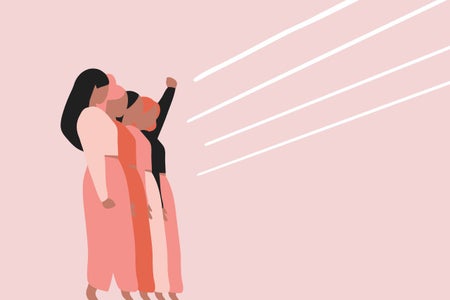 Original Illustration by Gina Escandon for Her Campus Media
Dear HC,
Flashback to September of 2016, I was just a scared little (and way too eager) freshman who had just moved all the way from Smallbany, New York to her dream school.  I had never heard of Her Campus and will admit I completely ignored them at the activities fair. It wasn't until Jessica, my roommate at the time, told me that she had found a club where you could have her writing published online and I was instantly intrigued.  Do you mean me? At just 18 years old? Can have my writing published? And I can write about ANYTHING? Sign me up.
So, I showed up to the next meeting with her...and I never left.
I was hooked. My dream since high school has been to work for a magazine and sitting in these meetings every week pitching articles and talking to these girls felt like a small bit of a dream was starting to come true.  After a few months in, I was given the position of editor and began writing more and more until the school year came to a close. Needing a new roommate for the sophomore year, I really didn't know where to turn to.
Then, came Raegan. Unknowing at the time when I met her, Her Campus had introduced me to the closest friend I've ever had at Lasell.  I didn't know anyone could be as passionate (and I will admit crazy) as me and it all started just because of Her Campus. We still look back and laugh because thinking back to my first year at Her Campus neither of us would have thought that we would ever be more than acquaintances who sat and pitched articles together.
You were my first internship.  I saw that Her Campus was looking for interns after I had come back from my semester abroad.  More importantly, I noticed they were looking for style interns. My love of fashion and writing all mixed into one internship? Again: sign. me. up. Turns out, everything I knew about social media and writing was all I lie. I watched myself grow so much as a writer throughout that semester and I have my boss Felicity to thank for that for everything she taught me.
Lastly, you introduced me to Emalee.  When I was given the Editor-in-Chief position in my junior year, I had just met Emalee and didn't know anything about her. Fast forward to my senior year and it was her and I running the show as co-CC's.  Little did I know how close we would get just from that.  Although she's a grade below me, I have learned so much for Emalee and I can't thank her enough for all of the hard work, dedication, and passion she has put into our tiny little chapter.  I wish so badly I had the opportunity to give her my torch and pass down my legacy to her IRL, but for now, until I can see her again, this will do.
So, after many, MANY fashion articles, op-eds, and a couple of crazy makeup tutorials, it's time that I bid you adieu.  Thank you for the laughs, memories, grammar lessons (Danie + Ang I'm looking at you), community, and of course all of the experiences that I will cherish forever.
Love always,
Madison
HC Lasell Editor-in-Chief