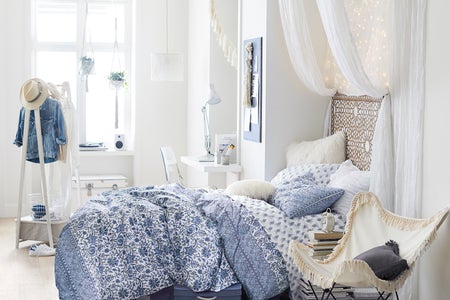 Courtesy of Pottery Barn Dorm
5 Easy Ways to Spice Up Your Dorm
Dorm rooms only serve two main purposes. The first one is to give you a place to store all of your belongings. The second is to give you a place to sleep at night. While this is great and necessary, dorm rooms are notorious for being…ugly. Personally, cinder block walls and wood furniture are not my style. So, decorations are a must! Here are the top 5 items students should bring with them to school.
No one likes to feel a cold floor on their feet. Ever. Ditch the tiles and put down a neutral colored rug. It should be soft and comfortable. The trick is to never wear shoes on it so it doesn't harbor germs and dirt. Also, keeping it clean will make it last all four years!

Any lights that can be hung up around the top perimeter of the room will give it an extra edge. These can be anything from LED lights to firefly lights. Use what suits your personal taste!

3.

Posters, Pictures, or Tapestries

In order to cover up plain walls, invest in some posters or print out some photos. Websites like Allposters.com and Redbubble.com are great places to find what you're looking for. Tapestries are also great and they come in so many different prints and designs.

Ok, so this isn't really a decoration (even though they do make nice-looking diffusers), but this is a must for keeping a room smelling (and feeling) fresh. Personally, I diffuse lavender (calming), eucalyptus (great for if you're sick), and peppermint (for an energy boost).

Talk about a game-changer. Students often rent a fridge and microwave combo, but if you're planning on purchasing a fridge, please don't go for a boring white or silver one. Everyone knows just how much I love my retro-style baby blue mini-fridge. I got it at Target, and I never looked back!
Now, get to decorating and enjoy your new space!