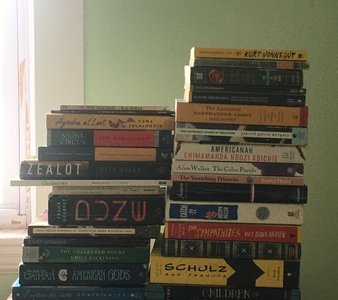 The Story of Little Women
Little Women, a novel written by Louisa May Alcot in the late 1800's, tells the story of four young women and their life's early journey of love, heartbreak, and maturing in their own way. The story itself is not necessarily a story at all, but a string of memories describing Louisa's early life as she grew with her sisters, Meg, Jo, Beth, and Amy.  The novel is loosely argued to be an autobiographical or semi-autobiographical narrative. 
There have been many film adaptations of the novel, but for the sake of time, there are two that should be of importance within our lifetimes.  For starters, the 1994 film adaptation was one of the most successful early film adaptations. Earning more than fifty million dollars in box offices, made the film a huge triumph in the motion picture business. 
The 1994 film starred none other than Winona Ryder as Jo, which in comparison with the 2019 film, also casted plenty of up-and-coming actors. For example, the 2019 film stars Saoirse Ronan as Jo, who is a beloved new face within the film industry who has also won many awards, including a Golden Globe, and nominations for Academy Awards and British Academy Film Awards. All while only being 26 years old. She is best known for her roles in coming of age films such as Lady Bird and The Lovely Bones. 
Along with Rider, Kirsten Dunst, Claire Danes, and Christian Bale were familiar faces who also made their debut within the film. They soon went on to become huge stars in the early 2000's and some went even farther. It's safe to say this film helped kick-start their careers in the film world as well as creating a memorable adaptation of Little Women for the world to remember. Until Greta Gerwig's adaptation came to theaters. 
In comparison, the 1994 2019 films are almost parallel within the world of awards and in the eyes of critics. Winona Ryder went on to be nominated for best actress award and was named just that by the Kansas City Film Critics Circle Awards, as well as Kirsten Dunst who won best young actress award. The film was rated over 92% in the world of Rotten Tomatoes and named one of the best films from it's time by critically acclaimed film critics. 
As for the 2019 adaptation, it was an even bigger success within the world of film. For being the seventh adaptation, Greta Gerwig, the film's director, did not disappoint audiences. 
The 2019 adaptation was brought to audiences all around the world wielding many beloved actors and actresses that have been waiting for their next moment to shine, and this was it. As noted before, Soairse Ronan starred as Jo, Emma Watson as Meg, Florence Pugh as Amy, Timothee Chalamet as Laurie, and the long time familiar face of Meryl Streep as Aunt March. With this lineup of actors, the movie was bound to be a success from the beginning to end. And it was. 
Surpassing the 1994 adaptation, Little Women, 2019, was loved by many for it's modern charm while maintaining the original timeless story of Luoisa May Alcott's original novel. The film gained a lot of attention when it was first released, gaining over 108.1 million dollars in the box office within the first five days of release. 
All in all, Little Women is a timeless narrative that tells the story of women coming of age and dealing with life's roadblocks. It will always hold the important voice of young women within society, whether that be in the early 1800's or today.