Guy Friends: Love Them, Hate Them, Need Them
*insert eye roll*
Disclaimer: I am talking about ~true~ guy friends, not the ones whom you kinda have a crush on. No. This is a full-on, straight-up, good ole FRIENDSHIP.
My closest guy friend and one of my best friends goes to school 40 minutes from me. When we graduated high school, I was ecstatic to have such a good pal so close, considering I knew no one coming to KU. I had someone close if I needed anything, and we could carpool home together if necessary! Last weekend, I took advantage of the carpool op for the first time, and let's just say being in a car for that long of time makes you realize mostly how much guys make you want to pull your hair out, but also that we actually kinda might need them. Might.
LOVE THEM
Guys don't really get it.
They don't really look too deeply into any situation they're in and make decisions off the top of their heads. I don't know about you, but I have to take at least 5-7 business days to process every possible outcome before deciding on anything. Sometimes you need a friend like that to remind you not to look into things too much and to just go with the flow.

HATE THEM
Guys don't really get it.
This is a guy trait most females can agree they're envious over. Mostly because when we need to be serious and have an actual conversation, guys truly just don't understand what the big deal is or why we are taking the situation so seriously.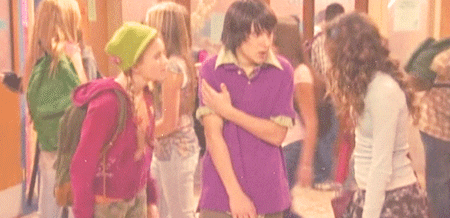 LOVE THEM
They probably won't tell anyone what you tell them
…. either because they forgot, don't pay any mind to it, or weren't listening in the first place. Either way, you're good; spill the gossip, girl.
HATE THEM
THEIR MUSIC TASTE
This one is directed at my guy friend because I know y'all can't be this bad. The ride home was a mix between Lil Wayne, Kenny Chesney, and a random NF song thrown into the mix every now and then. What kind of playlist is this??? I like some of the songs, but seriously, what is the genre? I need to know what mood I'm in, but I can't if we're blasting rap then a slow pop song the next. They think they're fire too. I swear they be like:
HATE THEM
The "are you guys a thing?" awkward moment
No. Not even a little, and I kinda wanna kill him all the time.
LOVE THEM
When females get to be too much…
This is probably the number one reason why girls have a guy friend to turn to. Females can be petty and mean at times. A guy is there to listen to all the juicy gossip even if he doesn't fully understand what it all means and why it's such a big deal to break a rule of girl code.
All in all, you've gotta have one, whether you like it or not, and they've probably got your back forever.