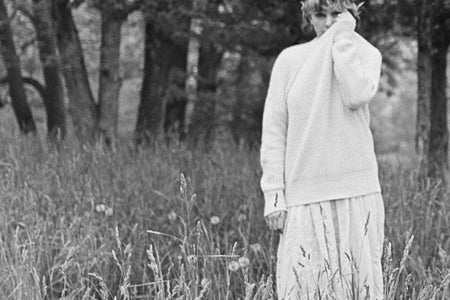 9 Beauty Looks Inspired by Taylor Swift's folklore and evermore Albums
Like many others, I can safely say that folklore and evermore saved my 2020! I've also been meaning to write a beauty article for a while now, so I thought, why not combine the two? So here are some hair and makeup designs that have crossed my mind while listening to various songs in these albums. For some, I've been able to recommend products, but just go with your personal preference and price range!
gold rush- Gold highlighter and a deep blush
This song is obviously very *golden*, but we can't forget that "I don't like anticipating my face in a red flush!" First, apply a rather strongly pigmented blush to your cheeks and cheekbones, and make sure to blend it very, very well. I cannot stress this enough! You want to get a noticeably rosy look, without looking like you're wearing stage makeup. Next, apply a gold-toned highlighter to your cheekbones, jawline, forehead, and other high points of your face. For this look, I like to use MAC's Powder Blush and Natasha Denona's Gold Glow Highlighting Duo.
ivy- Two Dutch braids
The lyric "in from the snow" in ivy makes me think of this hairstyle because I often wear it while skiing. This look is also a sister of sorts to Taylor's hair on the evermore cover, just like how, according to Taylor, the albums themselves are sisters.
mad woman- Cat-eye
Yep, you probably knew this was coming! This song is vulnerable and badass at the same time, which I think is perfectly embodied in this eye look. I usually stick with a single wing since getting both eyes to match is hard enough, but if you want to do a double wing, go ahead! Be a scorpion who stings when fighting back. My favorite eyeliners are Stila's Stay All Day and Tarte's Double Take since I'm still a novice and use a pen, but use whatever type and brand feels best for you.
Giphy
seven- Light lip gloss
This is such a sweet song that carries a lot of childhood nostalgia, so at first I didn't associate any beauty products with it But after thinking about the times I first tried using makeup products (and failing horribly) at around age seven, I realized that a light, possibly even clear, lip gloss would be fitting. There's obviously such a huge range in lip glosses that I don't have any particular product recommendations, so just look for something close to your skin tone that gives a little shimmer.
mirrorball- Sparkly eyeshadow
Unsurprisingly, this song makes me think of Taylor's dress at the 2018 AMAs, so why not replicate that on your eyes? Any highly-pigmented, glittery shadow will work, but I specifically enjoy using the Stila Glitter & Glow liquid eyeshadows. Also, don't feel like you need to stick to silver- who says mirrorballs can't be rose gold or bronze?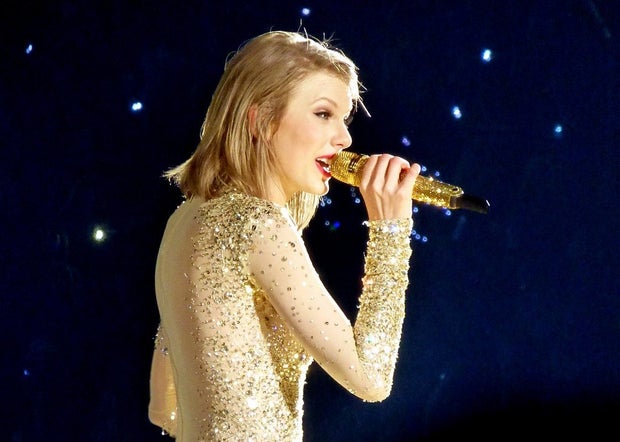 Photo by GabboT from Flickr distributed under a CC BY-SA 2.0 license
willow- Red lipstick
There were many things I loved about this video, but a particularly striking piece of it was the return of Taylor's red lip. She hasn't worn it very frequently since the 1989 era, so I was pleasantly surprised when it made a comeback in "willow" as a cooler shade of red similar to MAC's Ruby Woo and Stila's Beso (the latter of which is a favorite of AOC!). 
dorothea- Contour
Whether or not you agree with the theory that this song is about Selena Gomez, we all know that Dorothea is a powerful Hollywood woman with some striking cheekbones! So go to town with your contour, Kardashian style, and maybe try out some Rare Beauty in the process (wink).
no body, no crime- Dark red lipstick
Similar to mad woman, channel your inner true crime aesthetic and don a wine colored lip. The Sephora Collection Cream Lip Stain in Black Cherry looks like the one from the reputation tour, while the same product in Burnt Sienna gives a more raspberry vibe. I could see Taylor or Este wearing either of these shades throughout their narratives of investigation and murder!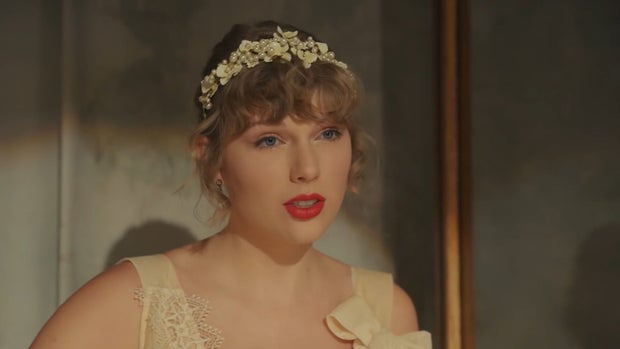 Photo by UMG (on behalf of TS/Republic) / Youtube
right where you left me- Updo
To close out our list, we have a look that comes directly from this evermore bonus track.  The song's subject, frozen in time states "Dust collected in my pinned-up hair," and while this can be interpreted as any hairstyle featuring pins, I immediately pictured Taylor's hairstyle at the 2012 AMAs. Elegant and vintage, this makes me, at least, feel "23 and inside a fantasy!"
I hope you enjoy recreating and experimenting with these looks! Remember, all my product suggestions are based on ones that I've used before and liked, so feel free to take them or not at all. Happy cottagecore-ing!