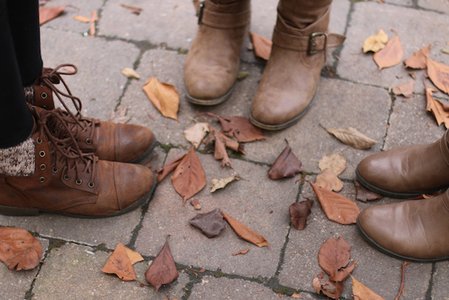 Uggs Are Back - And I'm Loving Them?
Love them or hate them, there's no escaping Uggs. The trend that swept the world in the early 2000s is back and while it can be controversial, I am in full support. What's not to love about the cozy comfy feel, easy slip-on style and nostalgic look? These days, I cannot think of a single reason not to love Uggs; but, I'll admit, at first, I was hesitant about them making a comeback. They seemed to slowly creep back into fashion, so how exactly did it happen?
In 2016, American Horror Story's "My Roanoke Nightmare" featured a pair of sand-colored Uggs on Sarah Paulson's character, repeatedly. The boots even got a few close-up shots, so many that I wondered (and still do), could this be in partnership with Ugg? More than that though, I wondered, had Uggs always been that short?
After a quick google search I found the brand had released a mini version of the classic style, aptly named the Classic Mini, which is what Paulson was wearing… and then I found myself wanting a pair. Something about the shorter shaft height made them so much more visually appealing. But still, they were Uggs, and I, being the trend-conscious woman I am, brushed them off. I would not be bringing back my biggest fashion faux pas, not a chance.
Then, in November of that same year, Rihanna was spotted on the set of Ocean's Eight in a pair of chestnut-colored Classic Minis. I remember thinking, what is happening? What has the world come to?? Here's what scared me: she made them look good, like really good. I could see myself being comfy and cozy running errands in joggers paired with my go-to puffer coat and these Classic Minis that had somehow captivated me. (If I only knew then that this outfit formula would become my on-campus uniform for the harsh Kent winters.)
Next, I saw them on Urban Outfitter's website, and that my friends, is the point of no return. If Urban Outfitters is embracing a trend, you know it's about to be big. But it took me, and most of the rest of the world, another two years to really get with the trend. In the fall of 2018, I finally dug out my old, worn in Classic Short Uggs and gave them a test drive around campus.
I am not someone to shy away from a new trend but Uggs? This was scary. After all, years ago the boot had become synonymous with the term "basic bitch," and of course that is not a look I wanted. The mental discomfort was quickly overruled by the physical comfort of wearing Uggs. I forgot that wearing these was like walking on a cloud. While I loved wearing them, I didn't love the pair I was in. I still had the Mini in the back of mind.
A week or so later I remember having a discussion with a group of friends. "You guys…I know this sounds ridiculous, but I think I want to buy a pair of Uggs," I confessed. To my surprise, I was met with several "me too!"s and even one friend who said she was into the new Minis. So, I wasn't crazy…Uggs were on the come up, again.
I started out with the same sand-colored Classic Minis I had seen on Paulson back in 2016 and found that they quickly became my go-to boot. Beyond just leggings or joggers, the minis were surprisingly versatile, looking just as good with a pair of boyfriend or straight leg jeans. Dressed up a bit with a nicer sweater and some jewelry, I even wore my Classic Minis on a date just a few weeks ago -yes, really!
As I eased back into wearing Uggs, I noticed it wasn't just me, but many others on campus were doing the same. Even men's Uggs were growing in popularity.
Flash forward to summer of 2019, and the Hadids were seen wearing a newer style of sandal the brand had released in 2018. Bella was seen in a pink Fuzz Yeah style and Gigi in a chartreuse Fluff Yeah style. The Fluff Yeah's quickly caught on and were easily spotted all over campus in August.
From biker shorts to leggings, to a relaxed jean and even a midi skirt or two, these sandals were being worn with everything. At this point in time, it seems you can do no wrong in a pair of Uggs.
Uggs are not only practical but clearly trending and -dare I say it? -cute. From boots to sandals, let's hope this second wave Ugg trend never dies.