Spotlight on New Kent Business: Main Street Nutrition
Main Street Nutrition is located at 1665 E. Main Street, in between Wild Papaya and the Verizon store. Upon, entry, you will be greeted with the most positive energy you could ever imagine.
Along with positive vibes, Main Street Nutrition serves healthy meal replacement shakes and energizing teas. Both the shakes and teas come in an abundant amount of flavors. Some of my favorites include the german chocolate cake shake and the pink nerds tea special! Every week a new tea special is introduced. I have noticed over time that the fan favorites seem to be their blue raspberry or green gusher tea specials. These gems pop up every once in a while, normally around or on their Customer Appreciation Day!
Every month Mainstreet Nutrition holds an event called Customer Appreciation Day. On this day, all shake and tea combos are $3 off and there are normally raffles as well. If you don't think the everyday positive vibe is enough, you HAVE to come to check them out on Customer Appreciation Day. They have one-day-only specials, hype music, discounts, raffles and the most vibey space. Their next Customer Appreciation Day is Friday, October 30!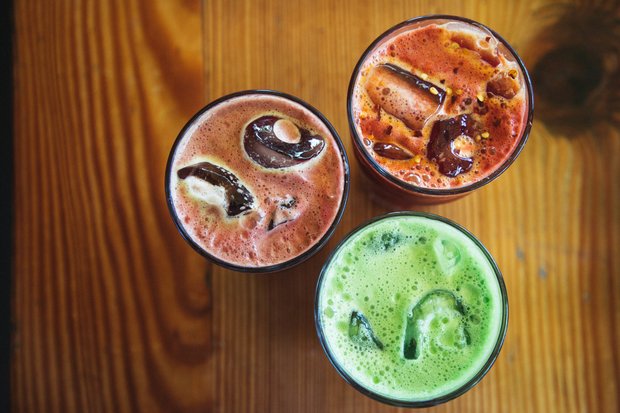 Alex Frank / Spoon Although the tasty shakes and teas may not seem healthy due to their sweet taste, they most definitely are. All of the meal replacement shakes are around 250 calories, 24 grams of protein, 21 vitamins and minerals and include less sugar than a banana. They give you all the nutrients your body needs in a healthy meal. The teas burn around 80-100 calories, boost your metabolism, give you natural feel-good energy and include less than 1 gram of sugar. Knowing these nutritional facts, there's no reason not to go try these delicious shakes and teas!
While you will always find these barista's serving up shakes and teas, you can also find them putting on events inside the nutrition club. They have put on workout class events before such as Train Tuesdays and Pound & Pour. Along with the classes, they also have monthly Evolve challenges that end in cash payouts!  Mainstreet Nutrition plans to continue holding workout events in the future and even plan on having other types of functions with small businesses in the Kent area. 
You can find Mainstreet Nutrition on Instagram @mainst.nutrition!
I hope you get to stop in and feel the vibes for yourself soon!